Luxury watches are truly pieces of art for their masterful craft and exclusivity. The style and elegance they display are hard to match, and can enhance any outfit to make it a fashion statement. This makes luxury watches more than just accessories, they are assets that can be passed on to generations. Only a decade ago, luxury watches were well beyond the affordability of the middle-class income group. But brands like Matthew Mercury are delivering the premium Swiss quality in a price range that is affordable to a larger income group of people.
Magnum Black by Matthew Mercury is one such elegant timepiece that combines luxury with affordability. The black men's watch shines with aristocracy through its style and design. Priced under $250, the watch functions on the original Swiss Ronda 3540.D chronograph movement. This is hard to find in any premium watch of this price range.
The breathtaking black dial with silver hands and 3 eyes gives the look and feel of premium Swiss watches. The 45 mm elegant dial is perfectly complemented by a polished stainless steel case and a genuine leather strap. You can choose between a black or brown strap based on your preference for this classy black premium timepiece.
This watch is perfect for day and eveningwear. It adds professionalism to any work outfit, can make a subtle statement with an everyday fit, and will coordinate perfectly with gold jewelry for an elegant occasion.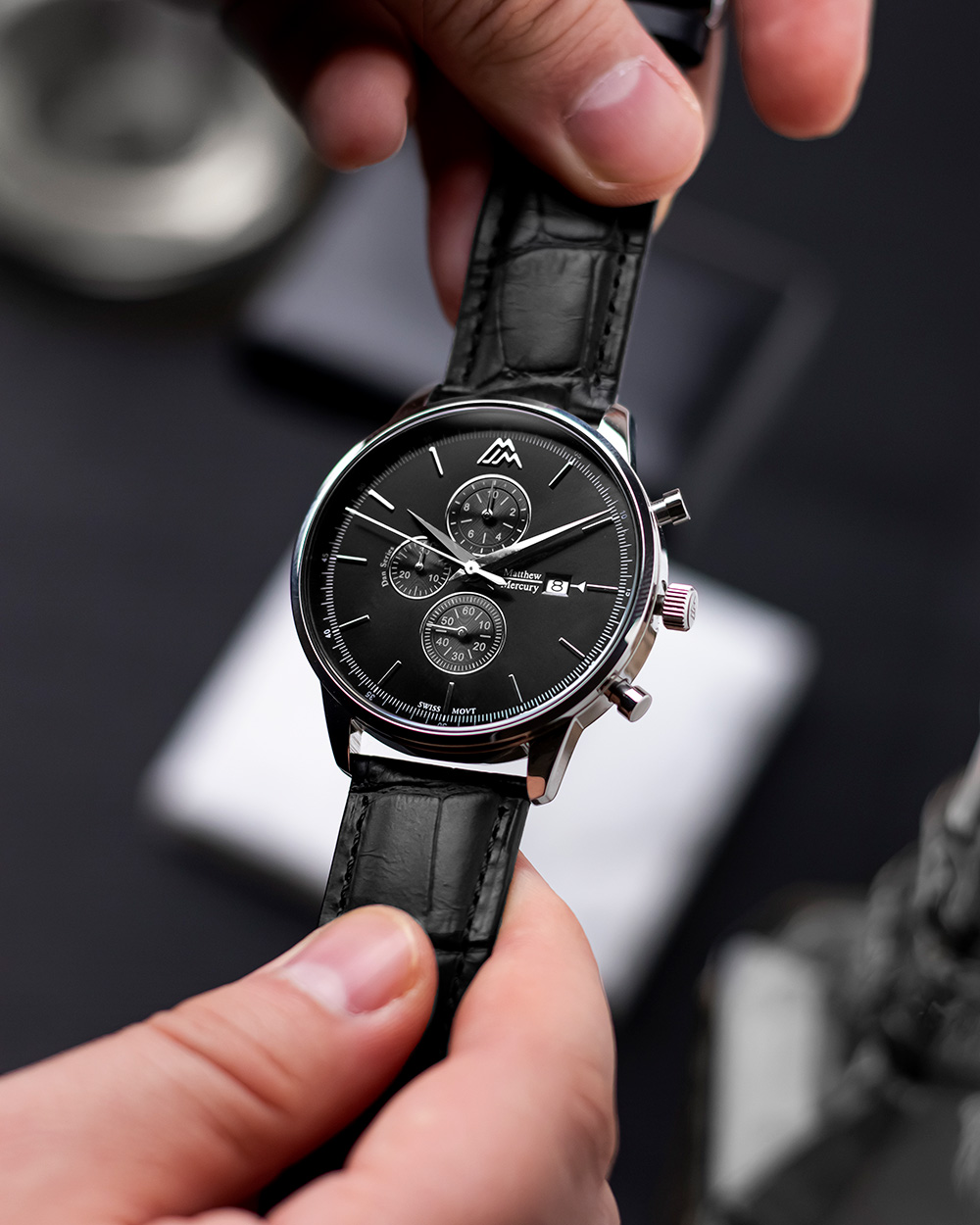 Apart from the looks, Magnum Black also ensures durability to be worn and enjoyed for years to come. The sapphire glass covering the dial is scratch-resistant and displays a chic sheen naturally. Magnum Black is also water-resistant which means it can be passed on to generations as an asset. This premium timepiece by Matthew Mercury has a very long battery life making it unique in the range of affordable premium watches by another brand. Here is a list of exclusive features of Matthew Mercury's Magnum Black for a quick look.
Swiss "Ronda" 3540.D exclusive mechanism movement
Sapphire Crystal anti-scratch glass
316l stainless steel case
Genuine leather strap
5 ATM water resistance
Very long battery life
Center stop second (1/1 sec)
10 hour counter
1/10 seconds up to 30 minutes
Small second
30 minute counter
3 eyes
ADD and SPLIT functions
Full Chronograph & Date
Matthew Mercury is reputed for offering original Swiss movement in all its watches, unlike its competitors who sell cheap quality at that price. The company's quality and attention to the style make them a fashion accessory as much as they are a timepiece.
Matthew Mercury is fulfilling the unaccomplished goal by offering premium Swiss movement watches in an affordable range. This is where Matthew Mercury stands unparalleled in its quality compared to the price of the watches. Every Matthew Mercury timepiece is crafted to perfection reflecting the vision of the brand that they truly adhere to.