On the year of Julie Kent MBE's 60th birthday, Julie launches a podcast which she will host called What's in the Goody Bag? This goes live Tuesday 9th March 2021 at 4 AM GMT.
It's time to cut through the noise and the filtered content the toxic hustle culture has long gone. Balance wellbeing, mental health, and community kindness are now more important than ever.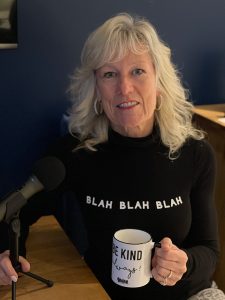 Here's a real feel-good podcast that has its finger on the pulse when it comes to being heart-centered on others.
Julie selects her podcast guests based on significance over success and impact over income, admiring kindness and authenticity over ego.
If you are in need of some fresh thinking and straight-talking … subscribe to Julie Kent MBE's new podcast What's In the Goody Bag? (available on all podcast channels globally)
Click here to subscribe today!
With a whole host of guests that have stories of significance to share from art, sport, music, media, fashion, and business.
The podcast is based on one question: 'What is more important? Being a Go-Getter or being a Go-Giver?
Julie will also expect all podcast guests to put something in her goody bag which she will raffle or auction for the Pied Piper Appeal, a children's charity in Gloucestershire.
Julie is known for her whirlwind energy to make good things happen, here's a recent review that gives you a great introduction :
"Julie is a force of positive nature. Julie is unstoppable on her quest to support the power of kindness and giving. Her energy and can-do attitude can be seen in everything she touches with regards to fundraising for charities and other business activities. Always giving her time, her thoughts, her ideas, and her abundant energy consistently working to achieve success. Julie Kent MBE approaches everything with a fresh perspective based on decades of experience in the third sector, she delivers actionable advice and guidance that works." – Roger Head DL OBE High Sheriff County & City of Bristol 2018-19 and Deputy Lord Lieutenant.
The first guest that is on What's in the Goody Bag is Nathan Wyburn a Welsh artist and media personality who has created celebrity portraits (iconography) and pop culture imagery using non-traditional media such as foodstuffs and other household items, most notably working with Marmite on toast. He has personally created works of art for such notable subjects as Madonna, Prince Charles, Mariah Carey, Dame Shirley Bassey, Catherine Zeta-Jones, and The Jacksons. It all started with toast!
To learn more about the iconic conversation catalyst pieces below tune in to What's in the Goody Bag?
Portrait of Gareth Thomas CBE former professional rugby player.
Nathan Wyburn, from Ebbw Vale, has used red paint and fingerprints to create a portrait of Gareth 'Alfie' Thomas in celebration of Pride.
The piece was commissioned by the art team at the Cardiff & Vale Health Charity.
Nathan Wyburn said: "I'm thrilled to have this piece of work on show at Cardiff Royal Infirmary. I'm passionate, as is Gareth, about erasing the stigma around HIV, and I think this piece will help that."
"The paint is meant to simulate blood (which also has negative connotations which I'd like to erase) and the fingerprints represent identity. Creating work that has a powerful meaning is always for filling, and I'm thrilled with this piece."
"Gareth is not just a good friend, but a huge inspiration to me, this is an honor."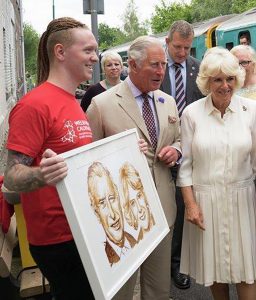 Nathan has also created regal portraits of Prince Charles and Camilla Parker Bowles the Duchess of Cornwall.
A controversial piece that started many conversations was the portrait of Baroness Margaret Thatcher using coal from Wales.
Nathan Wyburn said "I created a portrait of Baroness Margaret Thatcher, using crushed coal powder & solid coal. Whether you loved or loathed her, her actions towards the mining industries are one of her most famous and controversial legacies, that even today splits the opinion of a nation."
You can watch this portrait be created here via Nathan's YouTube:
NHS Heroes Piece
In 2020 Welsh artist Nathan Wyburn has paid tribute to the NHS with a new piece of artwork made up of hundreds of photographs of health workers.
The 30-year-old from Ebbw Vale shared an appeal on social media asking NHS workers to send him their photographs and received more than 200.
He then brought all the pictures together to create an image of a nurse wearing a protective mask, with the words "thank you".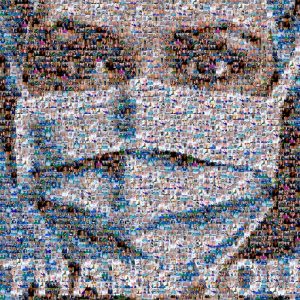 Nathan told ITV Wales: "The messages and social media shares I've been having are very overwhelming, but it really does go to show the respect out there for our NHS heroes."
What a fantastic first guest to open Julie Kent MBE's new podcast show What's in the Goody Bag?
Julie talks about why she decided to launch a podcast:
"I believe cognitive diversity is so important, the ability to think differently and see things with a fresh pair of eyes. That's why podcasts are great because it allows us to tap into a pool of collective intelligence with recounting life experiences and lots of straight-talking. I don't ask the ordinary podcast questions, so listeners will learn new things they might not have known about the guests. It's fun, relaxed, and challenges the audience to think differently about what it means to give." – Julie Kent MBE.
Julie Kent MBE has found success through a varied career from the music industry as a professional singer and saxophonist, in business, education, and now third sector working on multiple charity boards and heading up change.
Julie Kent is recently retired from 30 years as a Teacher and Housemistress at Dean Close School in Cheltenham and was awarded an MBE in the Queens' Birthday Honours list in June 2020 for services to charities.
In 2020 Julie Kent MBE launched a new career as a public speaker talking about the Power of Giving and how important it is to give back to society in terms of healing, mental health, and longevity of life.
Julie Kent MBE is calling for podcast guests with an exciting story to tell… if you think you've got what it takes to be interviewed on the podcast called What's In the Goody Bag simply email Julie directly.