Rising star L. S. Zeickner takes us both back in time and to the future as he ushers us into the "Neo- Twenties". The nostalgia of L. S. Zeickner's music can certainly be felt by all, reminding us of the great jazz age of days past. The artist seems to have invented a genre of his own, his sound elicits Déjà vu with a style of storytelling unlike what we've heard before.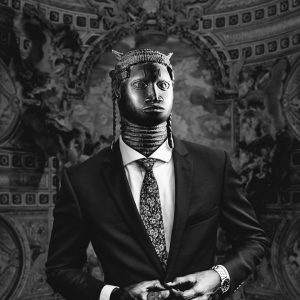 Is L. S. Zeickner ushering in the new bronze age of Jazz? With his image as a Benin bronze head statue wearing a suit, it certainly seems likely. The son of famous eclectic Edo-British singer Emotan, L. S. Zeickner is firmly rooted in his heritage from Benin city, as well as his British one. Zeickner became a prodigy composer and pianist at the age of 14 after teaching himself piano yet his talent did not end there. A singer from an early age, he stuns even harsh critics with his voice, seeming to have separate vocal chords for each range. In his acapella 'birdsong' he sings all the parts, and we think he's just showing off at this point, with deep low baritones to glimmering falsettos you need to hear more than once.
In April Zeickner released a 21st century silent film, 'The Secret', a tongue-in-cheek music video giving us the first taste of The Neo-Twenties – which takes its name from the famous jazz club mentioned in the book Noir in 3 Moods. Zeickner's musical tells the story of a man who is reborn into every new life with the same voice. The full synopsis reads:
In a world where certain people retain complete memories and traits from their past lives, international espionage and inherited crime are commonplace. Such people, known as 'the recycled' are hunted down by an agency dedicated to enforcing multiple life sentences. Members of the recycled are traceable because they each keep ONE thing that stays the same across all their lives. One such person is Juugo Vitz, a 24 year old hunted down for a crime he is accused of committing 3 lifetimes ago. However, Vitz is on a mission of his own, and he's pretty sure the name they're calling him isn't one of his past lives. With no choice but to clear his name, he must remember who he really was, all the while fulfil his duty to return an ancient Benin Bronze head to the Oba of Benin. The catch? Juugo has no idea how to get his memories back, and the only thing he has in common with all his lives is his voice.
L. S. Zeickner's musical tale fills us with excitement, its story is one that transcends time, genre and even language. We are taken from a noir in 3 moods to Jasper's Riddle, where Zeickner surprises us with his skill as a guitarist and multilingual, confidently switching from English to Spanish and sometimes Edo in his songs. His song 'The River' is haunting and unforgettable, while his spanish song 'The Sower' (El Sembrador) is a flamenco rock masterpiece. Upon listening, it is evident that both the songs from Jasper's Riddle and Noir in 3 Moods tell the same story: No matter what language or style he's singing in, his voice can't be mistaken for another's.
L. S. Zeickner is forging a new musical decade in style. We look forward to the new bronze age of jazz.