We know that statisticians have predicted that staycations are about to hit an all-time high along with an increased volume of barbecues across Great Britain and Northern Ireland. The National stats office has predicted that more fires will be lit this summer of 2021 than the last few years combined.
With travel limited out of Britain to warmer climates due to the pandemic, we wanted to find new ways to make your homes and gardens feel sunny. Ensuring that the dreary rainy garden BBQ vision was kept in the past.
As a team of BBQ enthusiasts, we have not only trawled the high street, the internet but we have gone off the beaten track to find you the ultimate, luxury, and artisan guide to a gorgeous British BBQ garden party.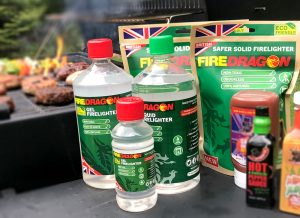 1. FireDragon Firelighter
In the prime position, we have a newcomer to the market place a British brand of firelighter FireDragon Firelighter. FireDragon's mission is to bring people back together safely all over the planet helping them have the right 'kind' of fires. Made in the fiery nation of Wales with their dragon flag and rolled out across the military for testing and approval in terms of high performance. These firelighter are not the crumbly, chemical lingering blocks you are used to, they are slick molded modern soap style cubes. What might surprise you is they are made from rotten vegetable matter (UK-sourced ethanol) rather than wood from trees like other firelighters. This avoids cutting down large rainforests proving that 'A rubbish idea could save the planet' both sustainable and eco-friendly.
The reasons we love them are they look cool, they are no fuss, no smell, no messy residue and they light in your BBQ instantly in all weathers might we add (even snow but let's not tempt things). Be the envy of your neighbors with this very neat product that doesn't impact the taste of your food and makes you look like King or Queen of the barbie.
Where to buy: FireDragon solid firelighters and gel fuel can be found in all B&Q stores across Great Britain (including online) and in all quality garden centers. You can also buy on Amazon.
Prices: Firelighters solid 6 pack: £3, solid 12 pack: £6, 250ml: gel £3 and 1-liter gel: £8.
Website: firedragonfuel.com
Instagram: @firedragon_fuel
---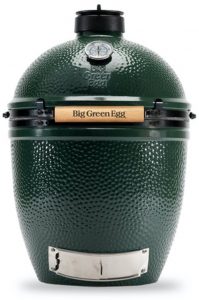 2. Large Big Green Egg
The Big Green Egg is brought to you by BBQ from Alfresco concepts versatile, weatherproof, and it's perfect for outdoor chefs who want to create restaurant-quality food at home all year long. This is out in the UK just in time for garden parties ignore the chill in the air when you light up a big green egg your garden becomes a happy gathering of chatter and laughter.
Stylish yet practical this big green egg has taken the UK by storm all it took was for us to see David Beckham cooking on it and sales rocketed. This grill is a firm favorite for those that love the alchemy of flavors and infusion, if you love Kamado grills which use wood lump charcoal then this is the buy for you.
The reasons we love them… it's just so much cooler than your dusty, clunky large bulky BBQ. It's innovative, it's gorgeous, it functions as an oven and a smoker, it consumes less fuel, and it's perfect for small spaces. It also comes in a smaller size so if you are a minimalist or into an apartment living in the big smoke you could always try the minimax big green.
Where to buy: You can buy these big green eggs on their online UK shop or most high-quality garden centers and shops that sell quality products for the home and garden.
Prices: Big Green Eggs Large Big Green £1,175, XL Big Green £1,665 MiniMax Big Green £780.
Website: biggreenegg.co.uk/eggs
Instagram: @biggreenegguk
---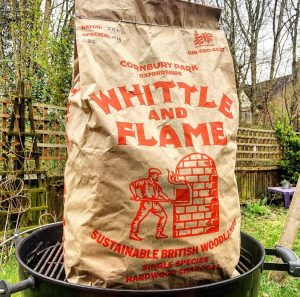 3. Whittle and Flame Cornbury ash charcoal
If you haven't tried Whittle and Flame charcoal then you don't know what a delightful BBQ really smells and tastes like. Strong words and we mean them! The distinct flavors of the British woodlands are about to come straight to your food. These guys are passionate about exceptional charcoal they say it comes from an understanding of time and temperature and the unique distilling process. In fact when we called them to discuss this article they were so busy making charcoal they took a few hours to get back to us.
Chris and Matt are known for wearing their hearts on their leaves with their primary focus being proper woodland management and working in harmony with the natural woodland cycles.
The reasons we love them… it lights without fuss and it's made with real love and carefully preserving the carbon structure and individual character of each piece. The flavors it gives your food take your taste buds on a grand adventure.
Where to buy: On their online shop: whittleandflame.co.uk.
Prices: Cornbury Ash Charcoal 4KG bag £14.00.
Website: biggreenegg.co.uk/eggs
Instagram: instagram.com/biggreenegguk
---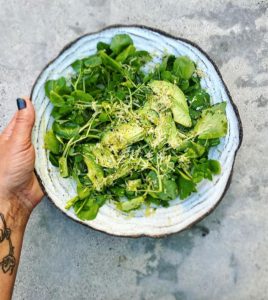 4. Plates and salad bowls by @geneviemakes on Instagram, the fire chef author and 'sporadic' potter Genevieve Taylor
We love the I Made this creator tags on Instagram. These plates and dishes are natural, organic they replicate the British countryside and embrace the wabi-sabi concept an aesthetic, and a worldview. Simply an intuitive way of living that emphasizes finding beauty in imperfection and accepting the natural cycle of growth and decay. As fans of ceramicists such as Ikuko Iwamoto and Beate Kuhn, we feel this creative endeavor from Genevieve Taylor may find its way to limited edition collections.
The reasons we love them… Because they are not trying to be anything other than what they are. They are unique, organic, creative, and embrace the natural elements of the world and the current climate.
Where to buy: We don't believe they are on sale yet, making us want them even more!
Prices: Priceless.
Website: genevievetaylor.co.uk
Instagram: @genevievemakes
---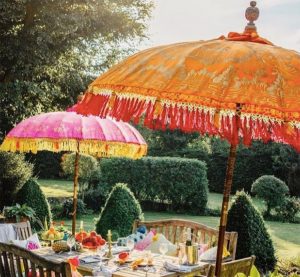 5. A Gorgeous Indian Garden Parasol from East London Parasol Company
Hand-crafted canopies and exuberant tassels. These unique parasols combine traditional techniques and contemporary design to produce unique show-stoppers and flamboyant fairweather friends.
Look if you want to be boring, please do it over there! I've included these as I fell in love with the Whitney round bamboo parasol about a year ago and I've just ordered one. I know when it arrives I'll wonder why it took me so long to deliberate and to order one. It will immediately transport me back to the magic and wonders of India and the Dalai Lama trip I loved so much. These decorative parasols were used in religious celebrations in India. Inspired by the riotous colors and the celebration of life and living fully. Whatever brings sunshine and cheer to our gardens for 2021 choose that. Our gardens are our safe social get-together sites so embrace the garden and make it inviting to those you hold close.
These are colorful and gorgeous so full of joy and will put a smile on even the grumpiest neighbor's face and make them feel fabulous. Embrace your authentic self in every moment and be you in all your colors this year!
The reasons we love them… They bring adventure, travel, color, theatre, and fun to your garden. I wish I had ordered mine sooner!
Where to buy: On their online shop.
Prices: £320+
Website: eastlondonparasols.com
Instagram: @eastlondonparasolco
---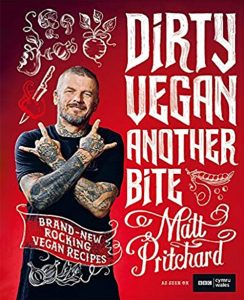 6. Cookbook Dirty Vegan Another Bite from celebrity chef Matthew Pritchard
Former Dirty Sanchez frontman turned endurance athlete and vegan Mathew Pritchard goes on a mission to make Britain healthier. This cookbook could turn any human vegan with its taste-electrifying meals. (Yes that is a challenge to try) The ex-presenter of the cult TV show Dirty Sanchez, Matt Pritchard, has brought out his second cookbook to accompany the BBC's leading vegan cookery program, Dirty Vegan. My-Oh-My, this man can cook up a storm in the kitchen, but he also makes it fun, daring, and easy-peasy so that anyone wanting to impress their vegan, animal-loving, and health-conscious friends can create an unforgettable feast.
The reasons we love them… I'll give you a few! Wait until you try these… Scandi beetroot, potato and fennel salad, sweet potato, dal and spinach gratin, sweetcorn, squash, and black rice salad, cauliflower, apple, and radicchio salad, piri piri tomato and crispy chickpea salad, ribollita with chopping board pesto and jackfruit and bean chili.
Where to buy: Amazon.
Prices: £12.31 hardcover, Kindle edition £9.99.
Website: amazon.co.uk
Instagram: pritchardswyd
---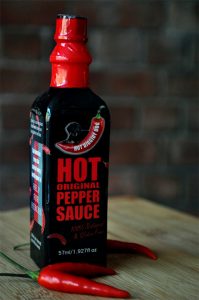 7. Hot Diggidy Dog original hot pepper sauce
If you love Tabasco lookout because you are about to get addicted to Hot Diggidy Dog sauces. Hot Diggidy Dog sauce is made in such a way that will give you a tangy yet sweet flavor followed by a rounded progressive pleasant heat level to your preference awakening your taste buds. The Limed version is giving a new level of hot diggidy flavor with a spike of zesty citrus, perfect for seafood or curries. The more sauce you add, the hotter it gets.
Delicious, daring, original, and fun, a real conversation starter for those that know Simon from Dragons Den and have seen the work he has done supplying hot sauce to the MOD, unstoppable, powered by strong taste, fun, and unshakable ethics.
The reasons we love them… Delicious, daring, original, and fun, a real conversation starter for those that know Simon from Dragons Den and have seen the work he has done supplying hot sauce to the MOD, unstoppable, powered by strong taste, fun, and unshakable ethics.
Where to buy: On their website or Amazon.
Prices: Hot Pepper original sauce 57ML £1.99.
Website: doggidy.co.uk
Facebook: @HDDSauce
---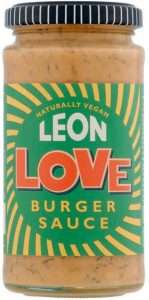 8. LEON Burger Sauce – Vegan Mayonnaise Made with Mustard, Dill, and Tomato
Ohhh if you love burgers this is a winner all day long. Bulging beef burgers or juicy vegan burgers. It was originally made to make plants taste better and now it is a firm favorite in restaurants and a top seller in the supermarkets. It really complements vegan burgers with its creamy, tangy mustard, dill, garlic, and tomato flavors. A creamy blend of dill and mild, American-style mustard adds big, bold flavors to a classic sauce.
The reasons we love them… Because if you know the brand Leon you'll know that everything they make tastes unbelievable.
Where to buy: Sainsburys.
Prices: £2.50 for 245 ML.
Website: leon.co
Instagram: @leonrestaurants
---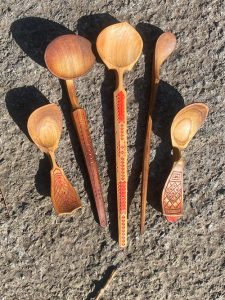 9. Lee John Phillips hand-carved and whittled spoons
Lee is the famous artist and illustrator who rocketed to fame on the shed project that hit Bored Panda, Guardian, and BBC and racked up many millions of views and shares in record-breaking time. A drawing marathon of lifetime proportions and perfection. For the past six / seven years, Lee John Phillips has been honoring the memory of his late grandfather Handel Jones… by meticulously drawing everything in his toolshed. "My grandfather passed away… and my grandmother treats [the shed] as a mausoleum". Lee carves and whittles the most gorgeous spoons you have ever seen and is currently working on two unique collections for The Michelin Guide star chefs looking to open new ventures.
The reasons we love them… They are unique and made with sheer artistry and love. Each comes with handwritten notes from what trees, forests they are from, with fallen trees and woodland lovingly preserved. One day they will be collectibles from artist Lee John Phillips.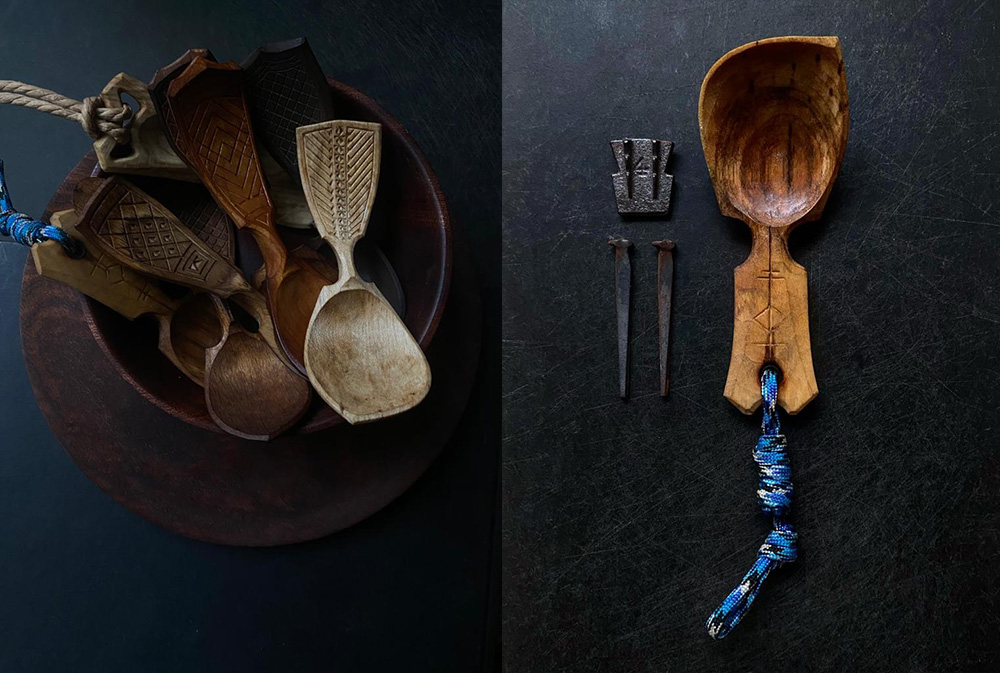 Where to buy: On request via his website or email.
Prices: On request on his website.
Website: leejohnphillips.co.uk/store
Instagram: leejohnphillips
---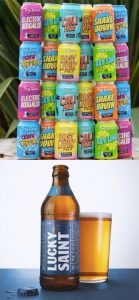 10. Tiny Rebel Brewery or Lucky Saint beers
Ohhh we struggled with this one so we added two brands together as we are fans of both. If that old saying is true all great BBQs are smoke and beers then we have quite the duo shortlisted! Here's the taste of summer from Tiny Rebel Brewery and Lucky saint non-alcoholic beer from Not another Beer Co.
We all have friends that are tee-total (more and more these days) we also have friends that really enjoy a good swig and letting go. For some of us, 'it really depends on who we are with and what mood we are in', so here are the two sides of that coin.
We have chosen tiny rebel to unlock that teenager within us that needs some fun. Also, lucky saint so that enjoying a drink can look cool and taste and feel even better with 0.5% Superior Unfiltered Lager – golden in color, holy in flavor. Alcohol-free. Discover biscuity malts & a refreshing citrus hop finish, at only 53 calories per bottle.
The reasons we love them… Because having them in your fridge caters to all your friends and 2021 is the year of bringing people back together!
Where to buy: tinyrebel.co.uk
Prices:
Tiny Rebel Taste of Summer £42
4 x Cali Pale – 5% Juicy Pale Ale (330ml)
4 x Clwb Tropica – 5.5% Tropical IPA (330ml)
4 x Easy Livin' – 4.3% Session Pale Ale (330ml)
4 x Key Lime Lager – 4.8% Lager with Key Lime (330ml)
4 x Shake Down – 4.5% Mango Vermont IPA (330ml)
4 x Electric Boogaloo – 4.5% Passion Fruit Lil' NEIPA (330ml)
*These items would individually be worth: £56.8
Lucky Saint 12 x 330 ml bottles £25
Tiny Rebel website: tinyrebel.co.uk
Lucky Saint website: luckysaint.co
Tiny Rebel Instagram: @tinyrebelbrewco
Lucky Saint Instagram: @luckysaintbeer