For three years, Julia Daviy has created the fashion industry's most innovatively sustainable garments.
The Miami-based maverick continues to fuse nature, science, and fashion with her new Morphogenesis luxury bag collection, presented at New York Fashion Week's Flying Solo Show.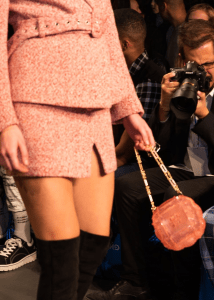 The bags were conceived as functional objets d'art whose striking yet elegantly nuanced design complements a wide range of ensembles. Their unique design, materials, visual texture, and production process are inspired by morphogenesis—the means by which nature produces differentiation from groups of identical cells and develops shapes. Daviy begins with the simple line as a unifying motif for the collection, creating variations on that theme that range from the voluptuously rich to the subtly understated.
The link between couture and theoretical biology wouldn't be apparent to most designers. But most designers didn't begin their careers in fashion while working in the clean-tech field, both on renewable-energy projects and on water purification and treatment and being experts in 3D printing and digital fabrication.
"For some time," reflects Daviy, "I have been looking to achieve zero- or even positive impact towards natural ecosystems through the transformation of standard manufacturing processes. Working in this direction, I discovered the immense potential in the intersection of additive manufacturing technologies, computational design and an environment-centered approach. The Morphogenesis collection is about far more than mimicking the natural patterns. It is rather about the solutions we use today to radically sustain the products in the fashion industry."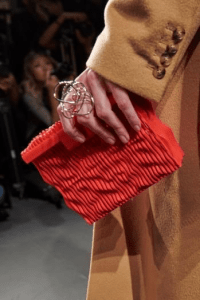 Alan Turing first described the chemical process of morphogenesis in 1952. His findings were only validated 60 years later, just as Daviy began developing plans for a waste-free, sustainable textile manufacturing process centered around 3D printing. The Morphogenesis collection is Daviy's first to incorporate her application of Turing's research.
Like previous Daviy's collections, the Morphogenesis line of sustainable bags is produced on 3D printers. Each bag's material and design requires a customized manufacturing process; depending on the demands of a given bag, Daviy may use multi-jet fusion, continuous digital light projection, and more traditional stereolithography, or selective laser sintering. All bags are produced using additive manufacturing processes to achieve vanishingly small degrees of wastefulness and net carbon production.
Daviy's painstakingly calibrated production process reduces her luxury bags' carbon footprint by more than 92% and radically decreases the water use, pollution, and waste compared with traditional leather bags product lifecycle. Just as importantly, the entire process is traceable and transparent. To achieve full carbon zero, Julia Daviy is providing a carbon footprint offset with investing in tree planting.



PHOTO: Tina Sokolovskaya, Jaime Pavon  •  EVENT: New York Fashion Week Flying Solo Ones to Watch  •  VENUE: Pier 59, New York