In Las Vegas today, The North Face unveiled FUTURELIGHT™, a new breathable waterproof material set to revolutionize the future of technical fabrics. Developed using innovative Nanospinning technology and sustainable practices, it is the most advanced breathable-waterproof outerwear material available.
"Right now, the expectation from a waterproof product is something loud, crunchy, muggy and unpackable. With FUTURELIGHT we can theoretically use the technology to make anything breathable, waterproof and for the first time, comfortable," Global General Manager of Mountain Sports at The North Face Scott Mellin said. "Imagine a waterproof t-shirt, sweater or even denim that you actually want to wear. Today we start with jackets, tents and gloves, but the possibilities could be endless."
With FUTURELIGHT technology, The North Face is also setting a new standard in sustainability through new practices in the  fabric creation process. These advances have allowed the brand to responsibly create  three-layer garments through use of recycled fabrics and production that cuts chemical consumption, all while being produced in a cleaner, solar-powered factory.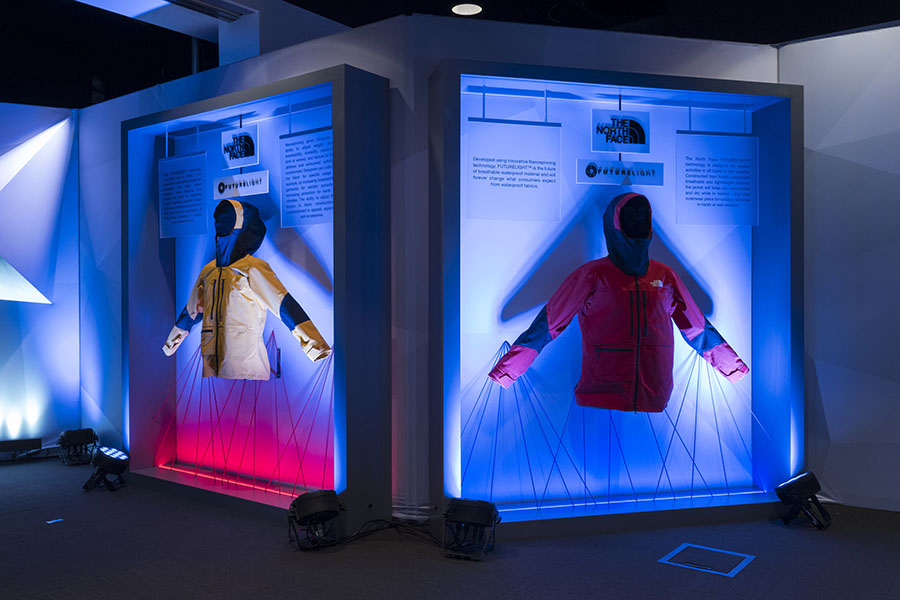 The FUTURELIGHT™ Experience: Las Vegas 2019
Unveiled at the world's largest technology show, The North Face partnered with world-renowned design agency Designworks, a BMW Group Company, to create physical and virtual reality experiences to demonstrate the array of FUTURELIGHT fabric's technical capabilities, and potential to change how humans are protected from the elements. FUTURELIGHT fabric will first become available to consumers in The North Face's Fall 2019 product line and will be featured across the brand's pinnacle performance collections.