Protein powder delivers a concentrated dose of fast-acting, easily bioavailable amino acids that your body can use to build and repair muscle immediately following an intense workout. In addition, because it's nearly pure protein—with only a small amount of fats and carbohydrates to boost your energy— protein powder enables faster post-workout recovery and muscular growth.
Vegan protein powders offer a plant-based alternative for those who follow the vegan or vegetarian lifestyle. Still, they're also easier on your digestion, lower in calories, and more eco-friendly than milk- (whey or casein) or egg-based protein powders.
We wanted to find the vegan protein powders that deliver the best of everything—the best flavor, the best nutritional quality, the best dose of concentrated protein, and the best results. The results are as follows:
1. STEEL Supplements Veg-Pro
2. Onnit Plant-Based
3. Garden of Life Sport Organic Plant-Based Protein
4. Vega Sport Premium Protein Powder
5. KOS Organic Plant Protein Powder
We believe that each of these vegan proteins has something unique to offer, and they can provide you with a marvelously effective dose of plant-based amino acids that will accelerate muscle growth and recovery.
Particularly our #1 pick, which not only delivers highly quick-acting proteins but is seriously one of the best-tasting protein powders we've ever tried!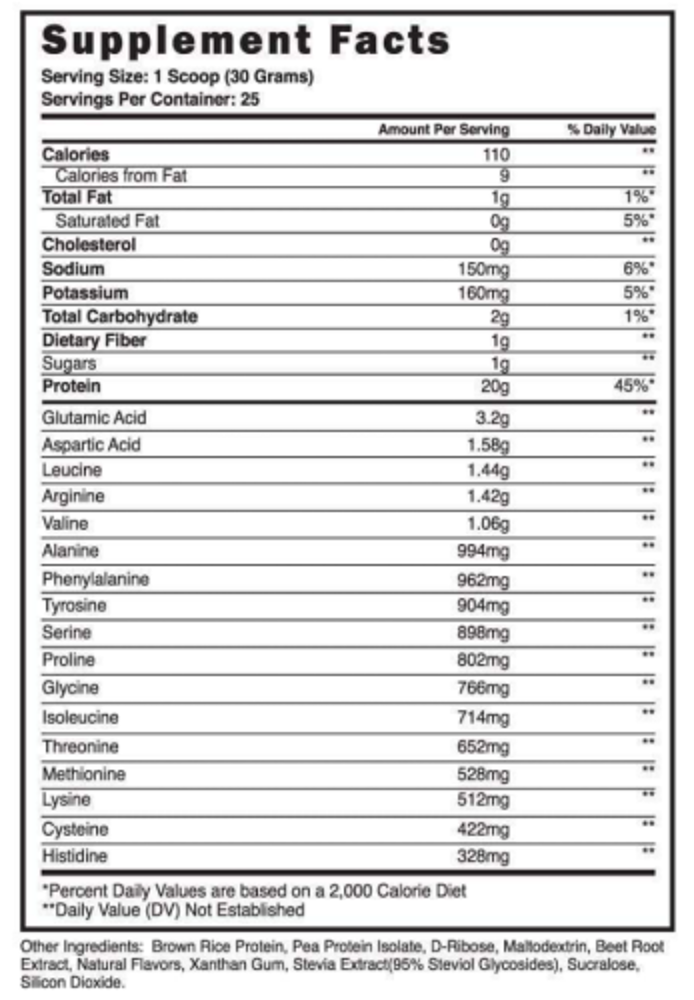 1. STEEL Supplements Veg-Pro
Topping our list is Veg-Pro by STEEL Supplements, a product made by a brand that believes in only the best quality ingredients backed by science for maximum results.
Veg-Pro is a 100% vegan/vegetarian product made with two primary protein sources:
Pea Protein – Not only is pea protein extensively backed by dozens of studies, many of which have proven that it delivers results on par with whey protein [1] when it comes to workout performance, body composition, muscle thickness, strength, and force production.
Brown Rice Protein – Brown rice protein is more than just a concentrated amino acid source; it's also incredibly heart-smart and encourages fat-burning. There are certain peptides [2] in brown rice protein that can help decrease liver cholesterol production and prevent weight gain.
Take a closer look at the ingredients used in Veg-Pro, and you won't find soy anywhere on the list. That's because soy could prevent the absorption of important micronutrients (like iron and zinc), interrupt hormone balances, and impair thyroid function. STEEL specifically chose to omit soy and instead focus on protein sources that deliver both concentrated amino acid doses and quality nutrition.
Simply put, Veg-Pro delivers maximum positive benefits with as few side effects as possible!
Veg-Pro is also non-GMO, dairy-free, and verified pure, specifically formulated for vegan athletes and bodybuilders looking for a high-quality post-workout protein source.
Flavor and Texture
Veg-Pro comes in eleven different flavors, including:
Hot Cocoa
Peanut Butter
Chocolate
PB&J
Snickerdoodle
Vanilla Cream Pie
Strawberry Cheesecake
Butter Pecan
Blueberry Muffin
Banana Pancakes
Cookies and Crème
The flavors are sweeter than the average protein powder, which is perfect for those with a sweet tooth or simply looking for more taste for their smoothies and shakes.
Pea protein is naturally thick, so it will require more blending to achieve a properly smooth consistency. However, many reviewers have claimed it is the "best-tasting vegan protein powder on the market."
What People Are Saying About Veg-Pro
The reviews about Veg-Pro have been super positive across the board, with bodybuilders and athletes alike loving both the flavor and the results of the vegan protein powder.
Joyce loves how it tastes and does not see the digestions issues she has seen with other Vegan powders:
Kevin loved the flavor and easy digestibility:

Choose Veg-Pro for Best-in-Industry Results
Veg-Pro is formulated specifically with vegan bodybuilders and athletes in mind, packing maximum nutritional quality into every scoop and using only the best ingredients—which is why we've chosen it as our number one pick.
Thanks to its quick-acting, easily digestible plant-based proteins, it's a protein powder that we know will sit well in your stomach and deliver the amino acids your body needs to build muscle following an intense workout.
At just 110 calories per serving, Veg-Pro delivers a high dose of protein (20 grams per scoop) that is ideal for muscle repair and growth while also encouraging fat-burning and weight loss.
You can read more real customer reviews of Veg-Pro here and learn more about this protein powder for yourself.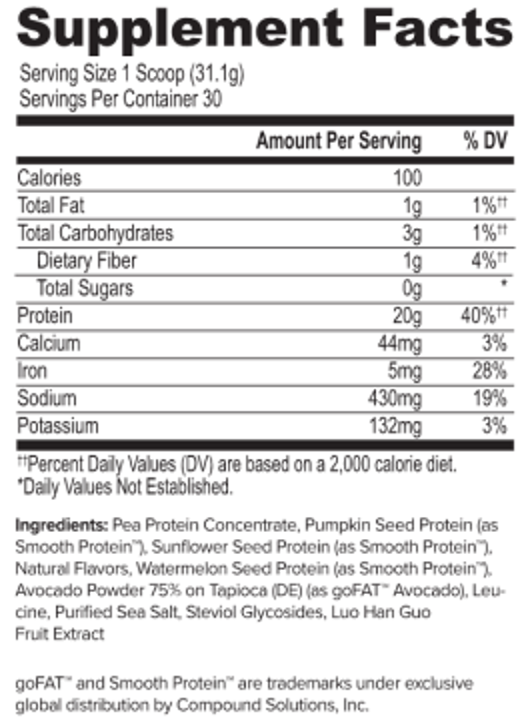 2. Plant-Based Protein by Onnit
Onnit's Plant-Based Protein combines a few different amino acid sources to provide complete proteins to maximize muscle growth.
In addition to pea protein, this supplement includes:
Pumpkin Seed Protein – Pumpkin seed protein is an incomplete protein, but it delivers a high dose of magnesium, zinc, and iron.
Sunflower Seed Protein – Also an incomplete protein but contains Vitamin E, magnesium, iron, and calcium.
Watermelon Seed Protein – Includes iron, B vitamins like thiamin and folate, and magnesium.
Put together; these four protein sources deliver 20 grams of complete protein in every scoop of Onnit Plant-Based Protein. This results in an interesting amino acid profile:
Unfortunately, due to the addition of so many "incomplete proteins", the supplement is generally less efficient in terms of protein delivery. The nutritional profile is good enough at providing high quality protein, but seems to lose focus on athletic performance.
Flavor Choices
Onnit's Plant-Based protein powder only comes in two flavors:
• Vanilla
• Chocolate
Reviews seem to agree on the great taste, texture, and easy mixing, however.
So, it's a decent option for professional bodybuilders and athletes to consider—not quite as excellent as Veg-Pro, but a good second best.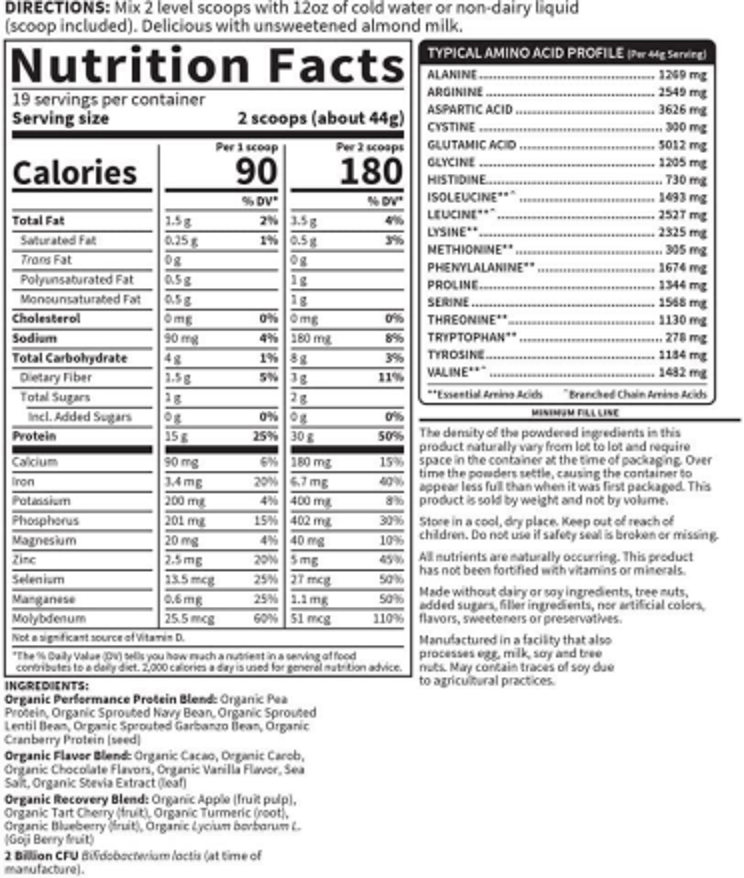 3. Sport Organic Plant-Based Protein by Garden of Life
In third place on our list of plant-based protein powders is the Sport Organic Plant-Based Protein by Garden of Life.
This contains moderate concentrations of micronutrients and protein content. It is slightly lower in protein at 15g per scoop, requiring more powder to achieve muscle recovery benefits.
Sport Organic Plant-Based Protein provides 2.5 grams of BCAAs (leucine, isoleucine, and valine).
In addition to organic pea protein, this powder derives its amino acids from a number of legume-based sources:
Organic Sprouted Navy Bean – An incomplete source of protein that offers a dose of manganese, copper, Vitamin C, magnesium, folate, and B vitamins.
Organic Sprouted Lentil Bean – Sprouted lentils are easier to digest than cooked lentils, and the nutrients—including Vitamin C and a host of B vitamins—are also more bioavailable.
Organic Sprouted Garbanzo Bean – Garbanzo beans contain dietary fiber, making them a digestion friendly addition.
Organic Cranberry Seed Protein – Cranberry seed protein contains antioxidants and phytonutrients, and is one of the only fruit-based complete proteins, with all nine essential amino acids. It combines well with the other protein sources to deliver a digestion-friendly vegan dose of nutrients.
This is yet another supplement that pairs a number of different proteins in order to provide a more complete amino acid profile. Compared to the TWO protein sources in Veg-Pro and Onnit, it's just not quite up to the standard of excellence for a truly performance-focused protein powder.
Moving on…
Flavor and Texture
Garden of Life's Sport Organic Plant-Based Protein only comes in two flavors:
• Vanilla
• Chocolate
Some reviewers have complained that the texture and taste are a bit "chalky"—a common complaint with plant-based protein powders.
However, a few commenters said it had a very smooth, creamy texture and satisfying mouthfeel.
You can read real Garden of Life customer reviews or check out the Sport Organic Plant-Based Protein for yourself right here.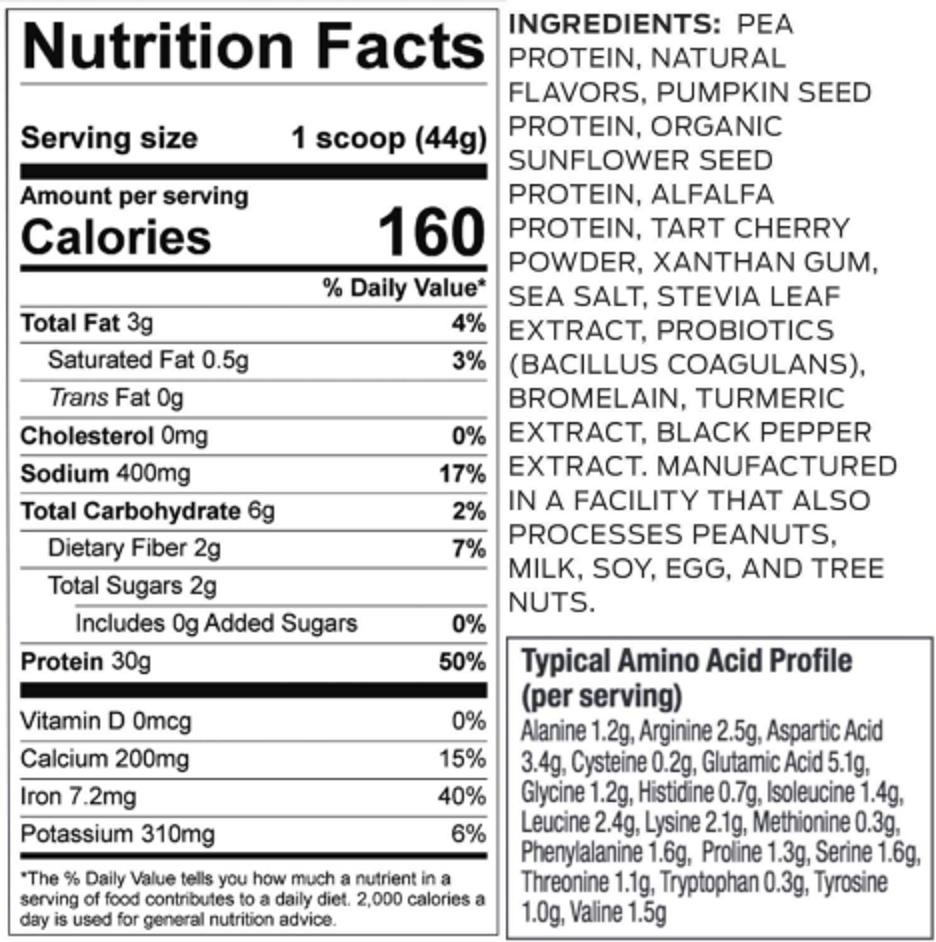 4. Sport Premium Protein Powder by Vega
In fourth place on our list of the best muscle-building vegan protein powders for 2021 is the recovery accelerating Sport Premium Protein Powder by Vega.
Vega was one of the first vegan protein brands to make their mark on the industry. This vegan protein powder is Non-GMO Project Verified as well as free of soy and artificial ingredients.
Let's take a closer look at the nutritional profile of each scoop of this protein powder, and you can see what micronutrients it delivers:
One scoop provides 30 grams of protein in addition to 5 grams of BCAAs for concentrated muscle building to replenish depleted energy after an intense workout. This is slightly higher in carbohydrate count, which means it is not as low in calories for those who are concerned.
Vega adds probiotics and turmeric into their ingredients for easier digestion.
What Does It Taste Like?
This protein powder comes in five different flavor options:
Vanilla
Chocolate
Peanut Butter
Mocha
Berry
Vega offers more flavors than the Onnit and Garden of Life but some users have complained that the mix of natural sweeteners (Stevia and xantham gum) makes the powder just a little TOO sweet for their liking.
But one thing that most reviewers agree on is the easy digestibility of Vega's plant-based protein. As one reviewer said: "If you happen to have a sensitive stomach…LOOK NO FURTHER."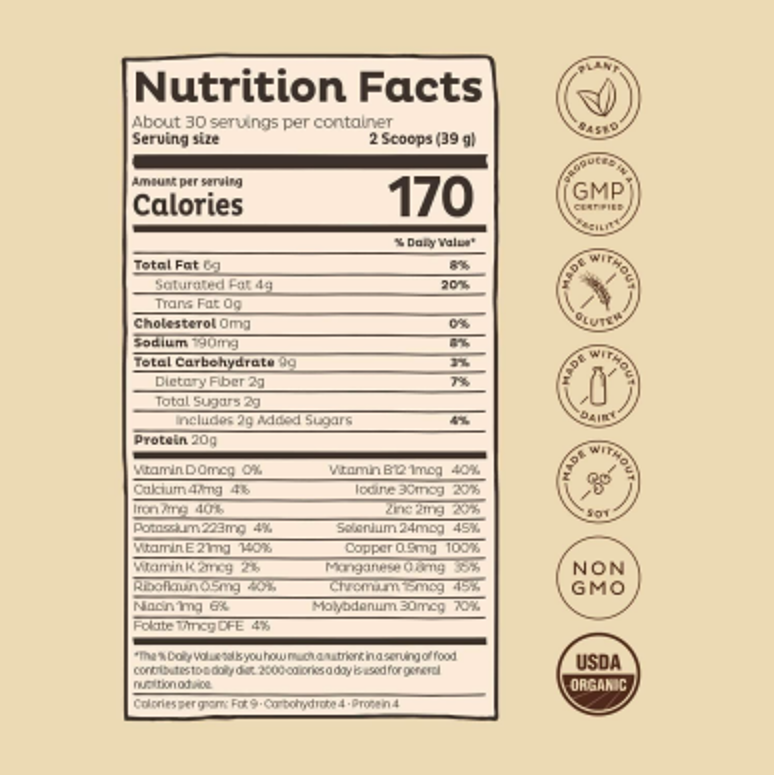 5. Organic Plant Protein Powder by KOS
Out of all the vegan protein powders we tried, only Veg-Pro was better than the rich, decadent chocolate flavor of Organic Plant Protein Powder by KOS.
Don't get us wrong: we appreciated the nutritional value offered by KOS's plant-based protein. Take a look at the nutrition facts below, and you'll see that it included micronutrients like Vitamin B12, zinc, selenium, Vitamin E, copper, and manganese.
It claims to be one of the most nutritionally diverse protein powders on the market, which is why it made it to number 5 on the list.
It's formulated for those with irritable digestive systems or who just want a gentler protein powder that won't trigger negative intestinal reactions.
Flavor Choices:
KOS's Organic Plant Protein Powder comes in seven different flavors:
Unflavored
Vanilla
Salted Caramel Coffee
Chocolate Chip Mint
Chocolate Peanut Butter
Chocolate
Blueberry Muffin
While all the flavors are enjoyable, it's the chocolate flavors that we enjoyed most.
The protein powder is infused with coconut milk and cocoa powder, a combination that delivers a truly potent "chocolate milk" flavor.
Click the link/button to visit KOS' website and read all about this delicious powerhouse of a protein powder for yourself…
Which Vegan Protein Powder is Best for Muscle-Building in 2021?
All of the protein powders we listed here have something to offer: great taste, improved ease of digestion, excellent micronutrient profile, and convenience.
At the end of the day, we've concluded that Veg-Pro (available here) by STEEL Supplements deserves its place as the top contender because of its purity and the top-in-class effectiveness of its protein sources. It certainly doesn't hurt that it's also easily one of the most delicious vegan protein powders we've ever tasted.
If you want to see serious muscle gains on a vegan or vegetarian diet, a great protein powder can make all the difference—which is exactly what we know STEEL Supplements Veg-Pro product offers.
Hopefully, with the information you've gleaned above, you're ready to get shredding muscle with the best vegan protein powders around to back up your gains. Happy training!