It all began in 1963: Peter Dussmann started a home cleaning company in Munich with a handful of employees. Today, Dussmann employs over 66.000 people with offices in 17 countries and is not only an expanding global player but also one of the world's largest private multi-service providers.
In 2011, Catherine von Fürstenberg-Dussmann took on the chair of the board of trustees of the Berliner company which comprises five company divisions. Dussmann Service, the largest division of the family enterprise, creates customized facility management (FM) concepts that combine the whole range of soft services – cleaning, security, catering, and technical services.
Dussmann Next Level: new technologies and technical expertise
The FM sector is currently experiencing a global transformation. How can we serve the needs of our clients better, what is the role that innovation will play in the challenges that the FM market currently presents? This year, as a response to these central questions, the Dussmann Group founded an additional company division for hard services, Dussmann Technical Solutions, abbreviated DTS. The division is expanding the scope of its technical knowledge and skills guided by the Dussmann Next Level strategy that was formulated in 2018 with the central objective of increasing the deployment of new technologies. The Dussmann Group is investing in the digitalization of business and administration processes but also in new support technologies and aims to digitalize a proportion of the value chain by 2023.
A well-structured portfolio guarantees a wide scope of expertise
Important components of this transformation process are partnerships and alliances but also acquisitions. In July 2019, the Irish family enterprise, STS, joined the Dussmann Group with around 700 employees and annual sales of 150 million Euros. STS is an experienced provider of electrical engineering, instrumentation, design and commissioning services. Its clients include pharmaceutical manufacturers and data centers.
In October 2018, Dussmann Service acquired 70 percent of shares in the Italian company Gaetano Paolin S.p.A. – a specialist in air-conditioning, room-air distribution, refrigeration and heating systems in addition to building automation and control systems. The leading Italian provider of surgical sterilization, Steritalia, with a product portfolio spanning the entire process chain in medical facilities and hospitals where surgical instruments are used, is also a member of the Dussmann Group.
Dussmann Service is a strategic partner for the outsourcing of facility management on an international basis. In the development of quality-oriented customized solutions, the emphasis is placed on careful use of resources and compliance with international standards.
A focus on growth in the GCC states
Dussmann Service has placed a special focus on the dynamic FM markets in the GCC region where the company established activities nearly 15 years ago. The offices of Dussmann Middle East GmbH in Abu Dhabi, Dubai, and Saudi Arabia employ several thousand employees. Its subsidiary Dussmann Gulf Technical Services was awarded the technical services contract for the Landmark Group, one of the largest and most successful retail organizations in the Middle East. The contract includes properties across the UAE including headquarters, the web office, a warehouse and two retail stores in shopping centers. Dussmann Gulf Technical Services is continuously expanding its technical services portfolio and stretched it to Bahrein and Kuweit just recently.
One thing is very clear: Dussmann Next Level strategy is consistently implemented in the GCC states; new clients are won with new technologies, innovative solutions, and service expertise.
The global player has set itself the target of establishing "made in Germany" as a mark of quality and, as a creative problem solver, of actively shaping FM in the Arab world, now and in the future.
---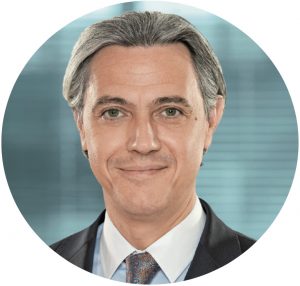 Interview with Hakan Lanfredi
"There is a high demand for our German quality standards"
Peter Duncan: Mr. Lanfredi, the Dussmann Group is a successful German company in numerous sectors. Could you first give us an overview of the Dussmann Group's core activities?
Hakan Lanfredi: We are a family enterprise with headquarters in the capital city of Germany with activities in 17 countries. The heart of the company is its workforce because they make a difference; they make life easier for our clients – every day – by providing the whole range of facility services. Clients can concentrate on their core businesses and we take care of the rest. This service orientation also characterizes the other company divisions of the Dussmann Group. Our employees provide nursing and care for the elderly at Kursana facilities and childcare at KulturKindergarten facilities. The services of the new service division, Dussmann Technical Solutions or DTS, span the entire life cycle of buildings.
Q: Dussmann has a wide international base and is also active in Arab countries. How do opportunities in the Arab region look?
A: The company's first activities in the region date back to 1976. Today, I see clear potential for the Dussmann Group in terms of both sales and earnings in the entire GCC region. We want to help shape development by supporting the numerous new construction projects with hard and soft services. The population is growing, the countries in the region are diversifying, and this has a positive effect on the market for our services. There is a high demand for our German quality standards.
Q: What are your plans for the Arab countries?
A: Our clients already have access to a wide range of hard and soft services with certified quality from a single source. We will expand our technical portfolio with our subsidiary Dussmann Gulf Technical Services. This growing technical orientation is furthered by DTS and the recent acquisition of STS. DTS provides solutions for all technical systems – from electrical engineering to refrigeration and air-conditioning to elevator construction. Our services span the life cycles of technical systems and buildings. There is a focus on clients with complex technical requirements and critical systems such as data centers, pharmaceutical companies, and semiconductor manufacturers. We aim to offer DTS solutions in the Arab world too.
Q: Today's technical requirements for modern facility management are very complex. How can you provide sustainable technical support, for example in a large mall?
A: We work with state-of-the-art maintenance regimes and a number of maintenance strategies that depend on the criticality of client equipment. Service users can use our app Dussmann Link to make requests, report faults, monitor the progress of service provision and to give feedback on the quality of services. Our CAFM system is a central tool of our technical services, in combination with our 24/7 helpdesk. The sustainability of our services is crucial to us. The extreme climatic conditions make it particularly important to use resources as carefully as possible. We also help our clients to save costs through energy management which is certified according to ISO 50001.
Q: Could you briefly present one of your most successful projects in the region?
A: The Capital Plaza in Abu Dhabi is a premier, mixed-use development in a prime location at the eastern end of the Corniche, adjacent to the Sheikh Khalifa Energy Complex and opposite the Sheraton hotel. We have been delivering facility management services to Capital Plaza Towers since 2011: technical services, soft services, and energy management.
Q: Is it planned to provide services to the healthcare industry? The demand for such expertise from Germany is known to be very high in the Gulf states.
A: A Dussmann Group company, Steritalia, provides surgical sterilization services that are central to the health care sector. Synchronized to the processes of medical facilities such as hospitals, sets of sterile surgical instruments are provided. Refrigeration and air-conditioning also play an important role in the healthcare market and we can offer a wide scope of expertise.
---
Hakan Lanfredi, born in 1969, joined the executive board of Dussmann Group in February 2017 taking on responsibility for facility management in the EMEA region. This comprises clusters in Europe, excepting the DACh region and Italy, and includes the Middle East and Asia. He holds an MSc in mechanical engineering and earlier posts include CEO at Babcock Borsig Steinmüller, an international service provider to the energy industry and a subsidiary of Bilfinger SE Power. Hakan Lanfredi previously worked for Bilfinger SE Power as CEO at the Middle East Holding. He is married with two children.
Hakan Lanfredi
Board Member EMEA, Dussmann Group
Contact (office Hakan Lanfredi)
Email: sandra.boelke@dussmann.de
Phone: +49 (0)30 2025 1442
Dussmann Middle East GmbH
Office 23 Oasis Center, Sheik Zayed Road, PO Box 487072 | Dubai
Phone: +971 4 223 1161
fax: +971 4 388 3171
info@dussmann.me