The COVID-19 pandemic has been rough on everyone. It seems as if everything has been disrupted, from air travel to the restaurant industry to sports. There has been nothing that the pandemic, along with the restrictions in response to it, hasn't touched. Swiss basketball has been no different.
There have had to be changes made in order to abide by the safety guidelines and mandates imposed on anything that involves people gathering together in one location. Sports events have had to abide by new rules that have often significantly changed the nature of sporting events compared to how they used to be.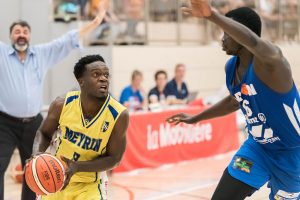 These changes have led to far fewer events and crowds, making it almost an eery shadow of how things used to be. Nevertheless, professional basketball players like Arnaud Barapila have been looking at the pandemic as an opportunity to refocus on what they love and get determined to excel. Arnaud sure has come to see the silver lining in the pandemic, and has taken advantage of it. The 2019/2020 season he played for Union Lavaux Riviera has been his best yet.
Arnaud's gameplay over this past season has helped improve the standing of his team, and will hopefully continue to do so in the future. His playing over the course of the season has been impressive. During the season with Meyrin Geneve, Arnaud had, on average, 8 points, 4.5 rebounds, and 1.1 assists per game. He played 14 games with Meyrin Geneve during the regular Switzerland – LNBM season, which set a season-high by him scoring 17 points in 23 minutes while playing against Sion Basket. He also was able to get 10 rebounds within 27 minutes while playing against Morges-Saint-Prex. Additionally, Arnaud gave 3 assists in 27 minutes against Morges-Saint-Prex as well. He was able to also get a double-double, while also scoring in double figures 5 times over the course of 14 games.
Being his 14th season, Arnaud brings plenty of experience with him to the court whenever he plays. He is a 1x champion LNA for Switzerland's 1st division, Geneva Devils 2003/2004. He also holds four LNB titles for Switzerland 2nd division. Additionally, he played very well for Bernex Basket (2009/2010), Lausanne Foxies (2013/2014 & 2014/2015), and Vevey Riviera Basket (2016/2017). He is also a 1x Champion Italia for Pallacanestro Cantù (2010/2011).
As great as some of his past achievements are, there are also misses like any player has. He ended up losing the 2017/2018 Switzerland 2nd division Finals, as well as the Mayrin Basket 2018/2019. However, considering he had a lengthy 14-season career, just having these losses is still minimal. Also, while Arnaud did become eligible for the NBA draft in 2009, he didn't end up getting drafted. It's possible that he will get lucky next time, however.
This 34-year-old wearing a #13 on his jersey plays a power forward/center and comes in at 6' 5". Playing for Lavaux now means he isn't necessarily enjoying all of the success that a team like Swiss Central does. However, helps his team get wins nonetheless.