Low and no-code development is on the rise. Small to large companies chose these development approaches to streamline their development processes, cut costs, staying more flexible and Agile, better solve their business tasks, and be better able to meet market demands. Let's dwell on the essence of low and no-code development, revealing their benefits and overviewing the tools that will be helpful for creating an app in a smarter way.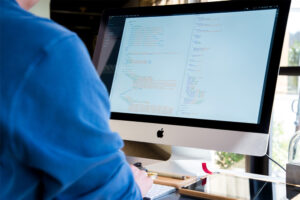 How Does No-Code Development Work?
The essence of no-code development is clear from its name. This is the approach to software development creation that allows for fully or partially avoiding the need to create custom code from scratch. Here is what the experts say about no-code development. "It's easier than ever to build software. Now, in just a few hours, you can create something that used to take specialized skills and countless days. This is all because of the "no-code" tools that let you do so much without writing a single line of code."
But despite the clear and intuitive definition of no-code app development, it works in a little more sophisticated way. Firstly, to make this approach work, you have to use a dedicated low code development environment. To put it simply, this is a platform that already has all the necessary features to come up with an application of a certain type. Most frequently, no and low-code development platforms are created to meet the need of the enterprises to create several solutions for different business processes without overpaying for each of them. These platforms come with already created basic and advanced features needed to address the business needs. They allow for quick prototyping, UI, and UX development, creating the solutions' core without the need to code a lot, testing, debugging, and launching.
So, the only difference between traditional and low code app development is that you don't need to write the code from scratch and can make use of the pre-developed templates and Agile workflows already built-in.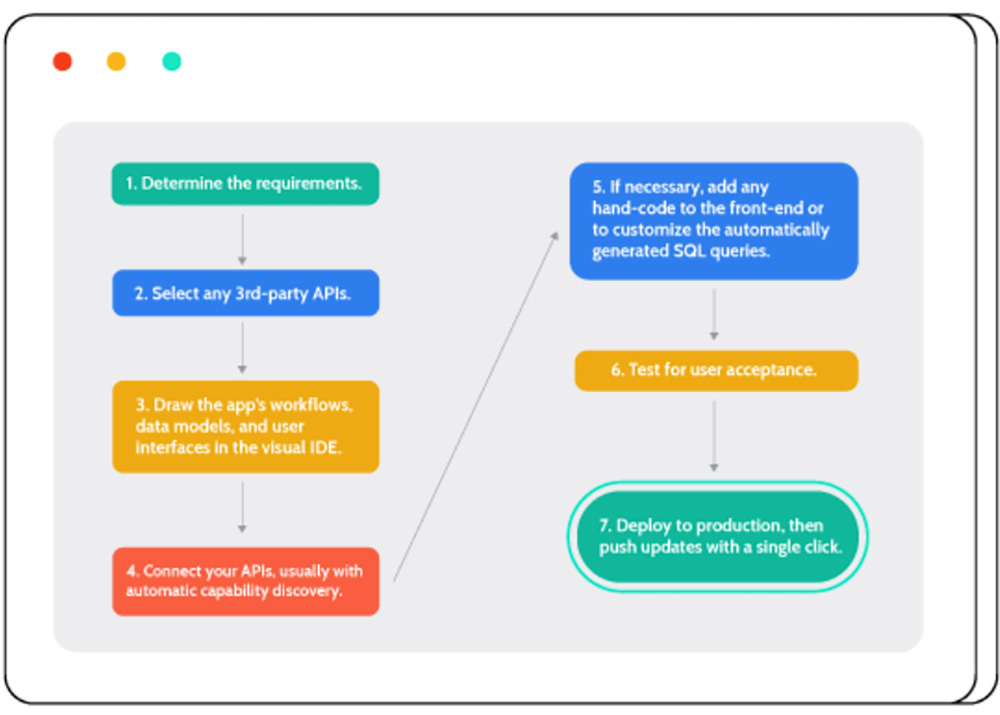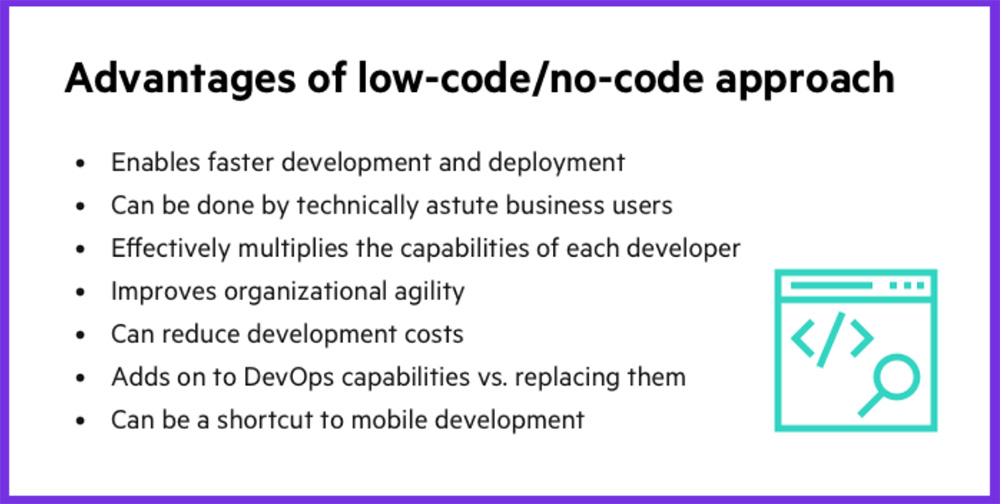 What Are No Code Development Benefits?
Development speed without the loss of efficiency and final quality. The core idea behind low code and no-code development is to speed up the development process as much as possible. What's more, the innovative no-code software development tools come with a pretty effective set of tools that allows both professional programmers and citizens to create outstanding solutions without much headache, saving both time and money.
Fewer tech professionals are involved. The use of no-code allows for hiring fewer tech specialists than you need to hire when coding in a traditional way. What's more, when it comes to practice, smaller teams turn out to be more effective than large ones since they have better opportunities to communicate and collaborate. This is an ultimate win-win option for businesses eager to cut development costs while increasing team efficiency and productivity.
Better digital transformation opportunities. According to statistics, an average company uses at least 22 custom apps in its business processes. The larger the company – the more applications it uses to address and ensure seamless operation. The digital transformation forces businesses to become tech-savvy and data-driven, while creating a custom app is in most cases, the only way to solve a specific business problem. Low and no-code development allows for creating as many solutions as you need while staying flexible and avoiding the risk of running out of a budget.
Top 3 No-Code Software Development Tools Overview
There are a lot of no-code software development platforms to choose from but the top 3 listed below are the best picks from the perspective of available functionality, user-friendliness, technical skills, and pricing.
1. Web Flow
Web Flow is a no-code software platform that is designed for building websites only. That is, the functionality of the app is almost similar to the ones of the well-known website builders like Wix and Tilda but Web Flow takes a more intelligent approach to web apps development. While most of the functions are powered by the drag and drop principle, Web Flow also has enterprise-scale solutions that allow for creating scalable, powerful, and secure websites that can be tailored to the use case pretty well.
Another benefit of the solution is the opportunity to use it for free until your web app is launch-ready, plus you can hire an expert that will assist you with website development with the help of Web Flow.
2. Visual Lansa
Visual Lansa is a more intelligent low-code platform compared to Web Flow. Firstly, you still need some technical knowledge and skills to create apps with its help since it provides the Integrated Development Environment (IDE) for low and traditional coding approaches. This platform is also perfectly suitable for enterprise development and is mainly focused on desktop apps that can be transformed into mobile solutions in the future.
3. Appollo Systems
Appollo Systems is the most outstanding solution on the list of low code and no-code development tools. This is an actually no-code platform that allows for covering all the milestones in the application development according to Agile methodology- getting started by the idea and moving to its prototyping, validating, creating, gathering user feedback, and launching a solution. The system comes with highly customizable and easily reusable components, strong testing and debugging features, optimized DevOps workflows, and scalable architecture. This no-code development app can become a perfect choice for medium to large enterprises moving along the digital transformation path but eager to avoid overspending on engineering services and reduce time waste.
Conclusion
Following a low code development path is a winning strategy for the companies on the way to ultimate digital transformation. This is also an opportunity to significantly cut costs on the tech team gathering and maintenance. reduce the development time, provide the smaller team with a better environment for effective collaboration and still have no reason to worry about the final result. No and low-code development approaches are the emerging trends in software development so getting started with them asap can be the way to better efficiency in the long run.
FAQ
What is no-code application development?
No code development, as the name suggests, stands for the opportunity to create mobile and web apps without the need to write the code from scratch. To make this approach work for your business benefits, it is enough to choose a low or no-code development platform and create a solution with the help of pre-developed templates and following intelligent workflows. In some cases, no professional help can be needed to handle no-code app building.
Will no code replace developers?
No code is unlikely to 100% replace all the developers. While no code platforms require no code writing, they still require support, maintenance, and sometimes more customization which is possible only with the support of a professional engineer. Low-code platforms, in turn, require creating some code in any case.
What is a no-code example?
Most of the apps created with the help of no or low-code development approach are used by the companies internally, so there are no well-known solutions that publicly declare they've used a no-code platform.