Swarovski has partnered with award-winning creative director and designer David Korins, best known for his work on the Broadway hits Hamilton and Dear Evan Hanson, to add dazzling embellishment to a selection of his set designs for the 91st Oscars®, airing Sunday, February 24, 2019. This year's show will mark Korins' first time as production designer and Swarovski's twelfth time illuminating the Oscars stage. Key features of this year's set design include the 'Crystal Cloud', a 1,600-pound cloud-shaped installation; the 'Crystal Swag', a three-story high, 54-foot-wide ribbon-like formation; and two 'Crystal Presenter Backings'.
Over 41,000 Swarovski crystals will be integrated into the four designs, which took a team of 15 people over 2,100 hours to fabricate. The Crystal Cloud and Crystal Swag are both inspired by natural geography. The Crystal Cloud is a sparkling interpretation of atmospheric clouds, with over 1,250 crystal strands floating ethereally over the stage. The striking Crystal Swag, created from nearly 400 crystal strands alongside a crystalized steel structure, is designed to look like a waterfall flowing from the ground up. The Crystal Presenter Backings, which will appear on stage behind award presenters, are free-flowing creations adorned with 1,800 crystals.
Korins' vision was to create abstract and organic shapes that make the audience and stage feel as one, representing a feeling of inclusivity. His designs gain warmth and illumination from thousands of precision-cut Swarovski crystal beads, flatbacks, and pearls in gold and silver shades. These elegant designs will bring the theater to life on awards night, celebrating Swarovski's longstanding connection with the Academy Awards® and the company's heritage in the entertainment industry.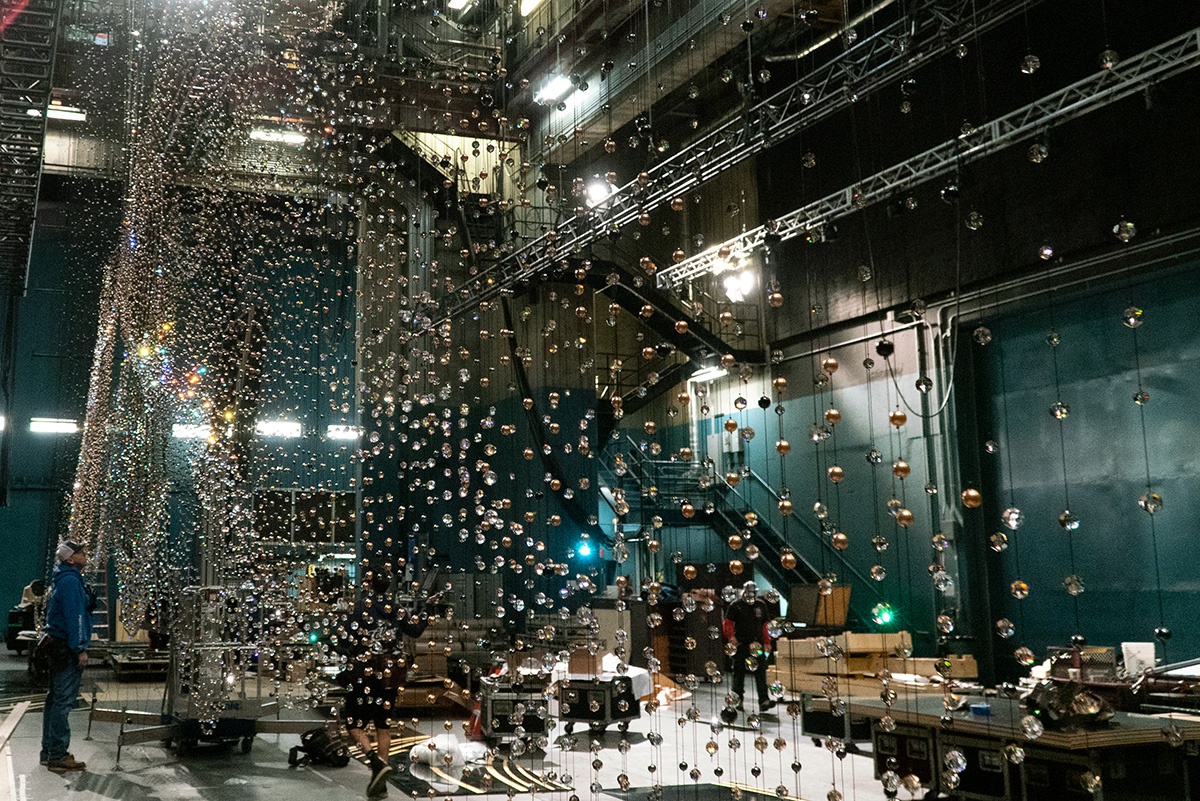 Swarovski's history on the silver screen goes back to the early days of Hollywood over 85 years ago, when its crystals made their Hollywood debut in the Marlene Dietrich film Blonde Venus. It is a history sparkling with iconic moments, from Marilyn Monroe singing 'Diamonds Are a Girl's Best Friend' wearing dazzling Swarovski jewels in Gentlemen Prefer Blondes to Audrey Hepburn accessorizing her Little Black Dress with a chic Swarovski tiara in Breakfast at Tiffany's. In recent years Swarovski crystals have appeared in a host of exciting productions, including Bohemian Rhapsody, The Greatest Showman, Black Swan, The Great Gatsby and Disney's adaptations of Cinderella and Beauty and the Beast.
The 91st Academy Awards® will be held on Sunday, February 24, 2019, at the Dolby Theatre® at Hollywood & Highland Center® in Hollywood and will be televised live on the ABC Television Network at 8 p.m. ET/5 p.m. PT. The show, produced by Donna Gigliotti and Glenn Weiss, also will be televised live in more than 225 countries and territories worldwide.
Over 41000 Swarovski crystals used for the 91st #Oscars2019 set design. Team of 15 people. Over 2100hrs to fabricate. 1600lb cloud-shaped installation 'Crystal Swag'. Three-story high, 54-foot-wide ribbon-like formation; and two 'Crystal Presenter Backings'. pic.twitter.com/Ebh7Gr6qWZ

— Luxenburg Magazine (@LuxenburgMag) February 22, 2019