Cavalier Gallery, in cooperation with Rockhill Management and NYC Parks, is pleased to reveal five monumental to life-size works by artist Jim Rennert, which will be installed in New York City's Theatre District and Dag Hammarskjöld Plaza. All sculptures stand at over 12.5-feet tall and illustrate corporate success concepts and the obstacles faced by the modern working man.
Drawing on his past professional experiences and those of his contemporaries, Rennert composes thought-provoking works through simplified figures and forms. Walking the Tightrope, located at the entrance of 1700 Broadway, was created using athletic themes to express concepts we all deal with when making a living.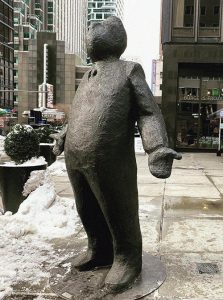 "As an entrepreneur, whether dealing with employer's products, home life, or working our way up the corporate ladder, the visual juxtaposed figure on a tightrope is something that resonates with us all," said Jim Rennert.
At 1700 Broadway, WTF was the third monumental work Rennert composed after THINK BIG – located at The Anthem (222 East 34th Street) – and Perspective.
"I found my inspiration for WTF after I composed THINK BIG and Perspective," said Jim Rennert. "Once you've thought big, and then found a perspective of where you fit in, you can sometimes have a WTF moment. And in 2020, WTF seems to describe how we all feel about dealing with this year."
The other three works, Timing, Inner Dialogue, and Commute, are located on Dag Hammarskjöld Plaza at East 47th Street and are inspired by Rennert's past experiences a competitive world of business. Each title works together with the visual image to illustrate the experience, sometimes physical, sometimes psychological, and showcase the thoughts and ideas we all deal with in our contemporary society.
The works at 1700 Broadway can be viewed beginning December 19 through 2022 and at Dag Hammarskjöld Plaza through August 2021.