Canadian hip hop artist, Justin Europe aka "6ix 3urop3" born September 4, 1986 height 180cm is a singer, songwriter, musician, and author "6ix 3urop3 " has combined his influences of old school Hip Hop, R&B, and Pop Punk to create a repertoire of upbeat songs with vibrant melodies and relatable lyrics. 6ix 3urop3's music hits a large target audience of hip hop, rap, pop, and R&B fans. A fiercely independent artist, 6ix 3urop3 started writing his own music at age 12 and first performed on stage opening for Hoodrich Pablo Juan in 2017, followed by shows across Ontario in 2018 in many cities in Ontario like Barrie, Hamilton, Kitchener & Toronto. 6ix 3urop3's charisma, energy, stage presence, and audience involvement creates an electrifying experience.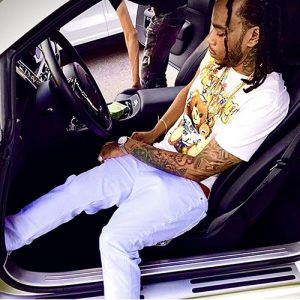 One of Canada's most impressive creative prospects, 6ix 3urop3 is not only a songwriter but also an author with a deft penchant for creating cosmically-tinged music. Music is a form of art that is supposed to contribute to society and 6ix 3urop3 is a natural storyteller. The track that he creates makes you feel strong and powerful. He brings stories that every soul can relate to.
Recently, 6ix 3urop3 founded "Get Busy Entertainment " alongside artists Chucc Brown and launched the record label, which comprises a clothing line, recording studio, and distribution of merchandise for artists. Get Busy is a brand and he understands how essential it is to create a business infrastructure. "I learned as an entrepreneur everything has to have its place. Everything needs to move forward. And if you're not making money, it doesn't make any sense", he said.
With a love for assorted and diverse music, 6ix 3urop3 has future plans organizing countless shows with various artists after the COVID-19 pandemic is resolved at venues across the world. Rap sensation 6ix 3urop3 recently managed to still host a sold-out Halloween function with the social distance factor in play.
You know those songs that immediately make your mind "cut to" a sequence of memories or even a daydream that plays like a film reel? 6ix 3urop3's songs dissect the emotion and about making a life in a time of moving on. His milky voice will make you swoon while he delivers brutally blunt lines about his life and craves for connection.
The music industry is currently growing at its fastest rate, an artist from all over the world are relentlessly releasing track after track and the talented 6ix 3urop3, an artist making waves in the industry isn't just sitting back and watching. He has become one of the most promising superstars (and the biggest sweetheart) across the globe. He's gone from go-to featured artist/songwriter on tracks to best-selling author on amazon then releasing the first EP after years of dedication. Check out the amazing visual to his recent hit single Ragu featuring Def Jam/Mosley Music Group recording artist Yung Tory. Stay tuned for upcoming visuals off my recent project Uk Mode featuring world-famous model Mary Magdalene.