Revolutionary new language learning app HeyPal™ has arrived on the Google Play Store, with plans to continue to disrupt the online language tutoring market on an even greater scale.
It's welcome news to both Android users and investors in its ever-growing parent technology company, ClickStream Corp, as the app has already seen huge success on the Apple Store. Since the official launch of HeyPal's iOS version in June this year, the app has amassed an incredible 450,000 downloads. It shows no signs of slowing, either, with a huge 116,000 current active monthly users – an increase of 17% since last month.
Now, that success appears to be just the beginning for the app, as it expands to Android users across the world – and that potential is astronomical. In fact, according to recent data, 87% of all global devices run on Android, while the online language learning market was valued at $31.1 billion in 2017 and is projected to reach an enormous $172.7 billion by 2027. To put it simply, you can expect a lot of people to be using the new "social" style of language learning in the very near future.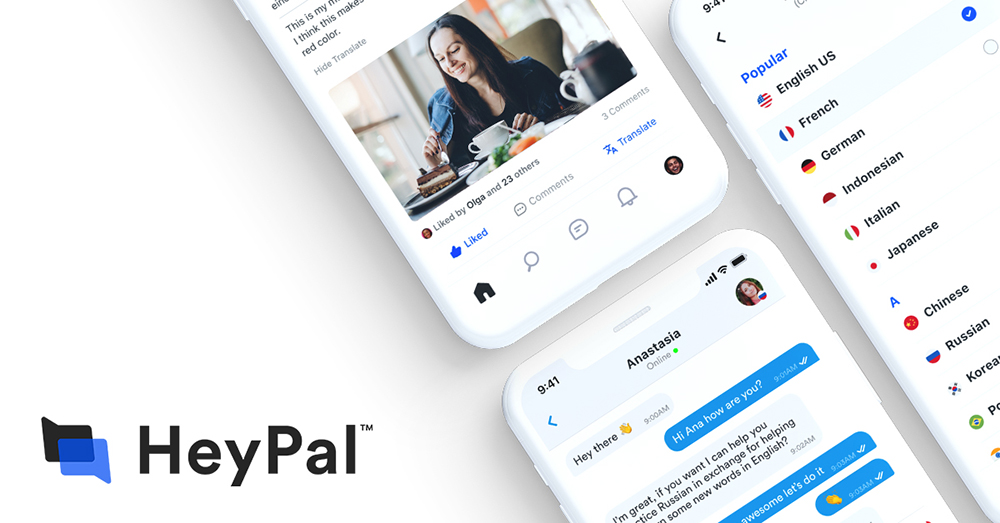 So, why has HeyPal™ seen such success, so quickly? For example, HeyPal™ saw 100K downloads last month while, by contrast, Rosetta Stone saw 90K, indicating a societal shift away from traditional "flash cards" style learning and toward social language learning.
Users create their own social profiles on the app, giving them the ability to increase their global following on the platform in a way which is easily recognizable and engaging to anyone who is familiar with traditional social media.
Then, users are encouraged to kickstart their education with real in-app conversations with other users, in the language they are learning. Other features specifically designed to actively encourage participation include instant auto-translation for texts and captions, receive predictive texts to spark conversation in just a tap, and the ability to upload fun and engaging voice notes and videos to share language skills – all of which are already available for iOS platforms, and now – Android users. Forget old-fashion language courses, this is learning that doesn't feel like learning, designed to fit the social habits of modern smartphone users.
The Android release of HeyPal™ marks a significant step in the app's global expansion. As Jonathan Maxim, CEO of Nebula Software Corp, a subsidiary of booming technology company ClickStream Corp, explains, "While the rapid growth of HeyPal™ on iOS has certainly been impressive, our Android release will make the app available to over six times more users across the globe, which we anticipate will significantly accelerate our international expansion going forward."
The CEO continues, "HeyPal™ facilitates an enhanced, natural social connection between avid language learners. While many other platforms provide basic tools like flashcards, they often lack the most important social piece: practicing with other people."
Keep up to date with all the new features and updates to the HeyPal™ app on Instagram at @HeyPalApp.
HeyPal parent company, Clickstream information can be found here: ClickStream Corp (OTC: CLIS).
---
DISCLAIMER: THIS ARTICLE IS STRICTLY THE AUTHOR'S OPINION. ALL STOCKS INVOLVE RISKS AND THE POSSIBILITY OF LOSING ALL OF YOUR INVESTMENT. PLEASE CONSIDER ALL RISKS BEFORE INVESTING AND CONSULT WITH AN INVESTMENT ADVISOR IF YOU LACK EXPERIENCE. THE ARTICLE WAS PROVIDED IN PART BY THE SOCIAL MEDIA COMPANY, STRATEGIC INNOVATIONS. IT WAS NOT ENDORSED OR PAID FOR BY THE COMPANY. HOWEVER, STRATEGIC IS PAID BY THE COMPANY FOR SOCIAL MEDIA WORK.