Will Thompson first broke into the entertainment industry in 2014. Although he had earned parts in movies and TV series prior to that, it was at the Los Angeles Movie Awards Film Festival that he started to generate major buzz, winning his first award for his Illuminati script. That was a significant moment in his career, proving not only his industry marketability but also the viability of his talents. The trajectory of his career was undeniably upward, and in the five years since then, he has validated that selection through his role choices and through the work that he has done as a producer, writer, and director as well.
Will went on to appear in several movies and TV series. His credits include Chicago Fire (2014), Tony Holden in Murder Chose Me (2017), Felton Sinclair in Homicide Hunter: Lt. Joe Kenda (2018), Chris Lafair in the short film "Related Destiny," and Officer Alex Mason in the highly anticipated movie Good Intentions, to name a few. Prior to that, he had also landed roles in a few TV shows that didn't get picked up.
As the CEO of Urban Visionary Films, however, he has made his most outsized mark on the entertainment industry, pioneering a new way of thinking about storytelling. He has set a mission for himself at Urban Visionary, focusing on relatable stories told from his own cultural perspective. It is his goal to inspire hope and motivate other artists through these projects.
Will's short film "Related Destiny," his directorial debut, has proven to be a major hit. Released on Amazon Prime, it has attracted attention from producers and investors, further solidifying Will's place in the entertainment world for work that is at once intriguing and meaningful. He also wrote and produced the film, which critics have complimented for its production value, performances, and characters.
In addition to his work in film and television, Will has appeared in many prominent theater productions, playing Tobias in Absinthe, Berry in Mom Always Wanted a Girl, He in The Opening, Max in Pilot Season, and Teddy in Beauty Rest, working extensively with Gregory Aldrich at Prop Theater. He has also done commercial work for such major brands as Chevy, Adidas, and Budweiser.
Although he has been studying acting informally since he was young, Will's formal training includes a comprehensive program at Act One Studios and stints at The Green Room, Second City, Vagabond, and in Los Angeles Michelle Danner Acting Studio and privates with Shari Shaw. Some of the topics that he has studied in-depth include improv, TV and film acting techniques, playing to the camera, and the Meisner technique.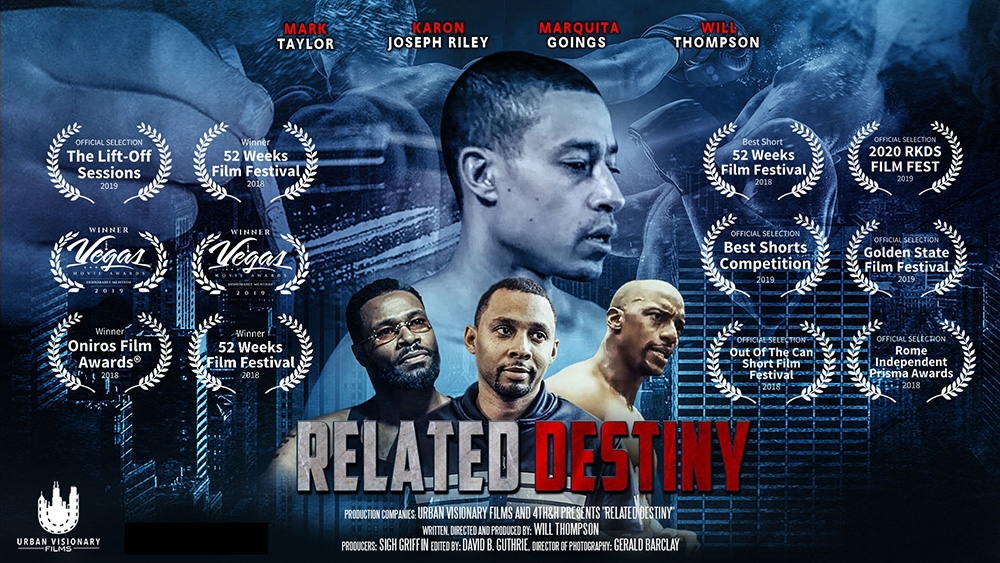 A pilot Will frequently takes to the skies to clear his head. It is while he is up in the air that he thinks most creatively, coming up with some of his best ideas, including the idea that bloomed into "Related Destiny." He also enjoys long drives, reveling in the opportunity to sit with new concepts and to think of fresh directions to take his Urban Visionary team.
As the entertainment industry continues to evolve, talents like Will Thompson will continue to rise in importance. A multi-faceted mind, he is someone who is able to get at the heart of a subject – both in front of the camera and behind it. His industry peers have recognized him and his contributions on multiple occasions, awarding him not only at the Oniros Film Awards, Rome Independent Prisma Awards, and The Lift-Off Sessions Film Festival but also at the 2018 52 Weeks Film Festival for Best Short / Festival Favorite and at the 2019 Vegas Movie Awards for Best 1st Time Director and Best Supporting Actor.