Following the good-handling of the pandemic by most countries and with more people being vaccinated, the governments have begun to ease lockdown restrictions, meaning that restaurants are welcoming customers back to dine in.
For Chinese people living in other countries, going to restaurants is quite important as it gives them the opportunity to consume specific foods, such as hot pot and skewers, which are less available for delivery as restaurants cannot guarantee the taste, due to the delivery time. Therefore, many Chinese people expect to eat in the restaurant. However, due to the higher average cost of hot pot and skewers, compared to the local cuisine or other Chinese food, people tend to order less, making it hard for them to enjoy a cuisine feast.
As a special treat for Chinese people in foreign countries, HungryPanda, the leading Asian food delivery platform, launched a food festival, both online and offline. When the date of 17th May is pronounced in Chinese, it looks like 'I want to eat', HungryPanda provided many discounts and vouchers for customers to better enjoy the food, no matter dine-in or takeaway.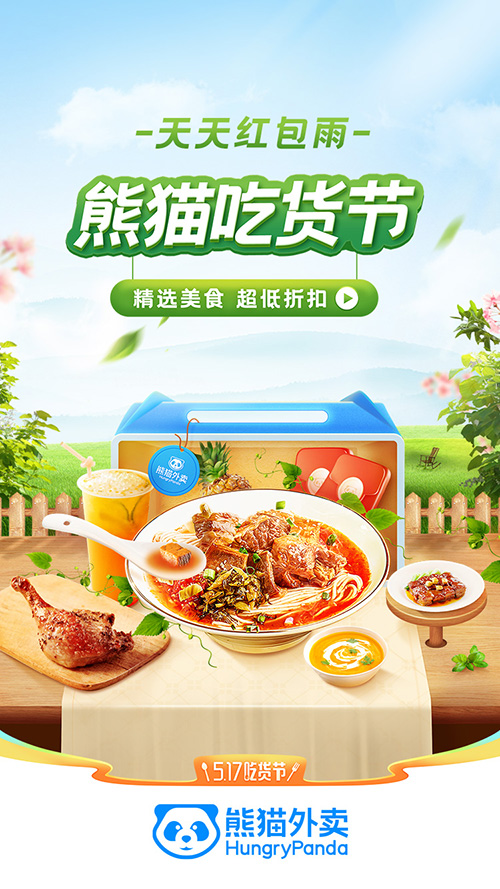 Marketing Promotions
Starting from 12th May, HungryPanda cooperated with local Chinese restaurants to offer a pick-up service with numerous discounts, where customers could choose to take their food back home or eat outside the restaurant, guaranteeing the best quality and taste of the food. Restaurants also benefited from this service, as more customers will visit, which can lead to increased likelihood of returning.
At the same time of this offer, many Chinese students were preparing their graduate essays and dissertations, and the study pressure leads to a higher demand for bubble tea. Therefore, HungryPanda held a Buy One Get One Free (BOGOF) promotion, or free delivery. Popular restaurants were selected and relevant vouchers were provided worldwide, to maximize customer satisfaction.
Through this marketing promotion, orders of HungryPanda increased 100-150% per day.
Expanding to New Markets
In recent months, HungryPanda officially entered the Asian market by beginning to operate in Japan, South Korea and Singapore. A lot of Chinese people live in those three countries and there is a vast demand for gourmet and other life services, which means that the availability of HungryPanda will provide more traditional Chinese cuisine and convenience to local Chinese.
According to the data, more than 55 million Chinese people live overseas. With the development of technology and the improvement of living standards, people have an increased demand for authentic Chinese food and groceries. Focusing on overseas Chinese communities, HungryPanda cooperates with local Chinese restaurants and stores to improve customers' food delivery experiences and to provide convenient and safe food.
HungryPanda has always committed to offering a quality and diverse Chinese food delivery service to the overseas Chinese communities as the starting point of its business. The company also aims to promote the digitalization process of the overseas Chinese food industry and improve the experience of customers, merchants, and drivers, allowing overseas Chinese people to enjoy the taste and warmth of their hometown anytime, anywhere.