A multi-platinum music producer, Mr. Lee, celebrates Black History Month by looking into his family's history and achievements. Charles Frederick Page (1864-1937), Mr. Lee's great grandfather, was the airplane's original inventor. Page was also awarded the first patent on the airplane in American history before the Wright Brothers.
Ironically enough, Mr. Lee started his musical journey in the home of his great grandfather's house. He remembers being six years old when his great aunts showed him and his parents the airplane's blueprints. Going to school, Mr. Lee remembered how hard it was to know his great grandfather was responsible for inventing the airplane. But being taught it was invented by someone else.
Recently, Mr. Lee discovered that his great grandfather had the patent. Mr. Lee expressed how rewarding it was to share this history with proof that it exists. And how different it is now to see an airplane, or fly one, knowing that one of his own family is tied to something so significant.
Mr. Lee is proudly announcing his plans to produce a documentary on Charles F Page.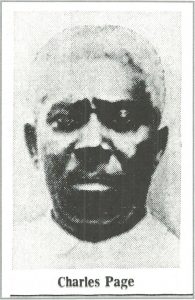 Charles Frederick Page and the First American Airplane
The first mention of Charles Frederick Page (1864-1937) in Alexandria's The Town Talk was on February 26, 1887 edition when Page, in a brief mention in an article under the category of colored, purchased a marriage license for himself and Ida Arceneaux. 
In the April 11, 1906 edition of the New Orleans' Times-Democrat newspaper, Page is listed as having received a patent for an "air ship".
In the April 21, 1906 edition, the article was entitled "Pineville Colored Man Has Invented An Air Ship".
"Charles F. Page, a colored citizen of Pineville, and a native of that town, aged about 31 years, has for a number of years been engaged in trying to invent an air ship. He first made an application for a patent on April 24, 1903, and has now secured a U.S. Patent which was issued to him on April 10, 1906.
The Town Talk was shown Wednesday a copy of the patent which gives a description of the invention. After an examination, we feel confident that the invention is one of merit, and many ideas brought out by the inventor entirely new, and we believe that with this invention of the navigation of the air, in a safe manner, is nearer insight than it has ever been.
The strength of the invention is, that the main portion of the machine is boat-shaped, made of wire, and covered with strong canvass. The lifting air balloons are two in number and are strongly fastened in the hull of the boat, with proper values to permit gas to be pumped in or out of the balloons, to give or take away buoyancy as desired. The balloons are fastened securely to the wired boat. Attached to the boat is a rudder for steering purposes, and it also has a propeller, operated with a gas motor, which can be used to send the air ship in any direction.
There are many other new things in this invention which we do not have the time or space to enumerate, but anyone who sees the model and has knowledge of mechanical contrivances can see that inventor Page has made a valuable addition to air navigation machines."    
Although it was originally not clear why Page wanted to promote his air ship at the World's Fair, the following may be the reason:
"At the 1904 Louisiana Purchase Exposition in St. Louis, Missouri, a seven-month-long world's fair celebrating Thomas Jefferson's epic real estate deal a century earlier, more than 19 million visitors were treated to exhibitions of wonders from across the country and around the world. Underwritten by $15 million in stock purchases and federal and state funding, the fair was, in the words of one newspaper headline, "The Most Stupendous Entertainment the World Has Ever Known." Not only did it host the 1904 Olympic games, but it also featured an aeronautic competition, with a $100,000 grand prize. That's how the first public, powered flight in the United States came to take place in St. Louis before thousands of witnesses and how international aeronautical celebrity wore, for a time, a distinctly American face." (From "Air and Space" Magazine, February of 2013, an excerpt.) 
On September 14, 1911, Page was elected secretary of an un-named "colored men's organization" at a meeting at the "colored Methodist Church". The group made resolutions regarding the tragic racial death of William Wirt Ellis and this group was trying to avoid for any riots to occur on this matter. (reminds one of 2020 news?)
On April 6, 1923, Page, among many, many others, was listed as homeless after the Great Tornado had passed through Pineville and destroyed much of the town.
Page placed a large advertisement in the Town Talk on July 28, 1928:
MELLINGER
The Tire With The Red Inside
Shock Absorbing. Guaranteed against all Road Hazards for 15 months.
No other tire in the world has such a strong guarantee.
$5 to $10 each for your old tires.
7 DAYS FREE MILEAGE TEST.
MELLINGER PURE GUM, FULL MOLD TUBES, GUARANTEED FOR 2 YEARS
Get acquainted with these Tires and Tubes.
SEE ME TODAY
CHARLES F. PAGE
Box 265, Pineville, La.
"The Mellinger Man"
In the December 4, 1937 edition was a large article with a bold headline:
"ALEXANDRIA COLORED MAN GOT PATENT ON AIRPLANE"
"C. F. Page, 73, Died Recently, Secured It Three Years Ahead Of The Wright Brothers"
"Charles Frederick Page, 73, a widely known colored man of Alexandria, died at his home here at 10 P.M. on November 18 (1935). He was married to Ida Arceneaux Kelso on March 15, 1887.
They were the parents of 11 children, all of whom are living. He leaves five grandchildren, five nieces, and two nephews. He lived a quiet and peaceful life and had many friends, both white and colored.
Page was a deep thinker and had many visions which he attempted to put into execution. One of the most outstanding of his accomplishments was the invention of the airplane three years before the patent of the Wright Brothers patent came out.
The patent of Pages' airplane was recognized, patented, recorded, and given a title in Washington, D.C., just before the World's Fair in St. Louis (1904).
During the progress of the fair, Page paid for space to have his patent on the exhibit, but for some unknown reason, it never did reach St. Louis after having been mailed to go there for the exhibit.
During his career, he was a contractor in the timber industry. In this line of work, he furnished the leading railroads with the specified ties and the telegraph companies with specified poles and beams for bridges.
During his illness, he had many calls for this character of work but was unable to even give instructions. At the time of his death, there was a tract of several hundred acres of virgin timber awaiting his recovery to manage it.
Two years ago, he was very much interested in cabinetwork and equipped a building in Alexandria with machinery and tools, and with the aid of a skilled mechanic and other help, he turned out work that was entirely satisfactory to those who patronized his establishment.  
Page was among a number of men who helped dig stumps and clear the land for the location of Greenwood Memorial Park in Pineville. After the land was cleared, he continued the work with the superintendent in landscaping and beautifying this tract of land.
The superintendent found that he was especially capacitated to do this kind of work and at times when he was absent, he was left in charge of the cemetery. During his 6 years there, he used many original devices to preserve the shrubbery and flowers, much to the pleasure of the superintendent and the patrons of Greenwood Memorial Park.
He became so inspired over a permanent place for the burial of the dead, that he worked among leading members of churches and businessmen and was successful in having the Lincoln Cemetery, where his body now lies, established. The blueprint, rules, and regulations are based on the same plans as the Greenwood Cemetery.
In the field of agriculture, his ideas are very broad, and as a result, he wrote many articles on this subject. His suggestion was to give the tenant a place to homestead, furnish him a team, livestock, and fowls of the best breed, and give him so many years to pay for it. This plan has really been carried out to a great extent, but he, like many others, never got the credit for the origin.
He had a vision of forming corporations among his race. He tried many times to form corporations among the leading men. At one time a company was formed at his suggestion, to form a brickyard, but the venture was not the success he had anticipated."
The Lincoln Memorial Cemetery in Pineville where Page is buried is on Mason Street.
Also in the same November 24, 1937 edition was this small ad:
Card of Thanks
We take this method of thanking our friends, both colored and white, for the beautiful florals, telegrams of condolence, and words of sympathy during the illness and death of our husband and father, Charles F. Page (colored), 
        HIS WIFE, IDA A. PAGE, HIS SONS AND DAUGHTERS 
Charles Page is buried in the Page family crypt, the largest crypt in the Lincoln Memorial Cemetery. The crypt is located to the right of the cemetery, partially surrounded by a galvanized fence. According to the 1937-8 Alexandria/Pineville City Directory, Ida Page lived at 1942 Mason Street in Alexandria with her son. This is probably where Charles Page spent his last days and died there. (His death certificate to be obtained should verify this.)
In the May 12, 1974 Town Talk edition was a lengthy article with photos on Page:
Loss of Flying Machine Dashed Possibility of Fame
Those who knew him back at the turn of the century used to say that Charles Page could just look at a tree and tell how many feet of lumber he could get from it.
The black man who lived off of Holloway Prairie Road (now U. S. Highway 28) was regarded as that good a timberman.
Folks around Pineville also considered him a darn good, sometimes dentist, a fellow who could cipher numbers quickly and easily and one of the most dependable men around.
But not everybody who knew Page in those early 1900s realized their friend was an inventor, too, one who designed and built — the same year as the Wright Brothers flew their plane at Kitty Hawk — a bi-ballooned air ship.
It was an invention that might have landed Page's name beside those of the Wrights as a pioneer in aviation, had the strange-looking machine not disappeared en route to the (1904) St. Louis World's Fair.
"It was stolen," Miss Eva Page, the inventor's daughter, says of the air ship. "After that, Papa never built another one."
Miss Page still has the patent papers for her father's invention, completed in 1903, and patented in 1906. Now yellowed with age and worn with handling, they describe it as a "construction wherein the dead weights will be buoyed and the buoyancy may be raised to cause the ship to ascend and descend as desired."
Drawings show the air ship had a hull much like a sailboat, with two large gasbags attached to the deck. A couple of pumps acted to fill the bags with gas, raising or lowering the ship according to the volume of gas pumped into the balloons.
A propeller wheel at the back of the ship was driven by a gas engine located in the hull, and there was a rudder for steering. There is no indication of what size the invention was.
Miss Page speculates his father struck on the idea of building an air ship after watching mosquito hawks fly through the clouds above the large (two-story) family home.
"Have you ever seen a mosquito hawk?" she asks, sitting in her bedroom beside a large photo of Dr. Martin Luther King Jr.  "They are fascinating," she says. "I imagine Papa watched them for hours and finally tried to imitate their flight."
Miss Page relies on her imagination because by the time she came along—there was very little talk about the invention. After the air ship disappeared, the subject was dropped as a point of discussion.
Other things seemed more important.
There was, for instance, the matter of Page's ideas on diversified farming, some of which were put into action, but none of which were credited to him.
According to his daughter, it was Pages' idea that farm tenants be given a place to homestead, furnished with a team, livestock, and fowls, and be allowed so many years to pay for them.
He also had a vision of forming corporations among his race and at one time established a brickyard for neighboring blacks. Lack of cooperation, Miss Pace says, caused the venture to finally fail.
Page further took an interest in clearing a cemetery for the black community and was instrumental in establishing the Lincoln Cemetery, where he was buried in 1937.
All this was in addition to his career as a timberman, for which he was noted throughout the area. Page furnished the leading railroads with specified ties, telegraph companies with specified poles, and construction crews with beams for bridges. 
"He was meticulous in his work, whatever he was undertaking at the time," Miss Page remembers. "When mother asked for a chicken coop, he would draw up plans for it and use all kinds of tapes and rules and other tools to build it. Mother insisted he didn't need all that for a simple chicken coop, but Papa heeded thoroughness."
"Papa also heeded the belief that it was his duty to help his neighbors, individually as well as collectively. As a result, they called on him for all kinds of favors, from pulling teeth to building caskets. It was for these things," Page says, "he is now remembered".
"Papa would have liked it," she adds after a pause, "He always thought people were more important than air ships."
This article also showed a photograph of Page and the design of the air ship, a design reprinted from his original patent documents. The caption under the design says:
"A side view of Charles Pages' design for an air ship that could ascend and descend and be directed accompanied his application for a patent in 1903. The invention, finally patented in 1906, might have made the Pineville native famous, had it not been stolen enroot to the St. Louis World's Fair, where Page planned to exhibit it. After the air ship disappeared, Page never built another one."
According to the December 18, 1974 Town Talk edition, in the legal's section, the City of Pineville decided at the city council meeting of December 3, 1974, to request that the state department of highways rename the section of Highway 28 within the limits of the City of Pineville to be Page Road in honor of Charles Frederick Page. It was a unanimous vote. This entry has also been verified in the Pineville City Council minutes. (There is no evidence now of this section of the road ever carrying Pages' name.)
In the December 15, 1987 edition, under the section:
50 Years Ago In The Town Talk was an abbreviated obituary of Page and his accomplishments in filing the first patent for an airplane. In the August 8, 1999 edition, Pages' accomplishments patenting the first airplane were noted again.
In the July 2, 2001 edition, there was an article talking about what the decorations would be for the new Alexandria International Airport. Mark Molen, the architect for the airport, strongly urged the England Air Park Commission that a mural be made about Charles F. Page and his accomplishment of having the first patent for an airplane ahead of the Wright Brothers. Nothing more was ever said of this proposed mural in the paper.
There is no further mention of the great Charles Frederick Page of Pineville in any newspaper or periodical. None of the seven local history books have any mention of Charles Frederick Page. On various national websites, Page is mentioned as having a patent for a version of the airplane issued before the Wright Brothers.   
Pages' patent application (US817442A) was filed on April 24, 1903.  The application was granted on April 10, 1906 (before the Wright Brothers patent was approved). The formal summary description of the air ship is as follows:
An air ship includes a relatively rigid framework that is meant to resemble a sailing ship having an inclined bow, a rounded bottom, a vertical stern, vertical sides, and a flat upper deck. A plurality of lifting bladders carrying helium, or the like, are enclosed within the framework to make it lighter than air. Front and rear masts extend upwardly from the deck and carry front and rear sails on pivotal booms. A passenger and crew compartment is located on the deck behind the front and rear masts. The masts are pivotally supported on the framework to pivot laterally to one side or the other in the y-z plane to open up a gap there-between if so desired. A spinnaker or jib can be set forwardly of the masts in this gap to be fully exposed to wind from above the framework. Thus, the use of the sails for primary or supplementary propulsion of the framework is enhanced, and the deck enables passengers or crew to leave the compartment and be supported and carried by the deck.
On July 12, 2020, Charles Pages' oldest surviving grandson, Orris V. Cooper, Jr. of Iowa City, Iowa provided the following commentary on Charles Frederick Page: "I am very pleased to receive the news about the potential honor being considered for Grandfather Charles F. Page. In reference to the Original Drawing of the AIR SHIP, I recall seeing only the original drawing for a PARACHUTE that he designed. I did a quick search to see if I could find it; but no success. I will keep both items in mind when I do a more thorough search in the future."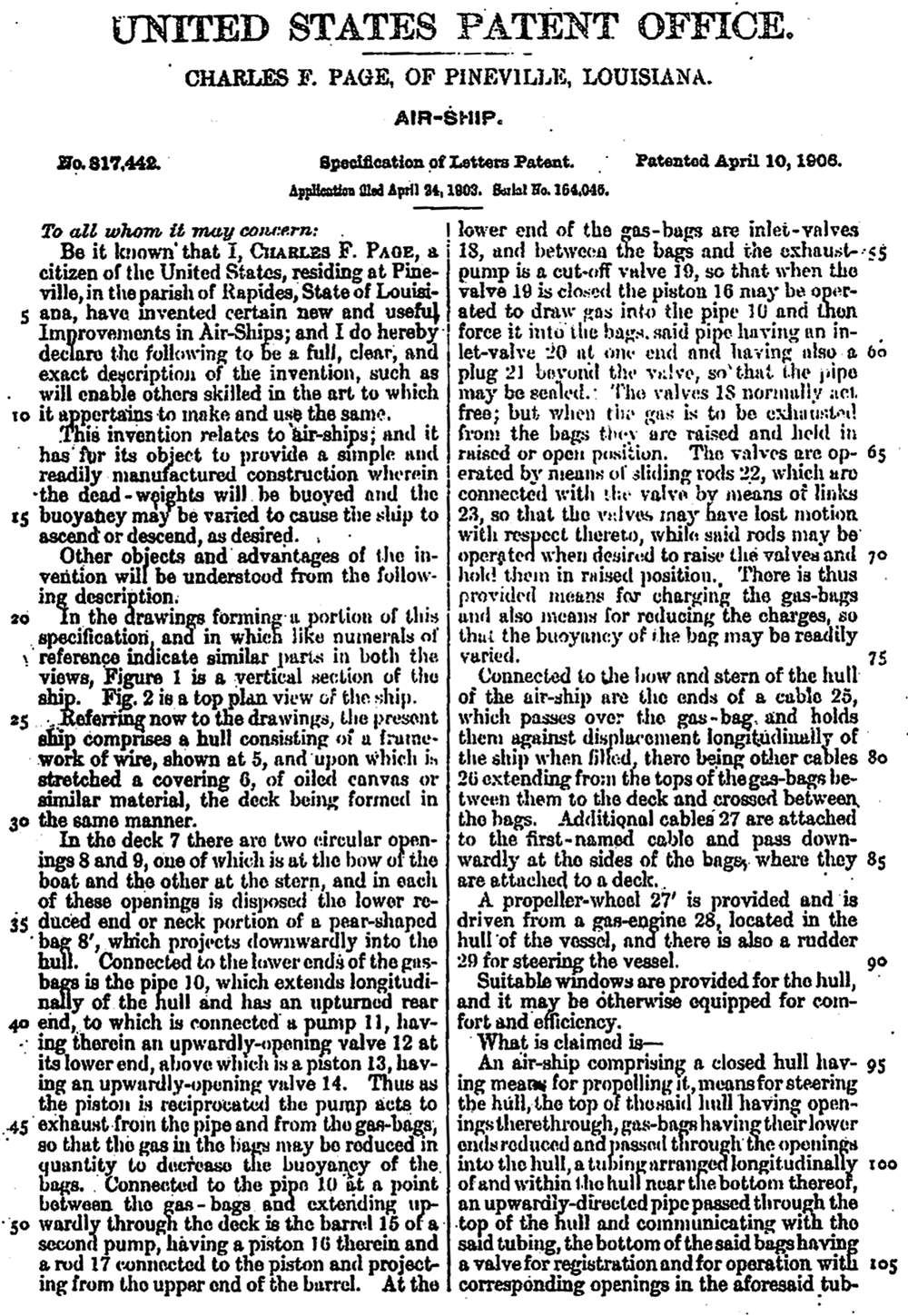 ---
References
UNITED STATES PATENT OFFICE: CHARLES F. PAGE OF PINEVILLE, LA.; AIRSHIP; NUMBER 0817442; SPECIFICATIONS OF LETTER PATENT APPLIED APRIL 24, 1903; SERIAL NUMBER: 154,045; PATENTED APRIL 10, 1906.
AN ARTICLE: "Loss of Flying Machine Dashed Possibility of Fame" published in the Alexandria Daily Town Talk: Sunday, May 12, 1974. This Article contained a picture of Page and Figure 1 of the Patent Document.