Currently in post-production, the upcoming film, "Blood and Water," produced by Mohit Soni, is a story that could have been ripped from media headlines, even though it's set in the 1800s. It's a tale of privilege, sibling rivalry, hate and greed.
"Blood and Water demonstrates that anyone, good, bad, rich or poor, are capable of forgoing their earthly obligation to family and loved ones in favor of malice and greed," said Soni. "I was highly moved by the story and its twist."
The film is a classic story where loved ones turn against each other, reminiscent of Biblical tales, where one brother becomes envious of a sibling and plots against him to take control of a heritage or kingdom he doesn't deserve. Set in the 1800s, "Blood and Water" is the story of twin sisters that become deadly rivals.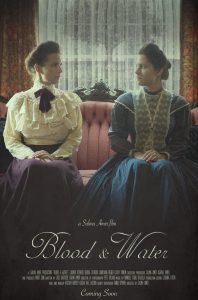 "Blood and Water" offers a new perspective on the typical life of a woman in the 1800s. The characters are strong, independent and empowered women that take control of their own destiny in a Victorian age where women typically didn't have any power over themselves.
"The film is finishing its last stages of post-production," said Soni. "It will be sent out to film festivals before we release it on digital platforms, which is planned in late 2020. It took seven months to put the movie together. I was involved in the very early stages of the development process. We had several rewrites of the film to meet the final ending of the movie."
Filming took place in Heritage Square Museum where hits like "Legally Blond," "Wild Nights with Emily," "A Rose for Emily," and "Saving Mr. Banks" were filmed. The museum was also the site for filming TV series that includes "Without a Trace, "Kroll Show" and "Tales from the Crypt."
"I thoroughly enjoyed producing this film," said Soni. "I was able to work with some amazing filmmakers and build long-lasting relationships with them. One of those was Pete Villani and I've brought him and his crew on my next project, "Sheela."
Soni has a talent for addressing controversial topics, those with unique plot twists, and unexpected endings in a thought-provoking way that leaves audiences satisfied. That instinct has served him well, with many of his productions winning accolades and awards within the entertainment industry.
---
By Erich Rüthers