Jonathan Kung is a young Asian American gastroenterologist who promotes enjoying optimal physical and mental health through living an active lifestyle. He also combines fitness, lifestyle, the pursuit of passions, travel, and fashion into his formula for what makes the best medicine.
As a well-rounded doctor who practices what he preaches, Dr. Kung has been inspiring countless others to pursue living an active and healthy lifestyle that is fulfilling and reinforced by others. As a gastroenterologist, he sees the life-threatening issues that can arise when stress goes on for too long without anything being done to combat it. The trick, he believes, is discovering how to alleviate stress and deal with obstacles along the way.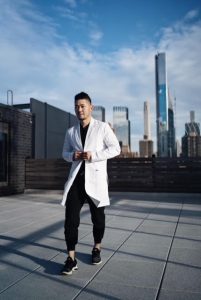 As someone who is very active and popular on social media, Dr. Kung has been using his Instagram page to share all about his experiences with living a healthy and active lifestyle with his followers. He is regularly showing off photos of him exercising, playing sports, and traveling. By using social media as a platform to inspire, educate, and motivate others, he has been able to help reduce the stress of many. The free advice he dishes out focuses on how people can become healthier and happier, while enjoying greater balance.
Jonathan's passions include medicine, improving the quality of life of his patients, going on medical missions, being involved in philanthropy, fitness, living an active lifestyle, expressing himself through fashion, and promoting overall physical and mental health wellness. The latter is what he has found is often the cornerstone of treatment for many of the patients he sees.
Since he is a gastroenterologist who focuses on gut health, he has seen what damage stress can do to the gut and digestive system. Through his own personal experience, he knows how strong the link between staying active and having good gut health is. "A healthy mind and active lifestyle is a healthy gut," he says. "Gut health leads to optimal amounts of energy." Getting plenty of exercising, as well as allowing yourself to have scheduled recreation and rest, can significantly reduce the amount of stress you experience.
Dr. Kung is quickly becoming a growing force in the medical field of digestive diseases and gut health, as well as fitness, fashion, and business. His passion for having optimal health and happiness, for himself and his patients, friends, family, and community, inspires his personal growth and passion for helping and motivating others.
He says that "As I continue my lifelong advancement in the field of gastroenterology, I have discovered the power of strengthening the mind and body in helping myself, as well as my patients." For Dr. Kung, the motto to follow for life is to "stay active no matter how busy you are and live the life that you envision yourself living!" As someone who lives by his message, it's clear to see the benefits are real.
You can follow Jonathan Kung on Instagram @jonny_kay.