Thomas Slatin is a photographer who believes in doing work that he loves, work for which he feels passion and purpose. Slatin encourages others to do the same, recalling what he dreamt of doing as a child to inspire, and to stress the importance of keeping one's dreams alive. Slatin's love for photography and exploration has stayed with him throughout his lifetime, resulting in a purposeful career. Slatin discussed this in a recent interview, stating, " I believe it is extremely important to encourage children from a very early age. I think when someone asks a child "what they want to be when they grow up" it can be very limiting, as it narrows down the possibilities to "career opportunities." Continuing, "I believe the better question is to ask a child who they want to be and what they dream of doing with their life. As for me, I didn't care much about having a glamorous career or of being famous; I just wanted to be happy, to be successful at something I enjoyed, and to belong."
It is of no surprise that Slatin still values the first camera given to him by his father, Dr. Harvey L. Slatin, which was a 35mm Canon AE-1 SLR. Slatin's father gave him this camera in July of 1987, when Thomas was eight years old. "The camera was originally purchased by my father in 1979 before I was born. My father's camera was one of his most prized possessions, which is how I feel about that same camera today. My father had told me that he purchased the camera to document my childhood." Dr. Slatin's best friend, Arthur Sterling Covert was also an avid photographer, and as Thomas Slatin recalls, Covert and his father taught him almost everything that he knows about darkroom techniques. Slatin states, "Arturo, as we knew him, took the photograph of my father and I sitting on a park bench in front of Bleeker Playground in New York City, where as a child, I would often play. In the picture, you can clearly see my father in possession of the camera that my father gifted to me, which I have kept to this day, and always will."
As Slatin discussed his first camera and the first photographs which he took on the day that he received the camera from his father, he definitely remembers much about that day. Slatin recalls his memory vividly, "I remember that my father was running late from work, and my mother was nervous as he was always on time. Then later in the day, I remember waiting by the front door for his return for what seemed like an eternity. My father finally came home, and in his hand there was a bag from B&H Photo. My father then announced that he had just purchased a fancy new camera and that his current one was going to me. I remember as my eyes began to glow with excitement, when he handed me my very first camera, and then I turned to watch my father as he began to unbox his new camera, with all of it's new and exciting functions such as automatic focus, automatic aperture."
As recalled by Slatin, "my father then told me to take the camera that he had just given to me and to "go take some pictures." There was a 36 exposure roll of 35 mm film in the camera, and he instructed me to take the remaining pictures with it, but to bring the camera back to him so that he would rewind the film himself. At the time, I was already very familiar with taking pictures, but I still lacked the skills needed to load and unload film."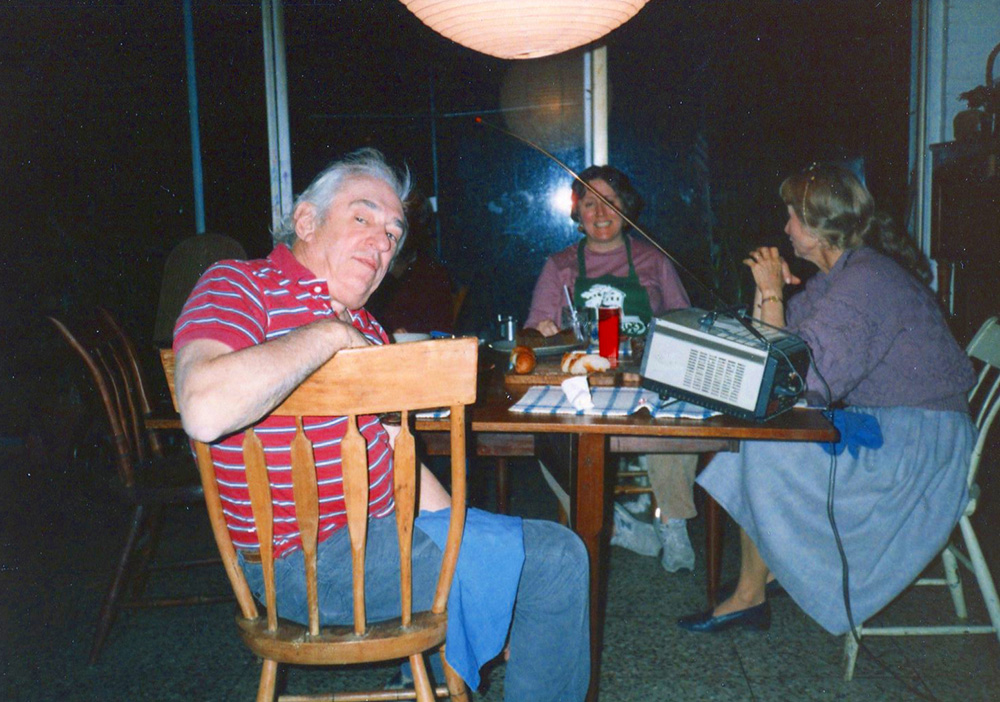 That day, Slatin recalls taking the last two frames on the roll of film. The first of the two photographs, which are both included with this article, involved some creative thought, and even a few minutes of "pre-production" and "wardrobe" preparation. Thomas Slatin at the age of eight, gathered his coveted toy dinosaur collection, put on his best dinosaur shirt, placed all of his dinosaurs on the family piano, and posed for his first "selfie." Slatin states, "I was absolutely fascinated by dinosaurs when I was a young child, and at the time, I thought it would be most appropriate to put on my dinosaur shirt and to display all of my inflatable dinosaurs in the picture and place them on top of the piano." Concerning the second picture, utilizing the remaining space on the roll of film, Slatin chose to take the photograph of his father, Dr. Harvey L. Slatin; his mother, Anne Slatin and a family friend and neighbor, Jenny, after they had all finished dinner at the Slatin's New York City apartment.
Slatin discussed how he finds it to be "immensely important to have been taught to expose film manually from a very young age. This gave me the foundation that I needed to build a very successful career. Today, when I am faced with difficult photography subjects, this foundation enables me to manually set the exposure parameters with modern cameras today, and to constantly and reliably get the results that I intend." Slatin shared that his father continued to give him "the latest Canon Digital SLR camera every other Christmas," which represents the ongoing encouragement that has led Thomas Slatin to a worthwhile career as an adventure, urban exploration, portrait and landscape photographer, well-versed in both film and digital photography.
Thomas W.P. Slatin is a contributor for iStock by Getty Images. His website, and award winning blog may be found at TomSlatin.com.