In an effort to spread positivity and hope amidst the COVID-19 crisis, Sam Glenn, who is an award-winning motivational speaker, has been inspiring hundreds daily by giving away his original motivational art through his Facebook page (@samglennspeaks). Every piece of artwork by Glenn includes an uplifting message that inspires positive mental health.
In addition to inspiring optimism through his performance art, companies, and organizations that are looking for ways to keep employees motivated during this historic time have to get in line for one of Glenn's popular virtual speeches. The requests for Glenn to speak virtually to employees is growing weekly. Glenn's virtual style of presentation is not only entertaining and humorous but provides reliable ways to manage change, anxiety, and uncertainty in a healthy way.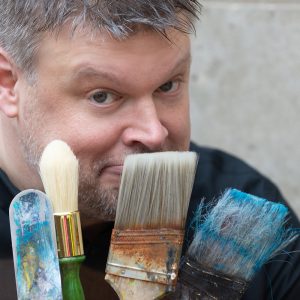 Glenn is also the author of over 23 books on mental wellness, leadership, and workplace positivity. Some of his titles include, 'Attitude is a Choice,' 'Attitude Changes Everything,' 'Be Your Own Real Life Super Hero,' 'The Magic of Enthusiasm', and more.
As Glenn states, "In order for us to do better during times of change and uncertainty, we need to think better. That is where it all starts. We think better, we do better and feel better. We may not be able to control what goes on around us, but we can always choose how we respond to circumstances. Attitude is a choice."
The 'Art of Optimism' campaign, currently running on Facebook, started as a simple way to inspire Glenn's fan base, but then it grew into something people could look forward to daily. As Glenn points out, "My art is abstract and a little messy, but so is life. When we focus on the mess, we feed the mess and it grows. However, when we focus on what is good, our mind begins to search and find the meaning, message, and masterpiece in life's messes."
Sam's most popular paintings feature a lion for courage, a lighthouse for encouragement, an eagle for attitude, a tree painting to grow through what you go through, and several others.
As a way to assist educators in the new year, Glenn created a virtual tool kit specifically for educators, administrators, support staff and students going into an uncertain new school year. The tool kit features virtual speeches and training that can be used to inspire optimism, resilience, and positive mental health throughout the year. The program is designed to reduce stress and anxiety in students and those that work hard to teach them.