After stumbling upon an art installation at Atlanta's Counterpoint Music Festival in 2012, Tyler Marenyi aka NGHTMRE fell in love with the art and style of Atlanta-based artist Greg Mike. Further inspired by his deep involvement with skate culture and his intersections with the design world, Greg Mike has become known for pieces that incorporate vivid explosions of incandescent color filtered through a Surrealist Pop Art perspective.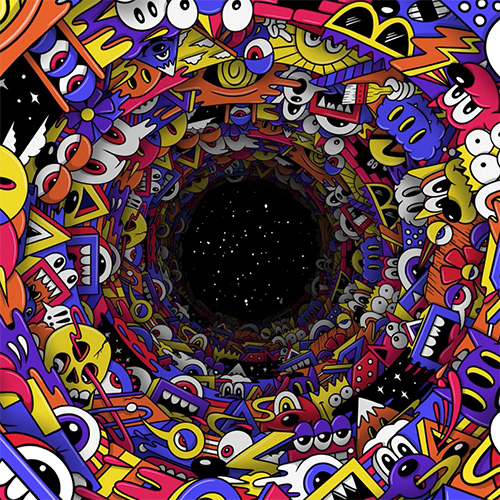 With murals painted in Atlanta, Miami, Los Angeles, San Francisco, Las Vegas, and the Swiss Alps, to name a few, It was apparent that his art would go on to inspire a multitude of aspiring artists. Currently based in Atlanta, Greg Mike is the founder and creative director of ABV AGENCY + GALLERY, a multi-platform creative studio specializing in graphic design, street art, mural installations, art direction, and more.
Fast forward 9 years to the present day, NGHTMRE's pursuit to remain creative has found him rekindling some of these precious moments of inspiration. After his encounter with Greg Mike's art in 2012, NGHTMRE continued to follow the artist over the years and eventually became friends, and now, collaborators. Coming full circle, the two have announced a special NFT Digital Art drop via Nifty Gateway. Today, in an auction-style exhibition, four animated pieces of digital art titled "GUD MORNING," "HIGH NOON," "NIGHT MODE," AND "FUTURE FORECAST" will be up for sale.
I've really loved Greg Mike's work for so long it's amazing to be able to collaborate on something as unique as this. I've always loved the idea of audio/visual collaborations and this is my first opportunity to be able to do it! – NGHTMRE
Each piece in this collection represents the different creative energies one may experience throughout the day. The four digital art pieces and other limited edition audio/visual NFT pieces will be available via Nifty Giveaway today. A portion of the proceeds of this sale will be donated to offset the energy costs of the distribution and creation of these digital goods. For more information, click here.