As more people continue to work from home, the Ergonomics Health Association has released a series of new guidelines to help remote workers stay comfortable and healthy. Many office buildings have continued to move toward an ergonomic environment, but mimicking that setup at home requires knowledge and planning.
Meredith Chandler (OT) of the Ergonomics Health Association says that a team effort is needed to ensure employees stay safe and healthy at home.
"We believe employers, policymakers, and ergonomists, have a responsibility to protect these workers from the very real mental and physical challenges that come from working at home."
The Ergonomics Health Association elaborated on several ways in which people can stay comfortable and healthy at home, starting with their seats. After all, a remote worker will spend most of their time in their chair, so it must be comfortable.
According to some of the basic advice from the experts, people should find a 90-90-90 seat, one that allows them to keep their legs, hips, and back at roughly 90 degrees throughout the workday. Furthermore, the chair needs to allow the user to have their arms and wrist at 90 degrees relative to their desk for the sake of wrist comfort and function.
Yet, the comfort and design of one's chair is a single aspect of a user-friendly remote workstation. The recommendations include several other elements that can make someone's desk meet their needs.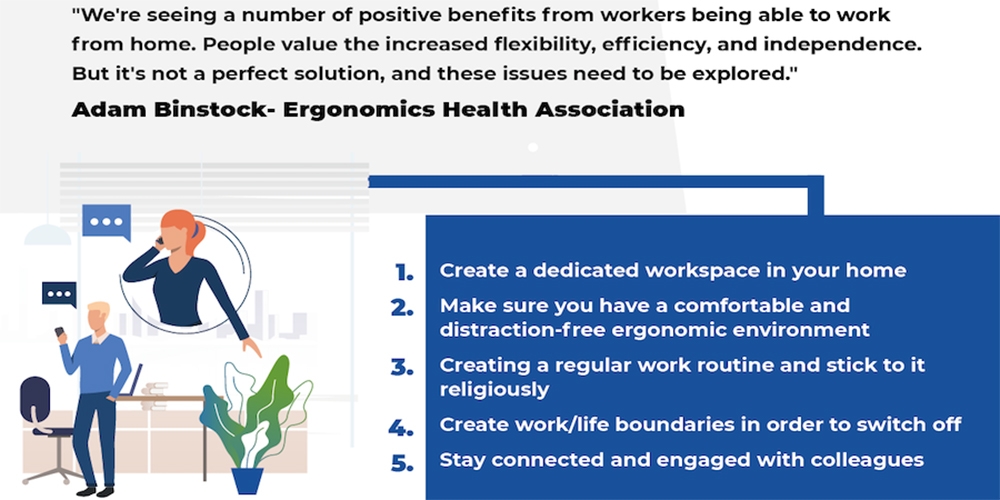 Some of these guidelines include:
Monitor risers can keep the screen at face-level
Laptop stands to ensure better outcomes when using it at a desk
Back cushions may help with immediate comfort and training a person to sit correctly
By consciously changing one's poor back posture habits into good ones, the organization claims that remote workers will experience several health benefits including:
Fewer headaches
Less back pain
Higher levels of concentration
More energy
The guidelines issued by the Ergonomics Health Association are far more than a list of items to buy for a home office. The group recognizes that not all workers have enough space or money to fill a remote workstation with everything they need to keep their bodies healthy.
Fortunately, numerous ergonomic practices were identified that anyone can integrate into their daily work routine without spending money. According to the recommendations, people have to train themselves to take breaks. While it may feel like a distraction, getting away from one's desk is not only good for the body but also the mind.
Another idea is to spend time performing stretches after every 30 minutes of working at a desk to prevent muscle strain and encourage posture correction. Getting away from one's workspace can also decrease the mental fatigue that sets in for many remote workers.
The free ideas are certainly a boon to many remote workers, but the guidelines also provide recommendations for purchases that can improve one's quality of life at home. From unique seats to posture-improving devices, the Ergonomics Health Association introduces and examines numerous items that can have a significant impact on comfort and health.
It is clear that workplaces across the world will never be the same following the COVID-19 outbreak and the resulting push to work from home. While some people imagine that remote work is an inherently comfortable experience, the experts claim that is not always the case.
"We're seeing a number of positive benefits from workers being able to work from home. People value the increased flexibility, efficiency, and independence. But it's not a perfect solution, and these issues need to be explored", stated Adam Binstock, the President of the Ergonomics Health Association.
An effective, ergonomic workplace is the result of careful planning and knowledge acquisition that results in a safer, more effective, and better home office setting. Companies with remote workers would do well to pass on these guidelines to their workers for the sake of their health and productivity.