On a beautiful setting in Nantucket – MA,  a popular destination among the most important political personalities in the States from Clinton to Biden, the entrepreneur Maria Vittoria Cusumano and aerospace strategy professional Christopher W. Sherman got married in a magical and private ceremony.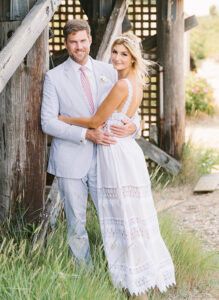 A very intimate and elegant ceremony celebrated against the background of the Brant Point Lighthouse, a historic landmark dating back to 1746 and still in operation, the second to rise in Colonial America after the first in Boston Bay.
The wedding of the couple, well known within the New York jet set, was a perfect example of elegance and authenticity, opening the way for what will be a real trend to follow: the intimate wedding. The last long months of pandemic have indeed sharpened the desire for closeness and sharing, the rediscovery of the most authentic ties, changing in some way the idea of matrimony; a unique and tailor-made experience, in which love is the real focus.
Maria Vittoria Cusumano, Founder & CEO of MVC Media Group, international agency that deals with digital marketing, communication, luxury experiences, with ongoing collaborations with major brands and international partners, is very active in many charities as Ambassador, such as Susan G.Komen Italia, which provides assistance to women who have undergone breast cancer; also during the pandemic has been in charge of numerous charitable initiatives such as the awareness campaigns promoted by the magazine Vanity Fair or the initiatives of Crowdfunding University La Sapienza of Rome Italy or the Luiss Business School "Guido Carli" in Rome.
Thanks to her solidarity activities , social media commitment and also through her digital fashion Magazine "MVC magazine" Maria Vittoria Cusumano has become an important point of reference for Generation Z and for millennials today more than ever in search of positive models in which to recognize themselves, able to speak their language, with their own personality and style.
A second celebration will be held in locations and dates still top secret in Italy.