"When it comes to fashion, there is no masculine or feminine, wrong or right, Fashion has no sex" – says Israel Cassol, a Brazilian model, actor, and influencer who currently resides in a London mansion together with his beloved collection of Birkin bags.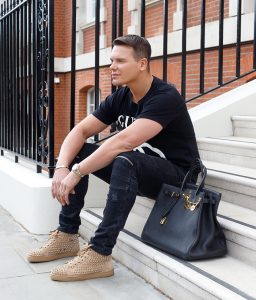 Women now wear clothes and accessories that are traditionally masculine, such as ties, biker jackets, bow ties and so but what we still don't see very often are men carrying "women's bags". Typically, we assume that the iconic bags such as Birkins, Kellys, CHANEL BOY are for the female consumer, but thanks to people like fashion lover Israel Cassol, this attitude is beginning to change.
Admitting that he spent over $130K on his Birkin collection, Israel sees this as Investment pieces withstand time and trends and he also says "I absolutely love wearing these bags because they have a lot of space for my everyday essentials".
Israel's Instagram feed is an inspirational mix of fashion, make-up tutorials and interviews with faces from the fashion world such as model Carol Tozaki and model influencer Gisi Fiuza.