The life of an immigrant is hard in any country. The U.S is not an exception to this. However, with dedication and hard work, one can change all adversities into opportunities to grow in the future. Dr. Mike Tran who is an immigrant himself has proved it to every immigrant in American struggling to live the American Dream.
Dr. Mike Tran owns the fastest-growing Dental retail brand, Floss Dental. The brand has its headquarters in Houston with 12 other offices across North Texas. The brand is soon expanding nationwide with three new offices in Ohio, Georgia, and the U.S Virgin Islands. Floss Dental claimed success with its unique philosophy of giving a new experience to everyone, every day. Dr. Mike believes in treating his patients with the utmost care, a bit more attention, and a feeling of familiarity. This resulted in many happy patients who are a part of the Floss family recommending the brand to their loved ones.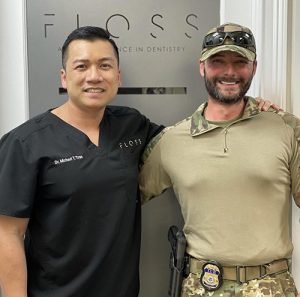 Floss Dental had a humble beginning from an old shut down dental office in Magnolia, Texas which breathed life with Dr. Mike. Today, Dr, Mike Tran is a top dentist in Houston and also specializes in veneers. He is prepared to treat anyone no matter what kind of dental concerns they have. This humbleness and down-to-earth nature have become the formula of this success and are from his early life experiences.
Dr. Mike or Michael Tran was born on July 6, 1981, in a refugee camp in Thailand. His family migrated from Vietnam crossing a large snow-covered stretch between Thailand and Vietnam. It took them days to escape the endless wars of Communist Vietnam. Life wasn't easy in the U.S either. His father worked as a landscaper and his mother as a maid. They saved every penny to start their dry cleaning business.
Michael Tran witnessed the real face of struggle at a very young age which gave him the will to succeed. He consistently worked on improving his knowledge and skill. After he graduated in 1999 from Dulles High School, Texas, he went on to study Business Management at Texas Tech University to look after his family business. Later on, his passion to heal people sparked his interest to explore the medical field. He soon enrolled himself in Howard College of Dentistry and then in Houston Advanced Education in General Dentistry AEGD. At AEGD, his natural understanding of complex dentistry and surgical skills landed him an offer to become a faculty of live implant surgery courses. His journey to dentistry started unfolding. After a period, he thought of opening his clinic to practice independently and Floss Dental began.
Today, Floss Dental is a shining example to other immigrants that they too create a successful business in the United States. The dream of owning your own business is still alive and well in America. In fact, many entrepreneurs receive the support and encouragement they need in the early days of their business. Floss Dental has completed the journey from an old dental office to a popular dental brand within a few years. Dr. Mike has shown immigrants that with hard work and persistence everyone can live the American Dream.