Grammy-nominated, multi-platinum powerhouse trio Joe Jonas, Kevin Jonas, and Nick Jonas, of the Jonas Brothers have signed a book deal with Macmillan imprint Feiwel and Friends. The book, BLOOD, is a memoir that will detail the incredible true story of the Jonas Brothers, from the band's creation, phenomenal rise to superstardom, break up at the height of their fame, and now reunification. Written with Neil Strauss, author of The Dirt, BLOOD will publish November 12, 2019.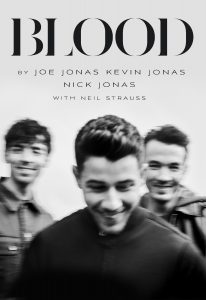 World English rights were acquired by Jon Yaged, President and Publisher of MCPG, to be published in the United States by Jean Feiwel, publisher of Feiwel & Friends.
"The Jonas Brothers are bigger than ever and we are delighted to help Joe, Kevin, and Nick reveal the personal, behind the scenes stories everyone is waiting to read," said Yaged.
Known as the biggest comeback of the year, the Jonas Brothers announced their reunion in March 2019 with their new hit single "Sucker" which now exceeds 150 million global streams to date. The track debuted at number 1 on Billboards Hot 100 and has been sitting in the Top 10 since release. Most recently, the band revealed news that fans everywhere have waited nearly a decade for. The group will release their first album since 2009 and one of 2019's most anticipated records, Happiness Begins, on June 7 via Republic Records. After building overwhelming anticipation they also announced the details for their 67-city Happiness Begins Tour this summer and fall with special guests Bebe Rexha and Jordan McGraw.
"We're three brothers from New Jersey, and we were not supposed to be successful," said Joe Jonas. "From record labels dropping us to our dad losing his job over us, this shouldn't have happened or lasted as long as it did. Yet here we are, more excited than ever, and we're so grateful and ready to tell the full story of the journey we've had as individuals, as artists, and as family."
---
SOURCE Macmillan