Today's art buyers are conscious of the potential for tremendous profits investing in contemporary art. Of course, there's the question of risk; someone selling Salvador Dali prints once approached me and I laughed when I saw the work because they were such obvious forgeries. The lesson is obviously to buy from reputable galleries because if it's too good to be true it's usually fake. Any decent painting selling above £2000 will have a provenance, a list of previous owners. The value of any artist's work can also be checked by an internet search. If you're buying art it's typically because you've been following that artist for some time and know the market. Even then online research is a must.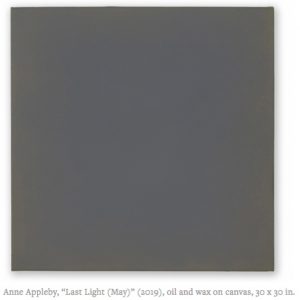 But then we run into the problem of accredited art that sells at high figures but has little resale value, except among a small group of aficionados, this is especially true with conceptual art. Martin Creed sold two certificates of his work, each costing $800,000, to London's Tate Gallery and New York's Museum Of Modern Art. The certificates instructed the gallery to turn the lights off, then turn them on, and repeat a few times. CalArts' conceptual artist Michael Asher's exhibition left the gallery empty except for a few chairs so that visitors could sit and chat as if art didn't exist. The artist then sells high priced documentation, photographs of the empty gallery along with the text explaining the work. Anne Appleby, who lives on a ranch in rural Montana, says she's is highly attuned to the colors she sees in her landscape, as well as to the changing light and seasons. This likely explains why some of her paintings are a lighter shade of grey than others.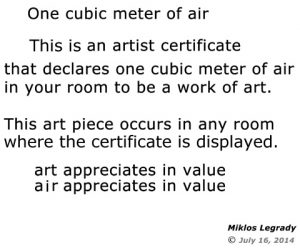 I myself have done conceptual work and published certificates of their existence, available for sale for under $100,000. The risk with my work is that even if the certificate is securely attached to the wall, a thief might walk away with the cubic meter of air.
This lesson in art is buyer beware. Art's value is based on shifting grounds like the artist's brand, their popularity, which will change over time. In all cases, there's a sure and certain way to do it right. Of course, establishing the work's provenance and doing your research on the artist whose work interests you, but there's one strategy that cannot lose. Buying the work according to quality, complexity, beauty.