Earlier this year, our staff sat down with the founder and Chief Executive Officer of Cyber Boy Corp., Roy Andrade, who preferred to remain anonymous up until this point and gave us a glimpse of his perspective of cybersecurity at his office headquartered in Beverly Hills, Ca.
President Trump's budget for the fiscal year 2019 earmarked $15 billion for cybersecurity-related activities. Roy informed our staff that the U.S is targeted more than any other country in the world in cyber-attacks, and the cost of the average data breach to a U.S. corporation is roughly $7.91 million. Microsoft Corp. alone will invest more than $1 billion each year in cybersecurity for the foreseeable future. Cyber Boy Corp. is a cybersecurity firm under development, but can quickly catapult to the top of the IT world with a CEO like Roy Andrade.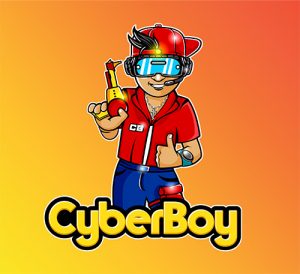 Roy, thanks for taking the time to FaceTime with us to discuss cybersecurity. What is it going to take for Cyber Boy Corp. to become a household name like Microsoft or Google?
I say this respectfully, but, Microsoft is a multinational tech firm that develops and licenses software. And Google is another multinational tech firm. However, Google specializes in Internet-related services. Mainly, online advertising technologies even though it's recognized as a search engine from here to Triton. Neptune's moon. Cyber Boy Corp. is a cybersecurity firm as we both agreed, under development, and will end up growing over time into a full-fledged tech company. I am fully aware of our competitors and know where I stand in the world of information security or IS and information technology or IT. It's just a matter of time until the company branches out into other aspects of technology, such as artificial intelligence or AI and the internet of things or IoT. I am working around the clock to ensure a favorable outcome and am confident that Cyber Boy will become just as recognizable as Mickey Mouse before I become white-haired. It wasn't long ago that our secretary received an incoming call from PangaeaVisions.com's attorney and heard that they were interested in penning a deal to sell apparel with our logo on their website, including brick-and-mortar locations. So, news about our company is spreading like COVID-19.
Now, that you mentioned COVID-19, what is your take on the pandemic?
Let me say this without smiling. Viruses reproduce themselves during infection and I mean thousands of times whereas a vaccine virus is replicated fewer than 18 times once its injected into a human body, which is more than enough to prompt, I am thinking of a command prompt, a tech term, sorry, but, enough to prompt memory B cells to protect against primary infection in the future. A weakened vaccine entails one or more shots to give a person immunity. This type of dosage is excellent for millennials, but, elderly folks require an inactivated virus that can not reproduce itself fewer than 18 times because it's dead. Even though it's dead, the virus is recognized by the body, and cells that protect the body against disease record it. These types of shots can be administered to elderly folks with weakened immune systems. I am confident that vaccines will be under a number of Christmas trees this year. That's really all I wish to say regarding SARS-CoV-2.
You truly are an optimist! I like that. We are dealing with a virus that's climbed to 29.6 million cases worldwide and accountable for an estimated 936,000 deaths. Cyber Boy Corp. will deal with viruses. Particularly, malware, in the future. As you stated in a previous interview, there is a correlation between seasonal viruses and computer viruses. What did you mean by that?
From a technological point of view, a computer virus is analogous to a biological virus in that both replicate and spread. Let's take a computer worm as an example. A worm is a form of malware. Malware is a, I don't know if I am pronouncing the word correctly, portmanteau.
That sounds about right.
So, malware is a portmanteau word, which is a linguistic blend of malicious software, so we get the word malware when combined. Worms have the digital capability of self-replicating and promulgating from a local area network to a wide area network with a click of a button. Worms are considered standalone software and spread like real-world parasites. To the best of my knowledge, they are not just considered malicious software, but, rather malicious files, that hide in folders and appear to the naked eye as normal binary programs with .exe extensions. So, the chances of the layperson detecting the malware if it existed in a folder would be one in a billion and whoever he or she came in contact with would risk infection too, because the worms would duplicate themselves across all the hosts or computers the layperson came in contact with over an internet connection. Worms carry malicious payloads or code, which make them a pain in the butt to eradicate and harder to identify due to their file names.
What's the best piece of advice you have ever been given?
The best piece of advice I have been given, this year, would have to be from Dr. Elena Porter from Simi Valley, Ca, not to give people my energy. Which, I believe I don't, but, she sees things that I don't see in me, and I respect her opinion on things. I learn from other people's mistakes. I make value judgments. I spend my time wisely. I try to do all the right things and say all the right prayers to prepare myself for the night ahead. I spoke to Donald Arthur Hilland Esq. of San Fernando, Ca the other day and he advised me to take a vacation. So, I am flying first class to Florida in mid-October. However, work never ends. The media kit Cyber Boy Corp. put together, which includes, an 8×10, bio, press release, and all the other good stuff caught a lot of attention out there. So, I got booked to appear on the radio and several podcast shows.
Congratulations! That's excellent. Well, that concludes our FaceTime interview with Roy Andrade, and look forward to having him in our newsroom once the pandemic ends.
Thank you, sir. I look forward to visiting you and your staff in Brooklyn soon.