Lee Chambers was born in Bolton, in the north of England on May 22nd, 1985, and he has always had a curious mindset which served him well through school and college. He holds a bachelor's degree in International Business Psychology from Manchester Metropolitan University and a master's degree in Environmental Psychology from the University of Surrey.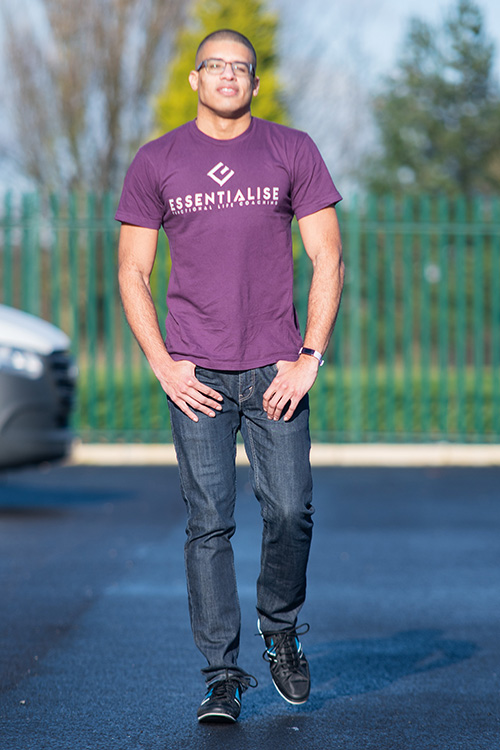 Lee lost the ability to walk due to seronegative arthritis in 2014 and has regained his mobility and become medication free, controlling his chronic disease through nutrition and sleep. He has worked at Bolton Council, The Co-operative Bank, and for Momentum Sports Performance. Ever since he was a boy, he had a desire to be enterprising, trying to trade his parents' ornaments to passers-by, age 7. He created a magazine mail-order business selling Amiga games at 12, and built his first company, PhenomGames, after being made redundant from his graduate scheme as a financial advisor during the credit crunch in 2008.
He has always had a deep interest in the field of psychology and how our bodies and minds are integrated. At Essentialise Workplace Wellbeing, Lee now works with businesses to create wellness policies than can be measured, embedded within organizational processes, and can grow internally. This involves building health understanding and creating workplace environments and cultures that are value-driven, conscious of all stakeholder needs, purposeful, and consistent across the whole organization. He achieves this by combining physical and mental health training courses, environmental psychology assessments, self-aware leadership training, and staff welfare events.
Lee regularly speaks in colleges about the human future of work, and the need for cognitive flexibility, emotional fortitude, cultivating creativity, and powerful questioning. Today he resides in Preston, with his wife and two children. He is a coach of a disability football team in England and presents a radio program about Health and Wellness on Ribble FM. He enjoys walking in natural environments, reading and discussing life's mysteries. He is a regular contributor in the press on subjects surrounding wellbeing and psychology and is often featured by Thrive Global, Yahoo News, and Fortune.
We interviewed Lee to find out a bit more about what makes him tick, the journey he's been on, and his hopes and dreams for the future.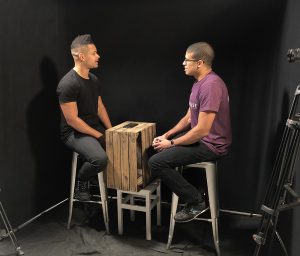 Erich Rüthers: Firstly, I've got to ask, what does an environmental psychologist do?
Lee Chambers: Environmental psychology is, at its heart the study of how we as humans interact with our surroundings, and how that affects our behaviors, actions, thoughts, and feelings. You can split us into three key fields. The first one, where I operate, is the psychology of urban environments, and how design affects human wellbeing and stress. Secondly, I have contemporaries who look at the effect of nature on our wellness, our behavior, and our attention. Finally, a group of us look at environmental behavior, how values, social norms, and group theory play a part in people's decisions, from climate change to sustainable living.
My focus is on how we can make workplaces great places to be for our bodies and minds. This involves looking at environmental stress in a workspace, such as lighting, noise, ventilation, and density. We also look at how functional a space is for the employees working there, and that their wants and needs are considered. Another part of that is workplace culture, and this involves building conscious leadership and promoting a culture of care, where blame and fear of failure are removed, and employees can develop and thrive.
Q: Okay, sounds like a worthwhile mission. Let's find out more about the man behind the science. What do you do to stay energized?
A: My energy has always been something I've focused on in my life. And today, with my business interests, my family and children, and my involvement in an organization and voluntary board, it can be challenging to keep the batteries charged. I have a chronic illness which can fatigue me, so I have to be really aware of how I'm feeling and make sure I prioritize my rest and recovery.
I have done this by spending years experimenting with my nutrition, sleep, and fitness, and now I only eat the foods which energize me, sleep at the time which leaves me feeling most refreshed, and make sure I keep my fitness level high. It is well worth finding out what works for you as everybody is different. You also get really good at listening to your body, which is a bonus that has helped me in my work.
I schedule time in to disconnect from work, so I can reconnect more powerfully. I go hiking in nature, I play games with my children, and I meditate to train my mind. I get a lot of energy just from helping my clients start to achieve their goals and change their businesses for the better.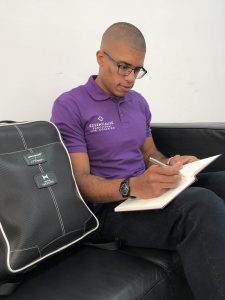 Q: You clearly take it seriously. So, how have you found the last few months and the current climate?
A: No doubt about it, its been challenging. Essentialise Workplace Wellbeing officially launched in December 2019 so it's still a new venture. I very quickly found myself having to bring my content online when lockdown came, and I hadn't been prepared for that. While I was lucky enough to have online assets and some digital delivery already, it wasn't where it needed to be. But this time has allowed me to get that rolled out, and I now have two US clients which has been a real bonus. And I'm even looking at VR options for environmental psychology assessments which is exciting.
On the flip side, I did lose a number of events that I was a keynote speaker at, and others have gone digital. I miss getting on the stage and expressing myself. I've decided to do even more speaking once we get back to a stable place again. And I do miss the buzz of going into offices and being part of the change I'm bringing.
With the events of the last few weeks, both in the US and here in the UK, it has got me thinking, as a young black male in the wellness industry. I'm fighting against the status quo, and yet I'm determined I will make the change I wish to see. When I was younger, I was told not to set PhenomGames up because the wholesale video game market was not an inclusive, diverse place for a young black boy with an attitude problem. I made that company work against the odds. Essentialise will be the same. I'm a man fuelled by passion on his mission.
Q: This isn't the first challenge you've been through. Tell me about losing the ability to walk.
A: Oh, boy, that's an interview all in itself. In 2014, I was living the life, my son was 18 months old and my wife six months pregnant, we had got married, holidayed in Florida and cruised around the Caribbean. We had bought our first house, and PhenomGames was bringing in a high income. Life looked rosy.
Then over five days, my immune system started attacking my joints, leaving me stuck in the hospital, unable to look after myself and in a whole world of pain. The damage to my knees was so bad I couldn't walk. Being a man, a big part of the identity of being Lee Chambers was being physical and playing sports; I felt lost.
You get a lot of time to think when you can't move, and after feeling the shock, annoyance, and despair, I decided to attack the disease as much as it was attacking me. I started rehab and hydrotherapy. It took just under a year to get walking properly again, which was a great achievement. I look back at the Lee Chambers in that hospital bed, not knowing where life was going to go. Having come back from that, I feel like I can conquer anything, and that is the title for my book that will be out in November.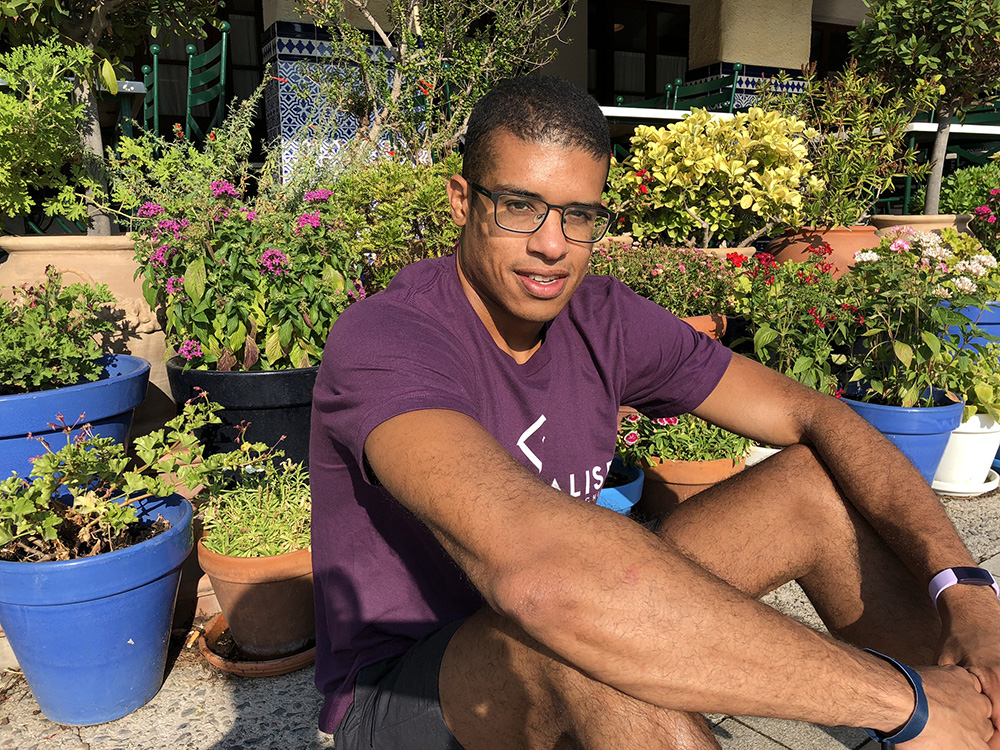 Q: Credit to you for bouncing back. Tell me more about your book.
A: The book is entitled "How To Conquer Anything" and delves into my journey of mental health challenges, defining my masculinity, redundancy, and my health recovery. Through that, I share all the wisdom I've gained along my path and the science behind conquering the things that so often hold us back from our potential.
I break down how we can use fear as fuel, stop being a perfectionist and become an optimalist, and reduce our anxiety. We look at procrastination and how we can flip that to get momentum, how low moods can be reframed with a few simple words, and how we can build inner trust in ourselves.
In many ways, it's my life's work packaged in a story. It will be in all good book shops in November.
Q: Have you always been a writer?
A: No, I'm certainly not a natural writer. I'm much more comfortable with numbers and science, but the more I've blogged and written, I can now string a few sentences together that make sense. It's definitely the case that if you do a bit of writing every day, after a while, you start to get better, like training your muscles in the gym!
In fact, that makes me think of something I quite often tell people. Most things in our lives, we need to practice building up and get good at. That includes lots of mental processes, like focused attention, gratitude, and mediation. Think of those as anaerobic training for the brain, because your brain is a muscle, and gets stronger with use.
Q: I've never thought about it like that. What's one thing that changed your life?
A: That's a hard one, there's a number of things, but the most impactful has been having a reflective morning routine where I make time for me, stay away from my phone and email, and meditate, read, exercise and journal before starting working. This gives me so much clarity, and I start every day filled with positivity.
And there are so many different things you can do in this period. It's important not to get pulled into other people's worlds before you've spent time on your own. You can go walking, listen to positive podcasts, sit in silence, or visualize your day. Maybe yoga, prayer, or affirmations will work for you. There is no better time to experiment than now with so many of us out of routine. I have literally become Lee Chambers 2.0 by following this routine, it's been a revelation.
Q: How about a book that has stayed with you, and you would recommend?
A: I've read a lot of books in my time. One that stands out is Mindset by Carol Dweck. I was told so often when I was young that I was smart, and that meant when I struggled in college, I blamed myself and felt I was failing. Mindset shows just how powerful our mind is when it comes to fulfilling our potential.
I now practice having a growth mindset every day. It's so important in coaching as I must believe that every client has the answers inside of them and that they are capable of reaching their goals if they don't fixate on their old limiting beliefs.
Q: Thank you, Lee, for an engaging conversation. Before you leave us, what does the future hold for you?
A: Thank you for your kind words. Well, a big part of Essentialise Workplace Wellbeing is tackling the wellness challenges of the future of work, starting today. We are looking at how automation, biotechnology, off-balance-sheet workers, and other developments will provide both wellbeing challenges and capacity for businesses to treat their employees as people. We will continue helping the next generation identify the skills that will bring value and helping them build their self-awareness so they can decide what they want for their lives. I will continue to preach that businesses need to be purposeful and that the secret to great leadership is to lead authentically with love. I continue to blog weekly, podcast often, and finish my book.