As the house music industry begins to break out of the club scene and into the mainstream, DJs and producers are finally having their moment. From collaboration with Grammy-winning artists to having their own songs featured on radio stations around the country, house music and EDM artists are showing audiences that their art can be enjoyed by everyone.
Emerging from the Southern California dance and house music scene is DJ Ryan Eshaghi. Born and bred in the Southern California bright lights, Eshaghi recently took his stab at reaching music industry notability as BLEAM.
Known for his ability to write and produce tracks that are favorites in clubs across the US, Eshaghi's BLEAM takes a slightly different route – intertwining musical complexity and storytelling that creates a brand new and unique sound.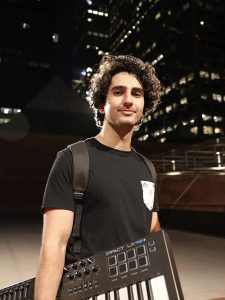 BLEAM: Transmitting Creative Data & Passion
The inspiration for BLEAM came from Eshaghi's combined passion for the world of blockchain and his love for creativity. (In fact, if Eshaghi wasn't cutting tracks and filling his schedule with music production and startup consulting, he would be opening his own fusion sushi restaurant!) According to Eshaghi, the name BLEAM "…comes from computer science jargon: meaning to transmit or send data." In the same way, BLEAM's harmonic yet punchy four-on-the-floor is transmitting a new sound to the airwaves – and Eshaghi is experiencing a brand-new wave of success.
BLEAM's first show was to an audience of over 4,000 at the Summerlands Music Festival, and he is currently enjoying breakout success with the release of the new single "Antigua" – which placed BLEAM on the house music map. As BLEAM, Eshaghi has had opportunities to play club and festival shows with some of the biggest names in the industry, including JOYRYDE, DVBBS, Firebeatz, Ayokay, and more.
BLEAM followed up the success of Antigua with his single "Soul Searching," on acclaimed Mixmash Records – Laidback Luke's 16-year-old label that has a track record with signing artists such as Avicii, Afrojack, and Steve Angello.
While receiving playtime and support from global superstars Tiesto, R3HAB, and Timmy Trumpet, BLEAM has risen to quick game in the music industry. With 3 major label signings in 2020 and multiple global editorial playlist placements – BLEAM shows no signs of slowing down, and is curating a more "sonically focused" sound for 2021.
Having A Blast As BLEAM
BLEAM's Secret? Not losing sight of the point of creating music.
"Music is the universal language," says BLEAM. "I could not live without it."
Eshaghi, looking back on his life, has seen how the best moments of creativity come when you take it easy, enjoy the process, and don't take yourself too seriously.
In speaking of creating unique tracks from everyday occurrences, Eshaghi says, "Water is a great source of inspiration due to its simplicity, variability, and necessity. To one person, water can be simply drinking a refreshing glass on a hot day, while another person may wake up to a picturesque water landscape in a mountain cabin. I'll drop in water droplet samples or waves crashing when thoughts like that come to mind."
As BLEAM continues to exceed expectations in the music scene, Eshaghi has shown how a little bit of risky creativity can pay off. Even when performing before thousands and hearing his music featured on top online charts and in clubs worldwide, he hasn't lost sight of his foundational passions. He is still the humble sushi lover and technophile that one day hopes to open his very own sushi restaurant – and his passion project BLEAM is helping him take an unconventional route toward that goal.
Follow Ryan Eshaghi and BLEAM online, and check out the latest tracks from BLEAM on Spotify.