For many businesses, lockdown has been terrible. For Bailey, the opposite is true. If anything, it is thanks to the shuttering of non-essential physical storefronts that he has raked in £1M+ in revenue since lockdown began.
While it is devastating that so many businesses have been negatively affected by lockdowns and stay-at-home mandates, there is also a silver lining. Online ecommerce businesses like the one Bailey Knight runs have been doing incredibly well. With more people doing their shopping online than ever before, it means there is more revenue to be enjoyed.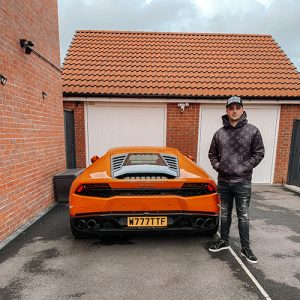 Bailey Knight may only be 25 years old, but he has already achieved extraordinary success. His Shopify dropshipping business how ships products all over the world. It was just started two years ago, and in that time has seen its sales skyrocket.
A large part of this success is due to Bailey's ability to market the products he sells in a unique way. With plenty of other dropshipping businesses out there, it's a crowded field. That means marketing products has to be done in a way where you get your target audience to click through to your store instead of someone else's.
As successful as Bailey has been, there are challenges along the way. When times get tough, what keeps him going is the immense motivation to succeed. Also, he is driven by the desire to create freedom for himself. He loves the ability to work from anywhere in the world, as long as he has an internet connection. The extraordinary freedom that this provides him is a dream come true.
Speaking of dreams, Bailey has been able to finally buy his dream car thanks to his success. The Lamborghini Huracan he has parked at his home is a testament to the financial abundance he has finally unlocked. He also boasts having an Audi R8 and Range Rover.
His Shopify dropshipping business has also opened up the world for him to travel. Bailey has already traveled, sometimes via private jet, to places like Dubai, Bali, Kuala Lumpur, and the United States. All of these big wins demonstrate that it is possible to unlock financial freedom in a very short period of time. After all, it took Bailey just two years to achieve all of this.
Bailey does say that it requires you to stay consistent with your business model, and that nothing comes easy. You are going to come up against obstacles. By pushing through them and grinding away, you will achieve the same level of success he has.
As Bailey continues to see success through his two businesses and joint business with his business partner Jay, he looks forward to scaling and expanding what he has already achieved.
Bailey enjoys inspiring other would-be entrepreneurs and offers some motivational content online. If you want to become inspired by this successful entrepreneur, then you can follow Bailey on his Instagram page and keep up with the latest from him.