Today, young entrepreneur Gabe Adzich is the founder of KAFF Coffee and PRISM XR. These two early-stage startups have already shown traction within their respective niches. However, Gabe is also involved in a number of other ventures and industries, including real estate, investing, and more. At 23 years old, he is still quite young and is only getting started on the entrepreneurial path.
Not only has Gabe been successful as a young and new entrepreneur, but he has accomplished this in the highly competitive environment of Los Angeles. This city has plenty of startups already, yet not every startup founder or entrepreneur is as dedicated to ever-greater success as he is.
To go to the beginning of Gabe's entrepreneurial career, we only need to go back a few years to when he was in college. At Texas Christian University, he joined a cohort of top-ranking entrepreneurs from around the United States.
At the same time, he was still involved in collegiate basketball, and was quite good at it. In fact, he was playing on the university's Division 1 basketball team. Gabe has been playing basketball since high school, where he was one of the best in the state, and the nation. He had a path to go pro after college if it wasn't for his true passion for innovation urging him to become an entrepreneur.
After leaving the highest level of athletics before professional basketball, Gabe followed his passion and pursued entrepreneurship. To do this, he decided to transfer out of TCU to go to Loyola Marymount University, located in Los Angeles. Once there, he quickly excelled in entrepreneurship. He ended up founding his first company while studying there, and even won awards for doing so.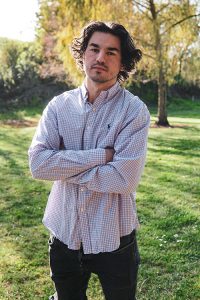 Since getting started on his entrepreneurial journey, Gabe has founded two powerhouse ventures (KAFF and PRISM XR) and has also invested his time and money into the world of real estate development, along with early-stage startups. This diversified approach to being an entrepreneur has proven to be quite successful for him.
Today, Gabe is recognized as one of Los Angeles' top young entrepreneurs. At just 23 years old, we are bound to see a lot more from Gabe in the coming years. His ambitious spirit and determined drive to push the limits of what is possible are sure to take him to new heights of success.
Gabe has proven that he has the leadership skills, passion, and competitive spirit needed to work alongside some of the world's most prominent executives, which he now does. By all accounts, his career is only getting started.
As someone who is an innovator and wants to optimize the way things are done, Gabe has famously coined a saying that implores other innovators and entrepreneurs, "Let's innovate tomorrow, today."
To learn more information on Gabe Adzich and his entrepreneurial ventures, you can head over to his website.