The average home appraisal in July came in an average of 0.63% lower than owners' estimates, according to Quicken Loans' National Home Price Perceptions Index (HPPI). This is the third consecutive month of a tightening gap between the two data points, showing that owners are becoming more in tune with their homes' current value.
The declination reflects the further tightening of the two data points across most of the metro areas studied. Of the 27 metro areas analyzed, 20 had less than a 1% difference between perceived and actual home values, while only two report a greater than 1.5% difference. Owners in Charlotte have homes worth an average of 1.92% more than their expectations, while Chicago homes are valued and average of 1.66% less than their owners estimate.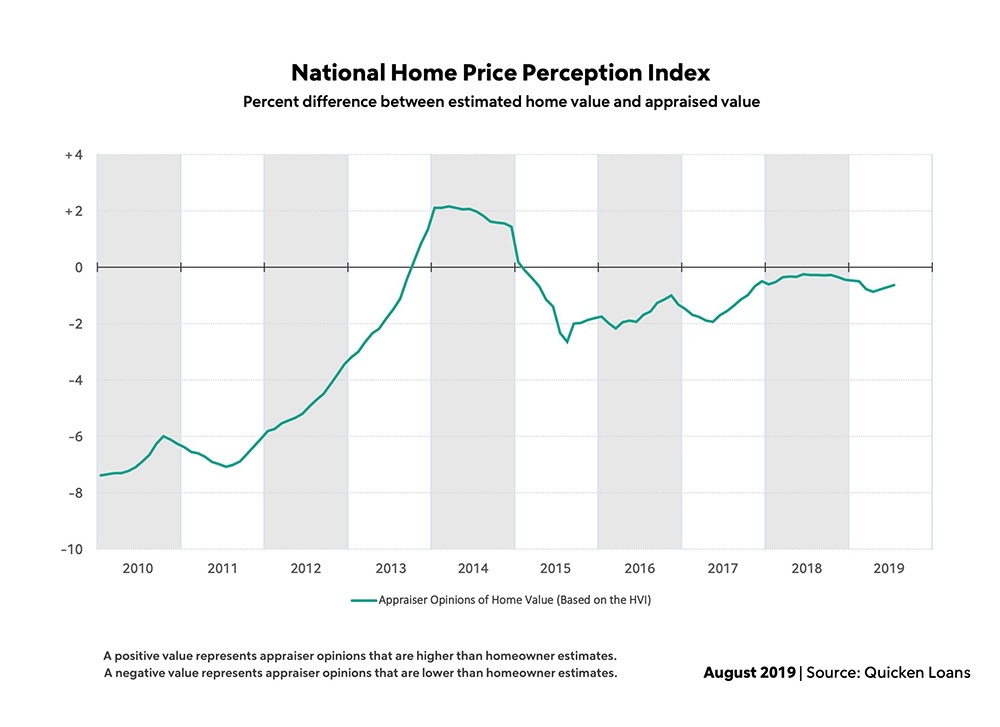 "As expected, with mortgage rates at three-year lows and the refinance share of mortgage activity continuing to hover above 50%, homeowners are increasingly aware of the true value of their home, said Bill Banfield, Quicken Loans Executive Vice President of Capital Markets. "Prices continue to increase in most areas but the rapid growth of years past has moderated giving homeowners a better sense of their home's market value."
Quicken Loans' Home Value Index (HVI), which is based solely on the appraisal data of America's largest mortgage lender, shows that values increased 0.6% nationally in July, though the year-over-year increase is identical to last month's 4.78% jump. July's HVI level, is at its highest since January 2007 – showing just how far the country has come since the Great Recession.
Appraisal values rose in every region, with the Northeast experiencing a 1.34% increase in home values, and the South measuring a 0.04% bump in appraisal values. All regions continue to enjoy significant year-over-over increases, which range from 3.51% in the South to 5.45% in the Midwest.
"The fact that July had the highest Quicken Loans Home Value Index since January 2007, has to be encouraging, especially to those who were deeply underwater during the worst of the recession," Banfield said. "The 1% drop in interest rates so far this year will help address affordability but the strength of the economy and a lack of new homes being built will also play a big role."
---
SOURCE Quicken Loans