Fifty-one years ago in Art in America, critics Thomas M. Messer and David L. Shirey first defined a new artistic movement, one known for aesthetic inconsistency and breaking the rules; a movement now known as Conceptual Art. For the issue's cover, the editors chose work by the artist co-operative N.E. Thing Co, legally incorporated as an art business by IAIN BAXTER&. Curious about the artist's role in the marketplace, Iain had already been an artist in residence and creative consultant at the Labatt Brewing Company. At his solo show at the National Gallery of Canada, he transformed the street-level gallery into what looked exactly like a corporate office, with personnel working at their desks. IAIN BAXTER& always turned the art world on its head. Lucy Lippard wrote that she found IAIN BAXTER&'s work more "exuberant" and communicative than anything happening in New York.
"What happens if I do this?" is a question at the heart of every child's creative play; it's how children explore the world. Such a natural and instinctive process is surely productive, since natural instinct discovered it through adaptive evolution. When an adult applies that way of thinking to a sophisticated art world, you get artist IAIN BAXTER&.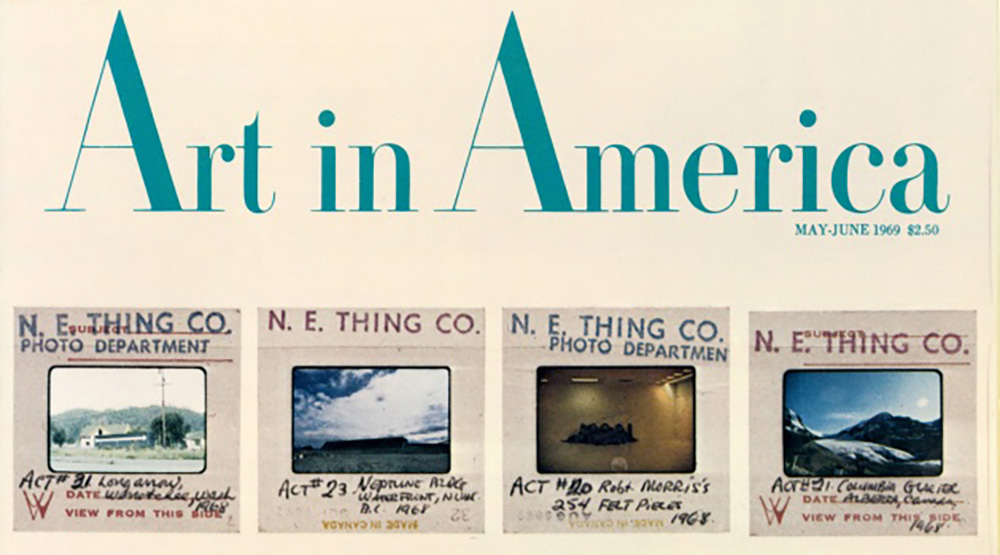 IAIN BAXTER& has exhibited throughout Canada and internationally in the United States, China, Korea, Japan, and Europe, including at the Guggenheim New York, The National Gallery of Canada & the Canadian Cultural Center in Paris, France, Los Angeles Museum of Contemporary Art, Museum of Modern Art, New York & the Tate Modern, London.
IAIN BAXTER& slips art into every day by making it a creative object of consumption.
He is represented by Trépanier Baer Gallery. A recent body of prints can also be found online.