Emanuele Filiberto, Italy's last king's grandson, is opening up his first standalone storefront in Westwood. The restaurant will expand beyond handmade pasta into Roman-style pizza, Sicilian arancini, salads, and desserts.
Prince Emanuele is also a promoter of charitable causes for the local Los Angeles communities of disabled children in need of school supplies.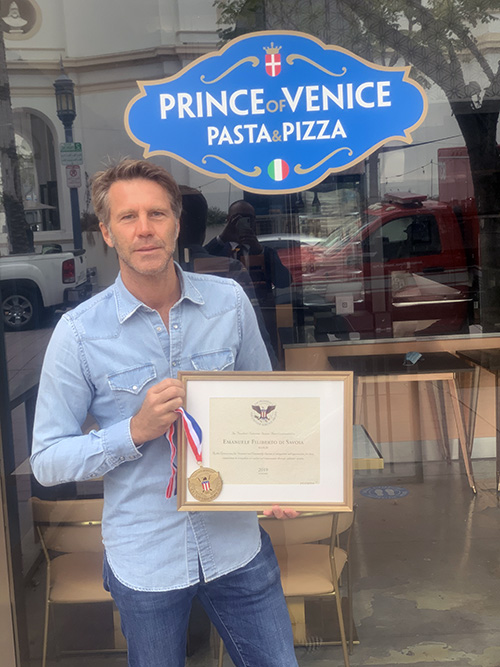 Last year, Prince also supported Caterina's Club to provide warm meals, affordable housing assistance, and job training to homeless and low-income families throughout Southern California. Due to His Highness's noble efforts, a nationally acclaimed award of Presidential Volunteer Service Award was given to him as an honor offered in recognition of his sustained service.
Combing food, Italian culture, and humanitarian efforts is truly a creative endeavor for bringing the best of Savoy tradition to the world. Prince Emanuele's international background made this possible! The modernity of an aristocrat is reflected by his down to earthiness and pragmatism in humanitarian work. Proving food to the local communities also means extending the collaboration with people from all walks of life. "The grounding is important; you see how people are struggling during this COVID-19; for this, we are all one," Prince commented.
To get the award, candidates must document their volunteer activities and the number of hours served. This service record may be a diary, calendar, or timesheet with proof of service documented and verified by an agency representative.