Edwin Hernandez, this name brings smiles to millions of followers of "EdwinElCapoTV", when fans and followers hear that name, they immediately think of YouTube prankster, entertainer, and Latin actor as a result of his television appearance on shows such as Caso Cerrado on Telemundo and the ever so popular YouTube channel EdwinElCapoTV. Yet very few outside of the latín community know who he is, let's dig in and discover more.
EdwinElCapoTv is a multi-talented young individual that was born and raised in a city known by many nicknames, such as "The City That Never Sleeps" or "Gotham" but the most popular is "The Big Apple"- New York City, Edwin Hernandez was born March 18, 1994. He is a highly cultured young man that stuck to his Latin roots and creates Latin video clips on YouTube for his audience. He became a hit on the web immediately after a few of his posts became viral, one, in particular, is the one he faked winning the mega millions lottery, whereas my personal favorite is Policia Encubierto.
The most recent project, which seems to be catching the eye of a huge audience is Edwin's Karaoke on Wheels. This is an extraordinary show which presents a platform for EdwinElCapoTv to host a broad spectrum of famous Latin and Hispanic artists to interact with, this creates a fun atmosphere in the form of karaoke giving a path for Edwin to host interviews on that particular artist. The outcome of Mr. Hernandez's online activities and popularity was a launchpad for his career and launched his performances deep into the modern digital ecosystem.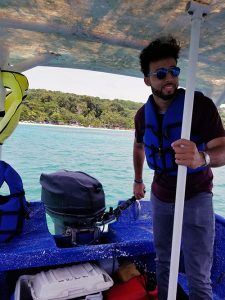 He eventually found love in the form of the beautiful Dominican YouTuber with the YouTube channel called MamiRosetv, the couple have been seen in several YouTube videos displaying their affection for each other while engaging with their viewers in a more personal setting, in their home. As like every love tragedy expressed by Shakespeare the couple is now fighting over a prank video Edwin posted which lead to Rosi losing custody of her two children because her husband Edwin, who is not the father of the children, exposes them in his Internet prank videos and they suffered some accidents.
Despite the drama in this New Yorkers' personal life, which for many would impact them negatively, this was not the case with Edwin because he had not allowed it to stop him from producing the same excellent visuals which were better than the streams from before. Edwin has been uploading his new content, in the form of his well-known Crazy Uber Driver pranks, the YouTube ecosystem produces a vast quantity of content and yet Edwin's work stands out, he is a truly unique breed of artist. To better understand this artist follow him on his social platforms which are his YouTube channel, Instagram, Facebook, and TikTok. So, for laughter that is guaranteed to give you, your family, and friends a laughter tummy cramp and tears of joy visit EdwinElCapoTV.