He's back! Tevin Naidu has made his ever so anticipated return to the public sphere with a bang! A few years ago, shortly after his spell on Survivor South Africa, Dr. Tevin Naidu said goodbye to social media for good. No more Instagram. No more Twitter. No more Facebook. He disappeared. Why?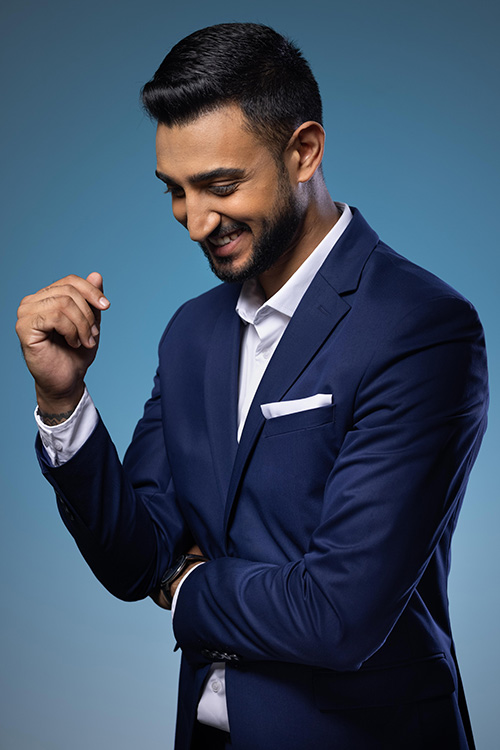 "I love what social media has done in terms of connecting the world, however, I am not particularly happy with the way in which companies dictate the behavior of human beings. Most people assume they're 'online because they want to be when the reality is, they're online because certain companies want them to be. It's a profit-driven market, and it's disappointing how few people realize this fact. Many years ago, I read 'Manufacturing Consent by Noam Chomsky,' which then led me into a deep dive surrounding the media industry and the influence they have over everyday individuals (including myself). It changed my perception completely. I started researching the industry, and, unfortunately, the more I read, the more I realized the rich are controlling the poor by utilizing dopamine and other neurochemicals inherent to man. What surprised me most was how much these companies actually invested in researching the human mind and figuring out exactly how to manipulate and control people. Hence why I left social media altogether. The FOMO was real, but the freedom was apparent from the beginning. Less stress. Less anxiety. Less ridiculous concerns that made me question myself. I was happy. I was in control. Unfortunately. since I've launched my new mental health podcast, I've re-downloaded social media platforms to connect with my audience, but only this time I have someone to run the accounts. I only use them personally when I am free and have a moment to spare. Otherwise, I do my best to stay 'unconnected.' This has had a tremendous impact on my relationships with friends, family members, and loved ones. I'm more present and more engaged. Social media has done wonders for society. However, 'social' media will never replace 'social'-izing."
Dr. Tevin Naidu has been a television presenter in South Africa for almost a decade, having hosted some of SA's most popular Asian lifestyle television shows – Eastern Mosaic (SABC 2) and Mela (SABC 3). He is a household name in South Africa yet many viewers fail to realize that he also holds a Bachelor of Medicine and Bachelor of Surgery degree (MB, ChB) and is currently completing a Master's degree in Philosophy and Ethics Mental Health. To his viewers, he may be "Tevin Naidu," but to his patients, he is "Dr. Naidu." His ability to live a double life throughout the medical school is commendable. In fact, in his first year of med school, he also won the Mr. India South Africa competition and became the youngest winner to win the competition at only 18. This was after his final year of high school, where he received an overall average of 100% for Mathematics in his final year of school – a completely uncommon phenomenon where he was from. Here at Ritz Herald, we are glad Dr. Naidu is back in the public sphere because his journey is truly inspirational, and we cannot wait to see what comes next from this young man. Currently, Dr. Naidu is the host of the "Mind-Body Solution with Dr. Tevin Naidu" podcast with new episodes every Monday, available on all streaming platforms.
When asked about why he returned to the public sphere, Dr. Naidu had this to say: "I'm only back for education. I'm very passionate about mental health, and the misguided stigma and lack of understanding of mental illness really frustrate me. My aim is to provide publicly accessible mental health education that is simplified, evidence-based and up-to-date. Because education empowers and prevention is greater than intervention." Join Dr. Naidu every Monday for solutions to your mind-body problems! Dr. Naidu's podcast is available on all streaming platforms. For more information, visit TevinNaidu.com or follow @drtevinnaidu on Facebook, Twitter and Instagram for bite-sized nuggets of mental health wisdom!