Diane Lingenfelter could have been, or perhaps she already is, or else may well become a hot fashion designer; that's her kind of art. At the same time, her command of visual language with its subtleties of light and shade is admirable. In all fields, there are some who rise above the best, and Diane does a fashionable job of rising to mastery of her art. She's obviously done the 10,000 hours that reshape your brain, so your work reaches the standard of real, difficult, complex, and beautiful art.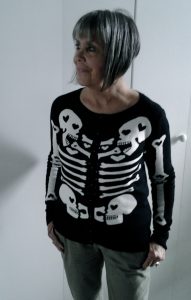 Paul Dirac said when he sees beauty in his equations, he knows he's on the right path to progress, while if beauty's lacking, the math is probably wrong. It's sensible to ask if this science behind beauty also applies to visual art. In Diane's work, beauty is not only sensory but intellectual. Visual language has a complex vocabulary often worth a thousand words, but it really takes a lot of work to get there. We're grateful Diane got there; her work seriously enriches one's day, and she is at the edge of this kind of painting. She's ahead of the pack.
I have to say this kind of stuff because otherwise, many would not be able to judge her work for the real quality it enfolds. When art is anything you can get away with, charlatans roam the field, so it's good to know who is real, who's good, and who's among the best. That Diane does fashion does not make her frivolous but whimsical, it enhances our quality of life by adding some edgy new taste that's good taste.
Check this out. The work looks simple, but that simplicity is a sophistication found in classical Japanese design while also reminding us of traditional African masks and also of Picasso's work.
You could say a wide exposure to art history benefits the work, even if the art wasn't thinking about those influences at the time; the creative unconscious parts of the mind organize these various references and inspire the artist to the look and feel, the handling of the graphic language that brings all these statements together.
Diane Lingenfelter's work can be seen online at DianeLingenfelter.com.
For purchase availability, contact, or visit official online store.
You can also follow Diane on Instagram @lingenfelter.diane.