It's finally 2021! This is something people everywhere are rejoicing about given the intense year we all just went through. As we look forward, just as we do every year, the start of 2021 comes with thinking about New Year's resolutions. For this coming year, Empowerment Coach Diana Perkovic believes your main priority and focus should be your own personal empowerment.
After a really disempowering year for many out there, the time is ripe to discover your inner voice and be led confidently by it. Being empowered will help you achieve your dreams, goals, and aspirations. It will place you firmly within unwavering self confidence. Diana has been coaching women throughout the pandemic who are now thriving, even though times are difficult for many. Many of them have expanded their businesses, landed new jobs, and even overcame long-held deep, personal fears.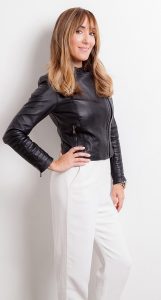 Diana believes that no matter who you are, you can embody your power in 2021. It doesn't matter how you envision your life, what your goals are, or what obstacles have been in your way previously. You can achieve anything you want once you are empowered. The flip side of that is that achieving your dreams, goals, and aspirations will be incredibly difficult, if not impossible, prior to becoming empowered.
This is something Diana, who wanted more out of life after more than a decade as a successful TV personality, knows firsthand, which is why she has been helping women stop leaving life up to chance and assisting them in boldly making empowered choices. Diana works specifically with women and has made it her main focus to help women around the world become empowered, on their own terms. She has been supporting and guiding women on how they can become empowered as she has. All of this begins with tapping into that inner power.
Watching women discover their true power is something that has inspired her to make a commitment to herself and the world. The idea of women supporting women is huge for Diana. She believes that it is possible, one empowered woman at a time.
Diana has worked with women, spoken in front of countless groups, and is empowering women around the world to live life confidently and on their own terms. She knows just how powerful an empowered woman can be, which is why she wants to reach as many women as she possibly can.
Creating Good Girl Mafia, and later the GGM Empowerment Bootcamp, is Diana's way of helping change the world, one empowered woman at a time. This Six-Week Empowerment Program enjoys a 100% success rate and plenty of testimonials.
The step-by-stem system Diana, developed over the course of a year, is different from any other out there. It has been designed to help women define what their version of an empowered life is and help them live it. The program consists of a combination of weekly group sessions using the GGM Method, one-on-one sessions, and both individual and group action steps.
In the GGM Empowerment Bootcamp you will:
Define Empowerment & Set Your Intentions
Release Your Inner & Outer Resistance
Create Your Ideal Empowerment Profile
Engage Your Negative Tape Recorder and then Press DELETE
Put Your Empowerment into Motion
Celebrate Wins
The results that women who have gone through the GGM Empowerment Bootcamp include:
Experiencing big breakthroughs
Skyrocketing energy and motivation
Watching their best life finally unfold with ease
Banishing Imposter Syndrome, once and for all
Learning how to be your best even under stress
Feeling empowered and excited about the future
Changing the patterns that you know aren't working for you
Learning how to let go of the pain from the past and move forward
Defining new standards for yourself and a system to maintain them
Genuine self-esteem, unwavering confidence, and discovering your true value
Proven techniques to release internal resistance and self-sabotaging tendencies
Less fear and anxiety
Increasing resilience
Truly loving yourself
You can head over to the Good Girl Mafia website to learn more about what female empowerment looks like through the lens of Diana Perkovic's Empowerment Bootcamp. You can read testimonials from other women who have gone through the GGM Bootcamp here. You can also check out the Good Girl Mafia YouTube channel to see more from Diana.