Photography is an art that helps capture precious memories to look back at in the future. Whether it's the colorful wedding you attended, birthday party, bridal shower, or any other special events in your life, pictures help you create and hold on to everlasting memories. Every beautiful moment, whether big or small, needs to be photographed. This can't be possible without the help of an experienced and passionate photographer who is willing to go above and beyond to ensure your special day is captured through photography. Abbas Rizvi is not only one of the best photographers in Chicago, but he is also an artist with a filmmaker's sensibilities. Abbas Rizvi excels in composing original yet sophisticated snapshots of his clients.
Who is Abbas Rizvi?
Abbas Rizvi is a well-known photographer based in Chicago, USA. He started rising to fame in 2011 when he was working with different studios in Chicago. After mastering photography skills and bagging a solid 2-year experience, in 2013, Abbas launched his own business, Abbas Rizvi Photography. Eight years later, he has managed to build a very successful business from scratch, and he has created an immense/diverse portfolio. He has performed shoots for celebrities, TV Commercials, models, weddings, and different events in the US and across the world. His world-class photography skills have seen him get many gigs in Poland, where he conducted shoots for a Pakistani company.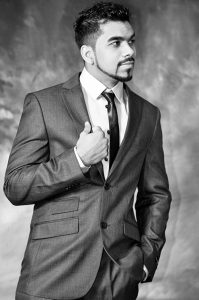 Abbas Rizvi Photography Services
With passion, a keen eye for details, and tremendous experience, Abbas Rizvi Photography provides a wide range of services to clients worldwide. Some of the services include:
Wedding Shoots: Whether you are in Chicago or anywhere in the United States, you deserve top-quality photos for such a huge milestone in your life. Abbas Rizvi has been doing wedding shoots for over ten years now. Whether it's a Muslim, Christian, or Hindu wedding, Abbas has the experience of doing the shoots you deserve. As of now, Abbas has completed shoots for over 50 weddings in a year!
Portraits: Abbas also provides a fascinating photography portrait to individuals who love decorating their homes with their portraits on walls. Capturing every shot with a Nikon camera, Abbas focuses on producing the best portraits for his clients. This is why he has been rated 5-stars on Google Reviews.
Model Shoots: From working with celebrities and models worldwide, Abbas has been in high demand for model shoots. He has performed shoots for Indian celebrities such as Katrina Kaif, Sidharth Malhotra, and Aalia Batt. Abbas has also done live concert photography in the USA and worldwide, including the new year concert in Chicago. Additionally, he has worked with world-renowned singers such as Atif Aslam.
Portfolio
Some of Abbas Rizvi's work has been featured in quite a few US fashion magazines.
He has also done shoots for celebrities, including a very well-known Pakistani actress, Armeena Khan, and several other superstars in the industry. He has also filmed commercials in Poland for a Pakistani-based company. His immense portfolio shows how experienced and dominant he is in the photography industry.
The driving force
Abbas's secret to success is focusing on creativity and unique ideas while doing his work. Combining his creativity with a passion for photography, he has been producing and creating outstanding images that perfectly describe an event, just like you would want to remember it!
His specialization in all photography areas has made him a hotcake in Chicago and the US. He can twist and convert even the dull moments and simple shoots into a lively memory that you will always cherish. Due to these rare skills, Abbas has been in high demand, doing over 50 wedding shoots a year!
Why work with Abbas Rizvi?
He's passionate about photography and cinematography and strives to do his best
He has over ten years of experience in the field
He can work on different events, including weddings, concerts, commercials, or model and celebrity shoots
5-star reviews on Google Reviews
Chicago's best photographer
His creativity enables him to capture the moments differently that sets him apart from the rest
Let the numbers talk
Sharing some of his works on Social Media, he has amassed a considerable number of followers. He has over 69k followers on Instagram alone who are always updated with some of the latest projects Abbas is working on.
He also has about 16k followers on Facebook. His brand has been on rapid growth in recent times, and he looks to be the next big figure in the Photography and Cinematography Industry. Watch out for this name!
What are you waiting for? Get in touch with Chicago's best photographer for any events, concerts, model/celebrity shoots in the United States.
For more information, visit Abbas Rizvi's website and follow him on Instagram, Facebook, and YouTube.