Meet Uloma Okoro, a Nigerian lawyer and businesswoman who intends to build a world class hospitality chain in the midst of tough business conditions in her country, Nigeria.
Nigeria is Africa's most populous country; home to over 200 Million People.
Lagos is Nigeria's commercial nerve center; with a population of over 20 Million People.
Uloma lives in Lagos and launched into the Nigerian hospitality space in May 2021 with her hotel brand known as Loomzy Suites.
From May 2021 till date, she has set up 3 branches in the highbrow Lekki neighborhood in Lagos and she tells us that the business has a lot of prospects.
In our recent interview with her, we learn about her journey, her experience, and the future of the brand ' Loomzy Suites.
Tell us about yourself. Who is Uloma Okoro?
I am a lawyer trained in Nigeria. I spent about 16 years of my life, practicing as a lawyer in my country. I first started as a Litigation Lawyer (the equivalent of what you refer to as Attorneys in your country). Then I moved on as Head of Legal Services in an Aviation Ground Handling Company and subsequently moved to become the Head of Legal Services and Compliance in an Insurance company in Nigeria.
I started doing business in 2010 when I set up a wholesale jewelry distribution chain in my country.
I started the Loomzy Suites Brand in May 2021 with our first Boutique Hotel which we called Loomzy Suites Exclusive.
We currently have 3 boutique hotels in the highbrow Lekki area of Lagos, Nigeria. We have at the moment, Loomzy Suites Exclusive, Loomzy Suites Royal and Loomzy Suites Country home; our newest addition to the brand. We started the Loomzy Suites Country home in October 2021.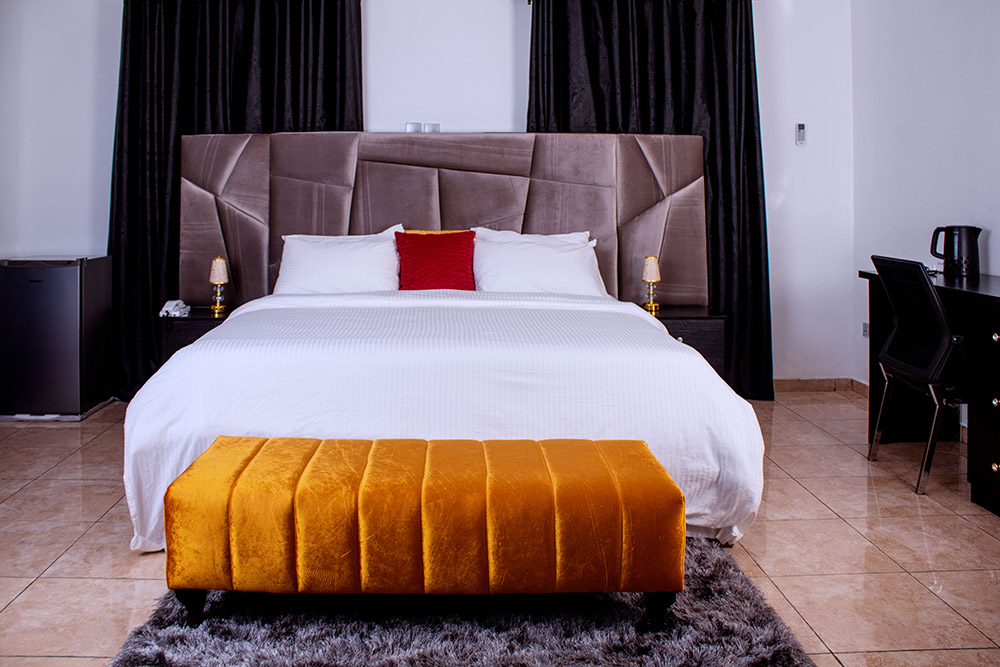 How did you decide to move from the Court Room to Hospitality?
I am very passionate about hotels. Because of jobs I had in the past, I had cause to travel around a lot and as this happened, I developed a passion for identifying the most pleasant hotels to stay in any city I visited. When I got ready to start the business, I decided to start small; with 5-room boutique hotels which would be easy to manage and to learn with. Before we knew it, several offers started to come from other property owners and so in a space of 5 months, we were able to set up our 3 boutique hotels.
Nigeria has many opportunities for businesses; especially in Lagos where I live. The population we have in our country is a ready market; and so for every business one can think of, once it solves a need and it's properly structured, there will always be a ready market.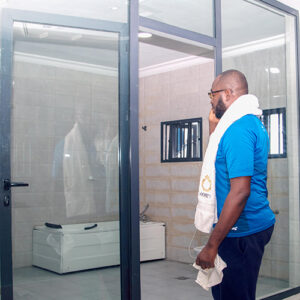 What major challenges do you face in your business?
The major challenge we face is in the Power Sector in our country. It is still going through teething phases; somehow, we have not been able to generate sufficient power for our population of over 200 Million People.
So we have to revert to alternative sources of power; diesel generators. Diesel is currently expensive in my country. When we first started in May, we bought each liter for about N220 (equivalent of about 37 Cents).
Now we buy each liter at about 59 cents.
Again because of the current fluctuation in the value of our currency, the Naira, it has not been easy to appropriately plan and price our food and beverages as inflation in my country has moved from about 14% where it was last year to about 17%.
But in all, we are very optimistic because hospitality will always be promising as long as people continue to move from place to place. So we do our best to overcome our challenges as they come.
Speaking of Hospitality, there are several hotel chains in Nigeria and very many hotels all over the place. How does a newcomer like you stand a chance?
I have always believed that the sky is big enough for everyone. As long as we maintain high standards and ensure that we have proper quality assurance, there will always be space for us in the business. I do not consider competition to be a problem; there will always be a place for the man who knows what he is doing.
Within the period that we have been in operation, we have gotten many loyal customers who continue to give us good referrals. So for us competition is not a problem. Competition will become a problem when we start to lower our standards.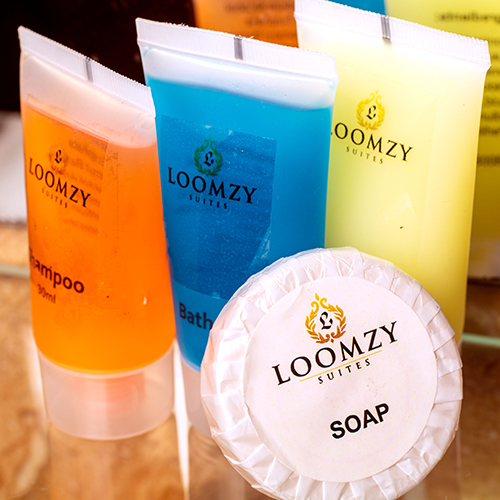 How did you raise funds for your business? Did you inherit money or did you attract Seed funding from any organization?
I raised most of the money informally; through friends, family, my network, and then people who have followed me closely on Social Media.
I have used this method for about two years; people invest money in my business on a short-term basis and then I pay monthly interests to them, based on my projected profits.
At the moment, a good number of those people have decided to become shareholders in the business; and so we are selling 40% of the company's shares through what we call a private placement. Meaning that shares are sold to people I know or people who have been recommended to me from my network. We have a time frame of 1st November 2021 to 31st January 2022.
Our aim is to register a full-service hospitality company. Before now, we already had a hotel trading license but the business was registered as a business name.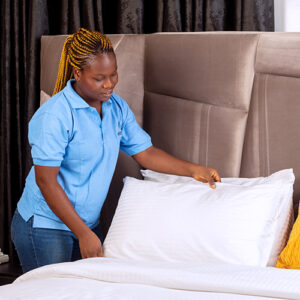 How is that going? Have you been able to raise enough funds?
We have valued our business at about N900M (roughly $1.7M) based on our current assets, goodwill, brand equity, and the projections we have made for the next 5 years. We no longer have enough rooms to serve our prospective guests and we have the capacity to attract a larger market.
The response so far has been amazing. We only started on November 1st but we have gotten serious commitments for at least 27% of the shares being offered. We intend to make a profit of at least N131M per annum out of which Shareholders will share from the profits of the business at nearly 15% per annum in the 1st year. We expect this to keep getting better over time.
What are your future plans as a business? Where do you see your business, 5 years from now?
Our plan is to get a 50- room hotel by March of next year. We have chosen the company's Board of Directors and they are experienced, credible people who have the vision and the ability to assist the company in achieving its goals. By the next 5 years, we intend to add another big accommodation to the spaces we have planned for at the moment and we believe that the sky is our limit.
How can we contact your business?
I encourage everyone to please follow our pages on Facebook and Instagram.
Website: loomzysuites.com
Phone number: 234-8026826342
Thank you so much for your time and we wish you the best
You're welcome and thank you for this opportunity.