Greene Concepts Inc. (OTC Pink: INKW) revealed that they had redesigned their BE WATER label for all their water products. This redesign will also see them modify the wording and color of the label. Greene Concepts Inc aims to repackage the BE WATER products more luxuriously and appealingly for the marketing aspect while improving sales.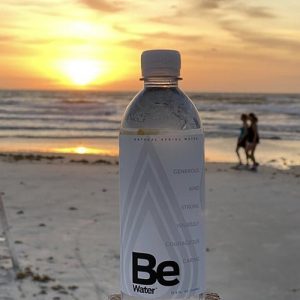 The new label will see the typical white background replaced with a turquoise background. Greene Concepts Inc aims to use the turquoise background to provide its consumers with a freshwater ambiance. The new design will use the white cap matching the bottle's wording, attracting more attention from potential buyers. Additionally, on top of the new design label, they will have the "Natural Artesian Spring Water" phrase replacing the usual "Natural Spring Water" phrase. They purpose to remind the consumers of the purely natural sources that give the BE WATER product a healthy mineral's composition, with a smooth and unique taste rich in nourishing electrolytes. Another notable change to the BE WATER label is the main wordings that have been changed to "Be Generous, Be Strong, Be Kind, Be Patient, Be Courageous, Be Aware, Be Yourself" to imply mindfulness, peace, and clarity. Lastly, they have placed the "Be Water" phrase in the middle of the bottle in bold for improved visibility and brand name recognition.
When giving his remarks Greene Concepts CEO, Lenny Greene expressed his excitement for the new label compared with the previous one. The new brand has a more appealing aqua color that will give the consumers an imaginary feel of pure, calm, crisp, clear, and clean natural drinking water. He feels the new wording stands out and will command their presence on the shelves drawing attention to potential consumers as it is distinct from all other products in the market. Although the company still has one truckload of the previous labels, Greene announced that the company had put measures to start mass production of the new labels and have already placed orders for multiple truckloads.
With the company having announced launching its products on Amazon, marketing and swift distribution have become an integral part of Greene Concepts operations, and Greene believes this branding is the right step in the right direction. The CEO confirmed to consumers that the BE WATER brand is a locally sourced, manufactured, and bottled product. They obtain the raw product "Sweetwater" from an original fresh mineral source, an artisanal aquifer in North Carolina Blue Ridge Mountains. He also hinted that partnering with Amazon was just the beginning of their aim to partner with more online stores and online vendors.
Some businesses aspire to venture into new markets or expand their consumer for a slow-moving product. In many instances, they make small changes and call it a day. Instead, by completely redesigning the BE WATER brand, Greene Concepts aims to break down the last small barriers they face before being able to dominate this category in the beverage industry with a revolutionary product.