HATIL Complex Ltd is a furniture brand based in Bangladesh that has entered the foreign market with a point to prove. Bangladesh is well known for its dominance in the RMG market as it continues to produce quality products for well-known brands across the world. Keeping up that tradition of quality products, HATIL has been a renowned name in Bangladesh for decades and now starting to make its presence known in the international community.
Modern furniture is concerned with much more than just the furniture itself.  Back in the old days, one's main objective while buying a piece of furniture was based on one question- do I need this furniture and will it serve my purpose? It was simple as that but the modern market is concerned with so much more. Design, ergonomics, mobility, material, aesthetic value and are just as important as the furniture itself. HATIL recognizes that the only way is forward and like all industries, one has to adapt and answer all these questions. This is why HATIL has been focused on answering any concerns you might have while buying furniture.
Products designed for YOU
Whether you want heavier and old-fashioned furniture or modern, sleek-looking minimalistic pieces, HATIL can offer you both. Are you concerned about the practicality and if the furniture is physically suitable for you? Don't worry, their R&D team constantly experiments with ergonomics and the result is in the output of the finished products that are ergonomically crafted for you. "When we make furniture, we try to think from the customer's point of view. You are the one who will be using the furniture day in and day out and that's why we take the customer's perspectives into account and design our pieces accordingly so you can find the perfect one for yourself", said Selim H Rahman, Chairman and Managing Director of HATIL.
If you are concerned about the base materials, HATIL can guarantee that only the best quality of timber has been used to craft the furniture. This makes them durable; which is imperative because let's face it, nobody wants to go furniture shopping every other year.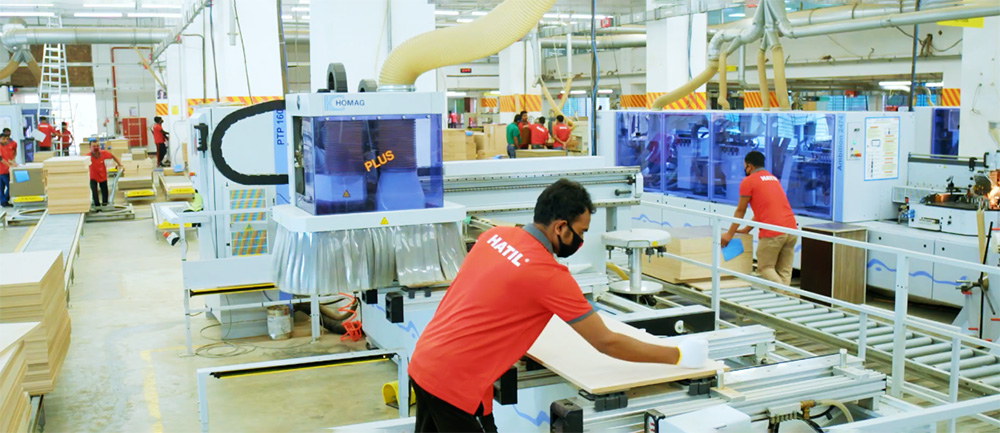 Remembering the Environment
HATIL has been focused on more sensitive issues as well. Many consumers believe that wooden furniture industries destroy forests without any remorse and leave a negative impact on the environment. HATIL is an environment-friendly company and believes in conserving the environment and promoting healthy practices such as reducing waste and responsible timber farming. HATIL uses Forest Stewardship Council (FSC) certified timber. Which means it meets the "gold standard" of ethical production. So rest assured, there is no blood-wood in HATIL products.
The use of state-of-the-art automation technology makes it easier to reduce waste. Manually manufactured furniture leaves about 20% of wasted wood. HATIL has managed to reduce that wastage to below 10%. Certain wastes are inevitable such as sawdust and particles. These are used to create particle boards and fuel that powers the machinery in the factory itself, making it a self-sustained system. The automation technology also ensures that each product is finished to perfection for the customer.
Caring for Everyone
Not just the products, HATIL takes care of its workers with equal concern. The factories have modern safety systems and filtration systems that ensure that the workers do not face hazardous conditions. In terms of compliance, HATIL is fully compliant. There is no child worker in any of the offices or factories.
"We have established a school to ensure the education of the children of our workers. We provide books, uniform and everything that a child needs for their education", ensured Selim H Rahman adding that additional facilities such as HATIL's own farm and hospitalization system also serves the workers whenever they are needed. Through and through, HATIL remains a part of the community.
Around the World and Striving for More
Based in Bangladesh, HATIL is already known as one of the most modern brands in the furniture industry in South Asia. HATIL has showrooms across multiple countries, including India and Bhutan. HATIL also serves the United States, Canada, Australia, Russia, Egypt, the Middle East, and Thailand by the OEM furniture supplier. Not only they can meet all the demands of the customers, but HATIL also offers after-sale services that set them apart from the average brand. They also offer virtual showrooms for those of you who are not impressed by the idea of long walks through a showroom.
Guaranteed to entice you with their collection, HATIL offers elegant, minimalistic, and comfortable pieces that will suit any layout in your abode. Visit them at hatil.com to find out more or browse through their collection.