Lookout SHIB! There's a new alpha joining the park. This time, it's the tiny and adorable Baby Pomeranian — $BabyPom. Our mission? To become the crypto doggo saviors!
Join #TeamBabyPom by connecting with us on BSB, Telegram, Instagram, Twitter, Reddit, and TikTok.
What is Baby Pomeranian (BABYPOM)?
Dating back to 1888, England's Queen Charlotte had a Pomeranian named Marco. Since then, baby Pomeranians have been synonymous with royalty, elegance, and wealth. So, it only fits that the trusted dog of wealthy Kings and Queens be the face to usher in the next era of wealth!
$BabyPom is a dog-based meme cryptocurrency that uses a cute, cuddly Pomeranian logo, like how Dogecoin uses the Shiba Inu dog for its branding.
But don't let our adorable nature fool you! We're going to be more than a meme of a cute and cuddly Pomeranian. $BabyPom is a digital currency that's fun to send to others.
To put it simply, there have been several "doge" or dog meme coin wannabes. This coin will one day be known as the Dog of all Dogs when it comes to crypto.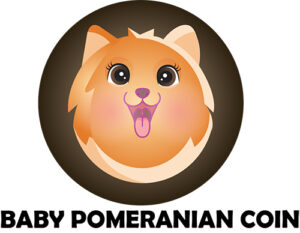 How is $BabyPom Different?
Many meme coins act as stores of wealth and facilitate transactions. Some are dead projects run by malicious people looking to scam investors. Few establish ecosystems and build communities while maintaining a unified vision for the future.
We're one of the few.
We chose a Pomeranian as our mascot because it signifies wealth. In fact, Pomeranians are one of the world's most expensive breeds.
We're building a rich and lively currency.
By building a vibrant community, we can facilitate a new financial adventure on the blockchain and grow collectively.
It's our vision of the future that launches us through outer space and into the crypto stratosphere. Don't miss the launch!
Now Boarding: Get Ready for Take-Off | Coin Tokenomics
$BabyPom is launching soon on Pancake Swap through the BNB Network. Find all the details below and join the dog pack.
Token: Baby Pomeranian
Date: Coming Soon (Late Aug – Mid Sept)
BabyPom Contract: 0xd53e97063d7e14eb3db18067dacdefcfd8d2b0ad
Price: Early investors receive a rate of 1 BabyPom for 0.000001 BNB
Total Supply: 500,000,000,000 BabyPom
Burn Rate: 50% (at launch)
Why HODL?
So, you want more convincing to join #TeamBabyPom? Easy.
By launching with a small market cap, our coin becomes available for a price anyone can afford. As our community and the market cap grow, $BabyPom is a 100% token you'll want to hold. No need to ask, "when moon?" You're on a lifetime mission to Mars.
Plus, with a limited supply, it simply won't be a coin that works for pump and dumps. So, are you ready to fill your bags? Join now.
Follow @alecobama on Instagram.