Yuliana Grasman, also known as Afra in the automotive world, has become an indisputable reference for the Nissan car brand, especially its model, the Nissan Patrol.
The UAE drift champion has immortalized the Nissan car, as she is the only woman to win the championship and the only competitor to use a 4×4 in the competition.
This double milestone in the sports world has marked a before and after in drift competitions, with Yuliana as the protagonist in her Nissan Patrol.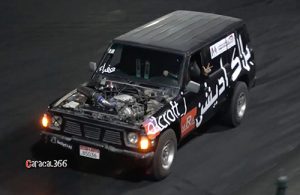 The Black Edition: more than a car, its a symbol
After suffering a serious accident in the middle of the competition, Afra spent time recovering from her injuries. Additionally, her car, which at that time was white, suffered serious damage as well.
However, the young woman who would soon become the drift champion, fought with all her strength to recover and return to the world she is passionate about. Immediately after recovery, she began work on her car, which would turn black.
Afra now has a fully restored vehicle in ideal conditions to face her new competitions on the auto track. It was with her black Nissan Patrol that Yuliana earned her greatest competitive success. With this vehicle, she made history by becoming the only woman to ever win the 4×4 drift championship in the United Arab Emirates. At that moment, what the new champion called her "Black Edition" car was born leading her to victory.
Since then, Afra's Nissan Patrol has been recognized as the Black Edition, becoming a symbol of triumph and dedication.
A symbol that breaks down barriers and transcends borders.
Along with her vehicle, Yuliana has managed to break down barriers in a male-dominated sport. The young athlete has devoted herself to supporting young women and men who want to enter the automotive world.
She has also created a community, named after her famous car. Space, where those passionate about vehicles can share experiences, knowledge, and above all, support each other – The Black Edition Club.
Giving the club's young age, it has already seen international members joining in; attracted by Yuliana's enthusiasm and receptivity, all becoming part of this amazing family.
The link between Afra and her Nissan Patrol became an internationally recognized symbol. This was made possible by this young woman's perseverance and struggles, who today is known as the 4×4 Drift Queen of the World.