On a grim "coronavirus' Friday the 13th in Hollywood CA at the Whisky a Go Go, Horror Rock pioneer Dinah Cancer from the band "45 Grave" raises a glass of Alcohol and says "tomorrow we may die but tonight we live" and the somber yet full room at the Whisky goes wild. It was an epic night of music, one for the history books.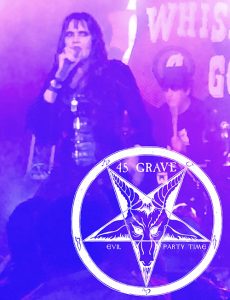 Dinah Cancer's 45 Grave are considered pioneers in deathrock and horror punk — dark and dastardly purveyors of the macabre, with a charismatic frontwoman and decades of amazing music. Last night's performance was full of energy with dark and cryptic messages throughout their set. I love Dinah, and her morbid sense of humor shows how real and genuine her death rock band is. 45 Grave gives you this horror vibe while making you feel safe like a dark Halloween card. They were tight, powerful, and the crowd went into a mosh pit. Decades later, 45 Grave shows their relevance. Szandora LeVay hopped on the stage with 45 Grave and added to the dark mystique of the night, a great live addition to their set. It was 45 Graves night, and they tapped into the mood of the moment and brought relief and fun! "The world around you is falling apart, and it's Party Time! " Last night really felt like you were in a real Mad Max movie and band lineup only added to that morbid feeling.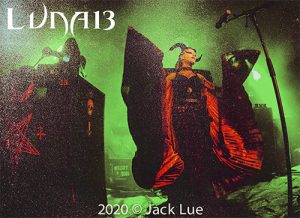 I arrived late, and surprisingly the Black/Bass/Metal band "Luna 13" was just starting, a lineup change put them on early. This means I walked in while a dark ritual was being performed. When "Luna 13" kicked-in, it was pure sonic power. You are listening to Black Metal created with acid bass and extreme grooves that are horrifying. They are part pre-recorded, and part live, which is pretty advanced for the bass music world in which they were born. Musically I cross them with "Slayer" and "Korn" with powerful female-fronted lyrics and vocalist Lilith Bathory puts on a show. You wouldn't expect a two-piece to be that fun to watch, yet they bring a regal presence like your watching the king and queen of thy underworld. Highly unique, and they swing from deep heavy grooves to Black Metal chaos with ease.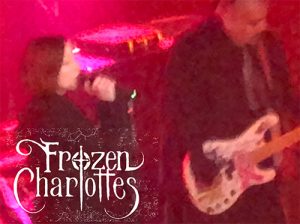 I went backstage to meet the band "Luna 13" and returned to the main floor, and the band "Frozen Charlottes" was on. Another powerful female performance was happening. I set back and realized that I was a part of something bigger than myself. Their songs were extremely well crafted, and their performance was stellar. Goth Punk artist "Frozen Charlottes" catapulted me into another dark yet heavenly realm. The local bands were on that next level. I will be downloading "Frozen Charlottes" music tonight.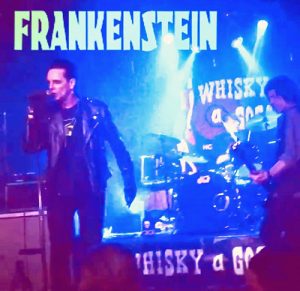 "Frankenstein" was the embodiment of Kreepsville 666 energy. My personal favorite band on the roster and I see them as the top act in the horror rock genre. I listen to them often as I find "Frankenstein" to be playing through my headphones more often than any band. For a fan of horror rockabilly, "Frankenstein" is top. Their performance was high energy, fun, and they never disappoint! This was the third time seeing "Frankenstein," and tonight was my favorite performance by them.
What a night of amazing music and the Whisky a Go Go provided a super safe environment that included active sanitation. Support their events because I felt incredibly safe there.